Viennese mince pies are a delicious way to jazz up your traditional Christmas mince pies and make them a bit more exciting!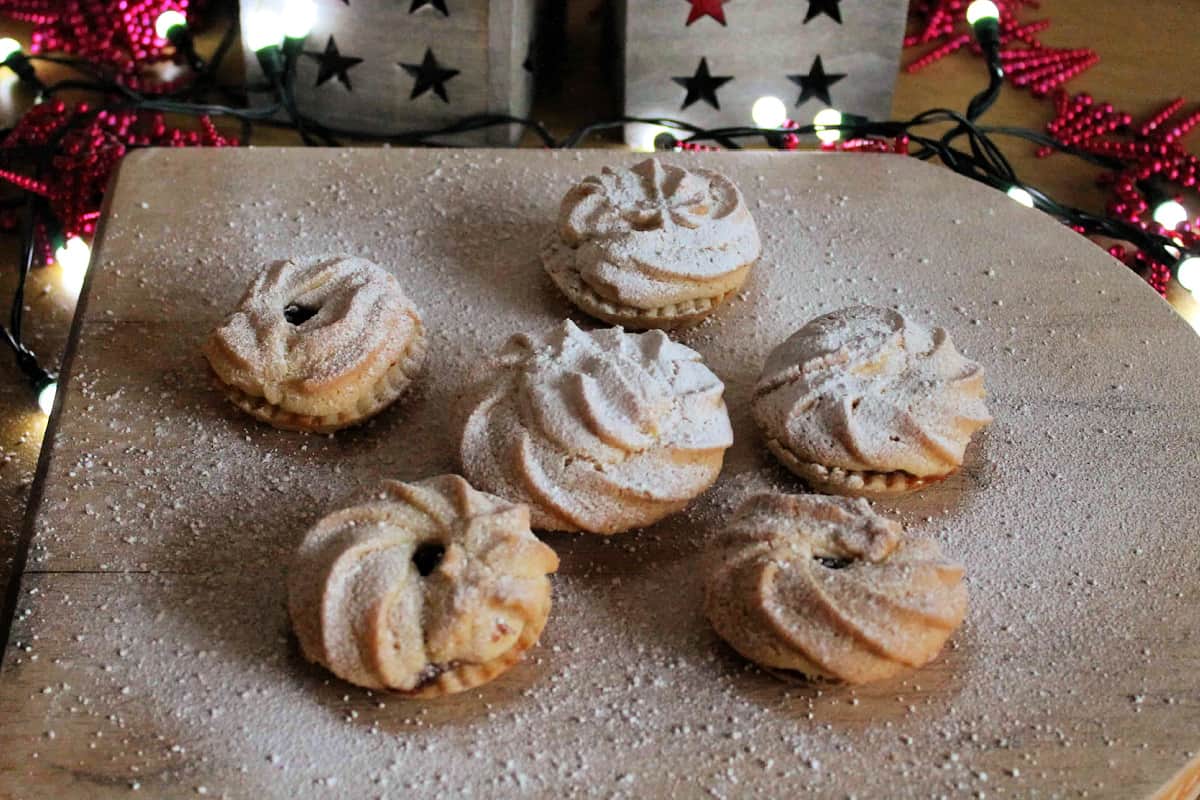 The Viennese whirl topping replaces the usual pastry lid. Viennese whirls are delicious so why not top your mince pies with them! Icing sugar sifted over the top gives that look of fresh snow which we need over Christmas!
Even without the icing sugar the Viennese topping looks pretty striking.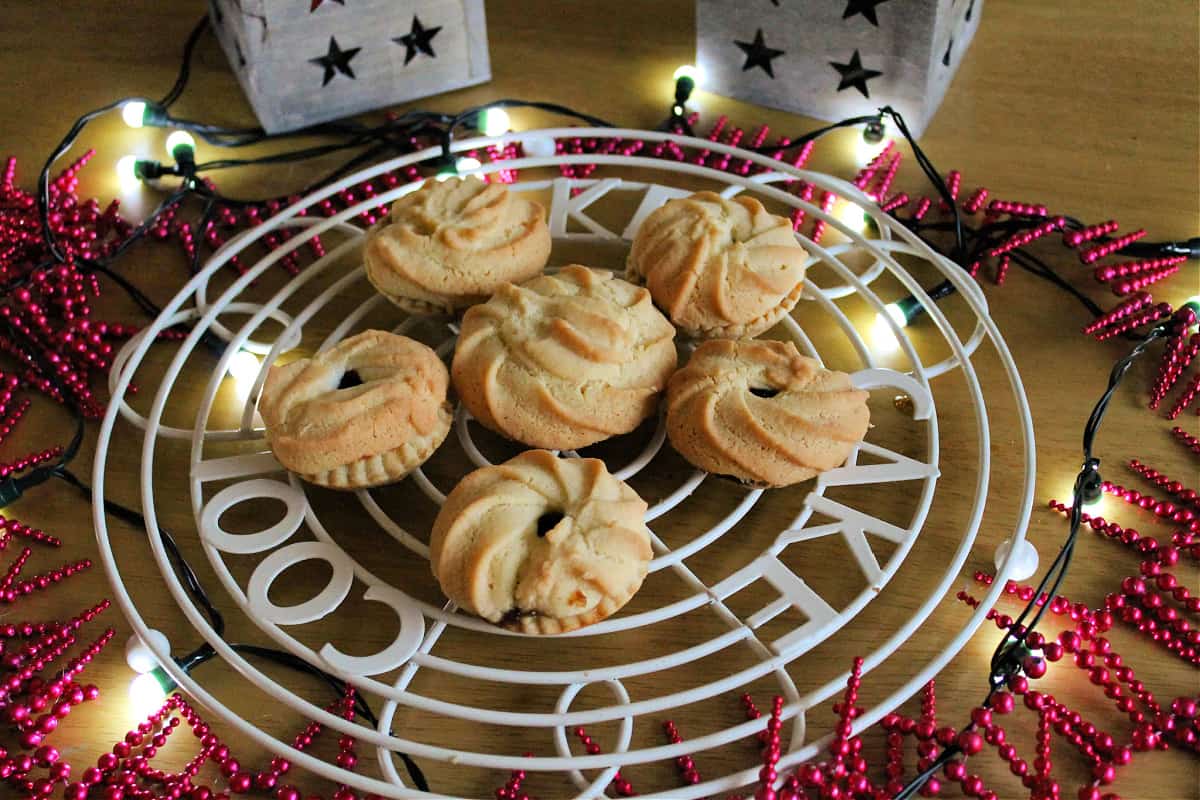 Mincemeat filling
The mincemeat I used was Cranberry Mincemeat from the Waitrose Christmas range. It has a lovely red colour and tastes wonderful, and is ideal to give a bit of a twist to your usual mince pies.
If you'd rather make your own you could try this cranberry mincemeat from Le Coin de Mel.
I added some French almond extract to the Viennese whirl mixture for a lovely contrast in flavour to the cranberry mincemeat. The pastry I made was a shortcrust pastry that didn't take long at all.
You can use your preferred mincemeat recipe or readymade option.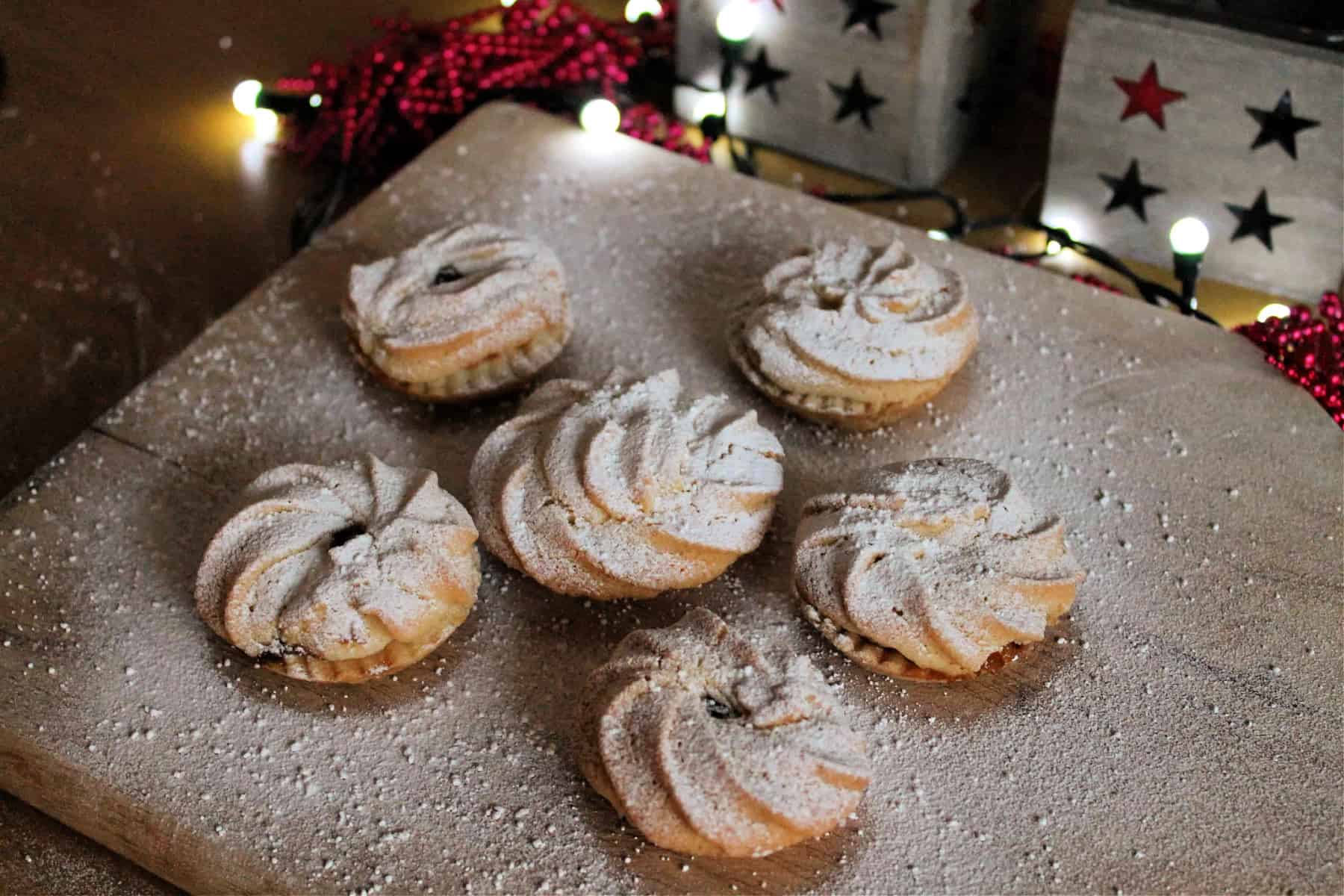 Making Viennese mince pies
Piping the Viennese whirl mixture onto the pies was much more fun than topping them with a pastry lid, and didn't take too much extra time. I'll definitely be making them again!
They look almost like cupcakes with a swirly buttercream topping when you pipe out the mixture.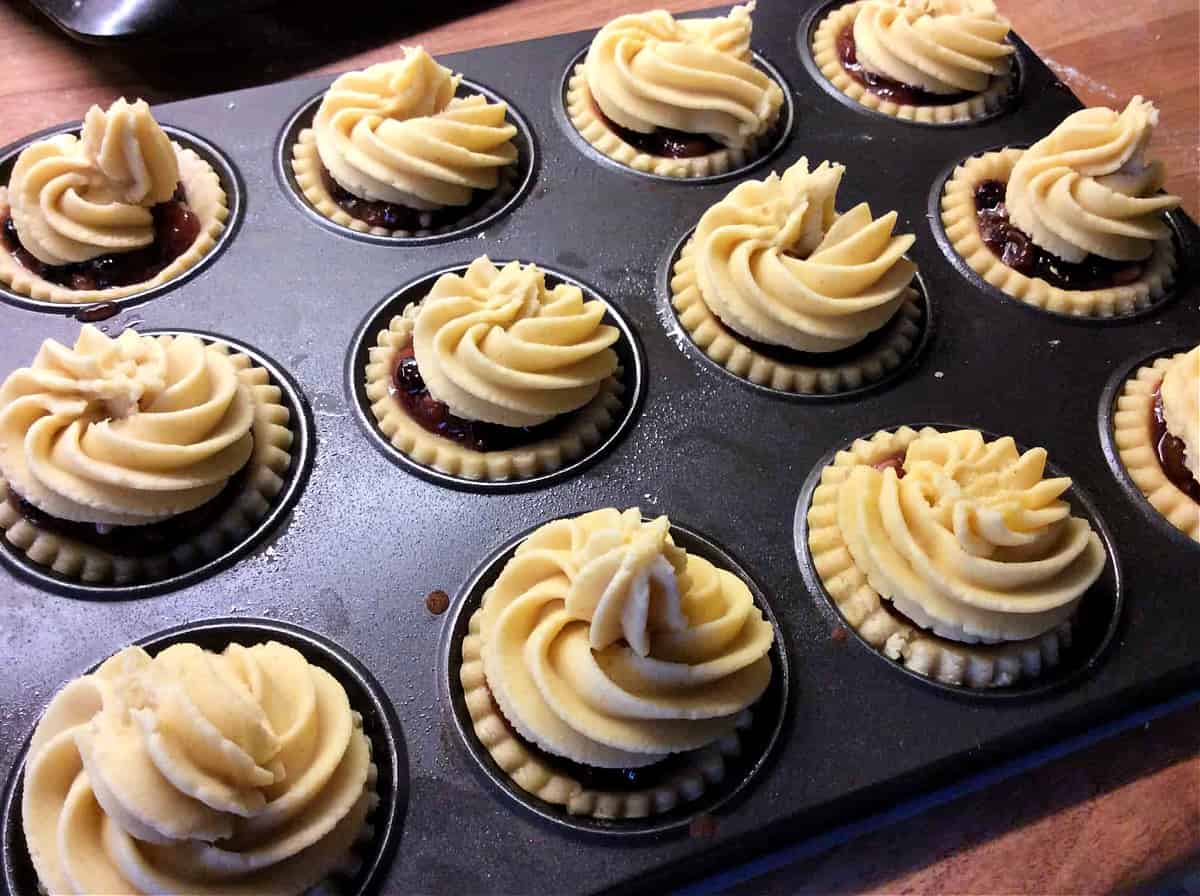 My children also thought they looked good and weren't averse to eating a few either… I have frozen the rest for us to enjoy over Christmas!
Viennese whirls are one of my favourite biscuits, that meltingly soft texture is what does it I think. Blueberry Viennese whirls with a purple tinge are also really fun to make though I wouldn't use a colour here for topping these.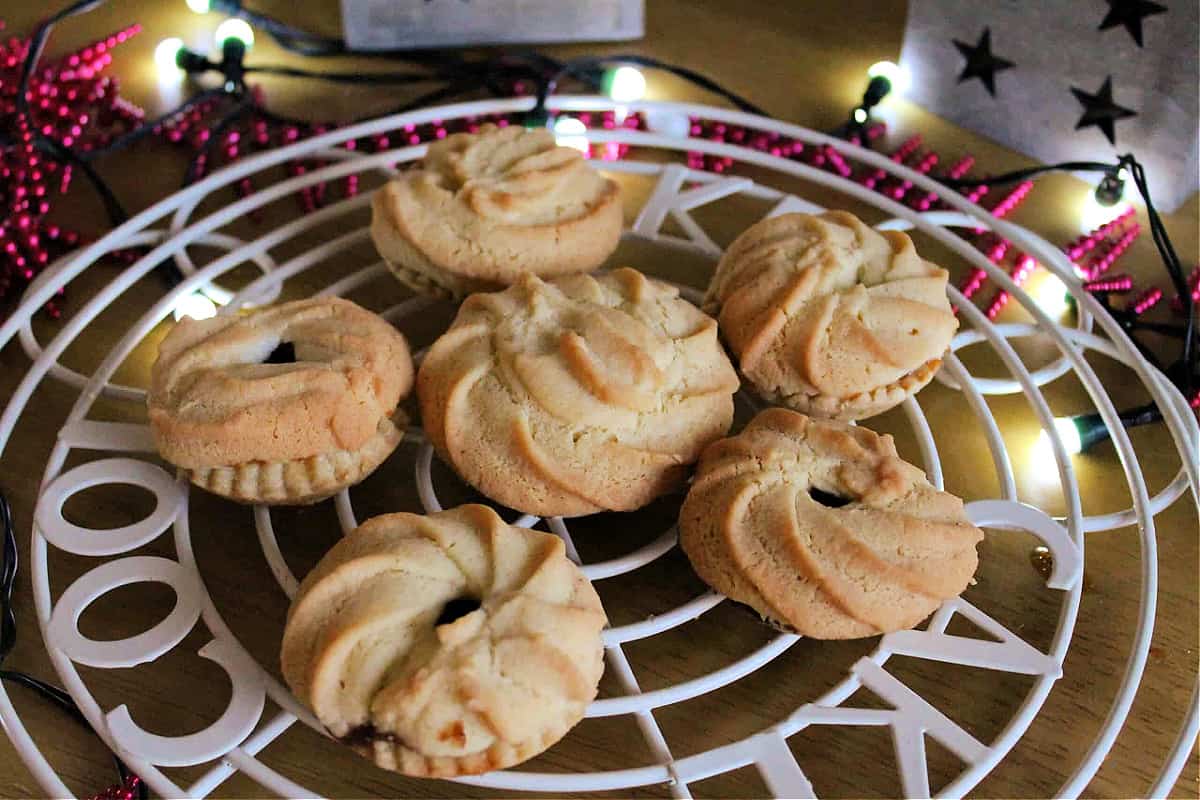 So make sure you try these Viennese whirl mince pies this Christmas for a change from traditional mince pies, and see what you think!
It is only a little bit more effort than making standard mince pies for scratch so I think it is really worth it for the extra bit of detail and taste.
Why not try
Puff pastry mince pies are another firm favourite here. I also love these cranberry cheesecake pies for a break from mincemeat! Brioche mincemeat pudding is a nice way to use of leftover mincemeat in a different form to a mince pie, and mincemeat pudding is a good alternative to Christmas pudding.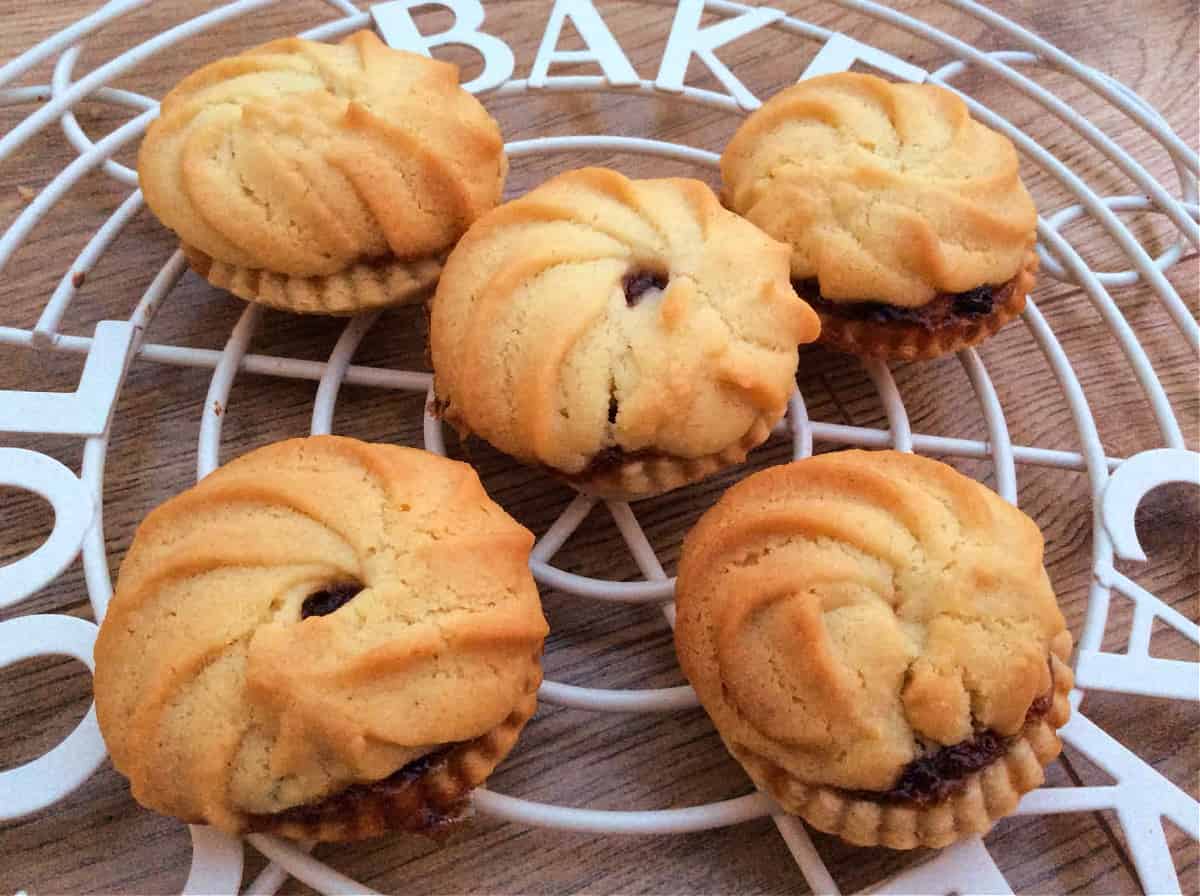 Pin this recipe for Viennese Whirl Mince Pies for later!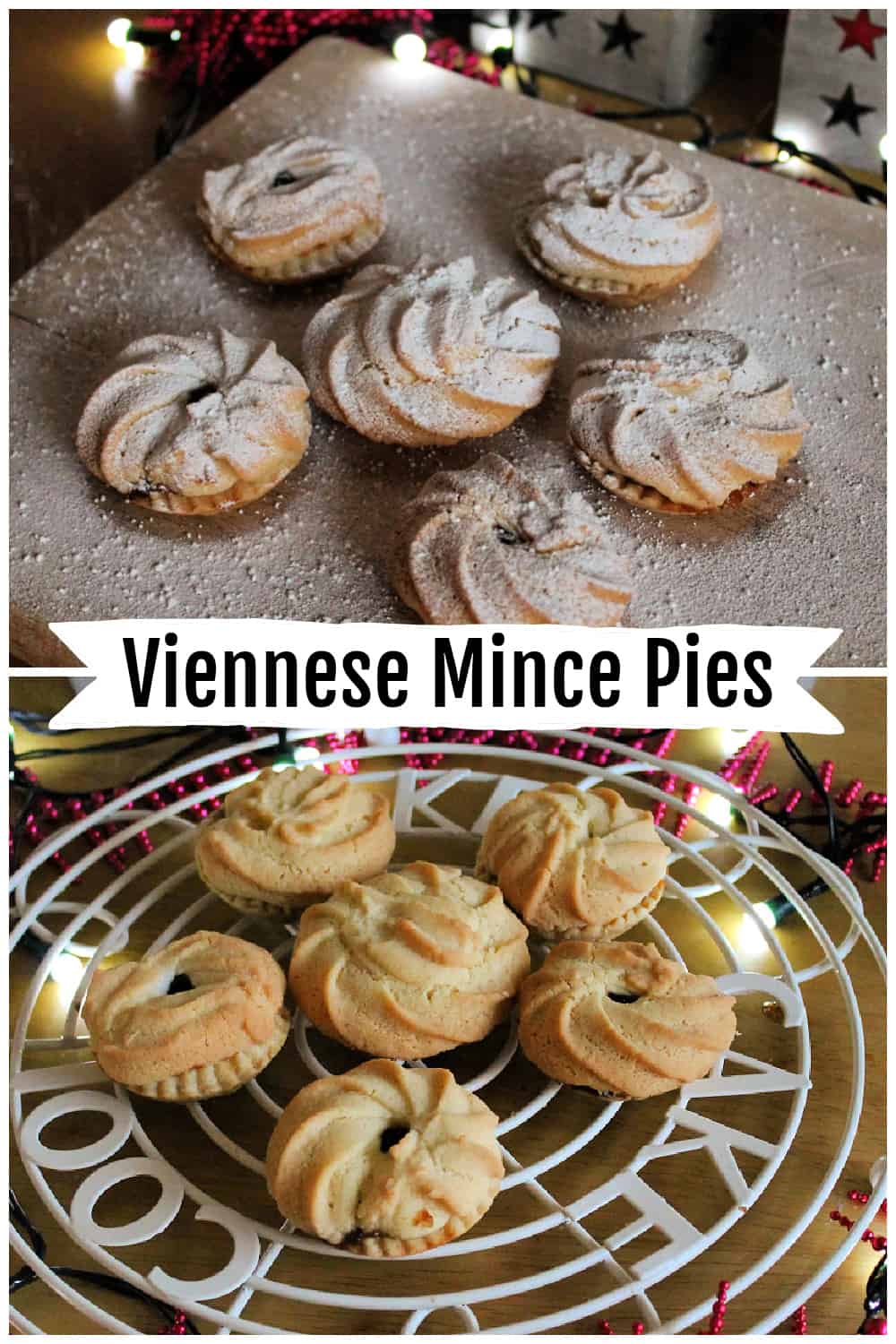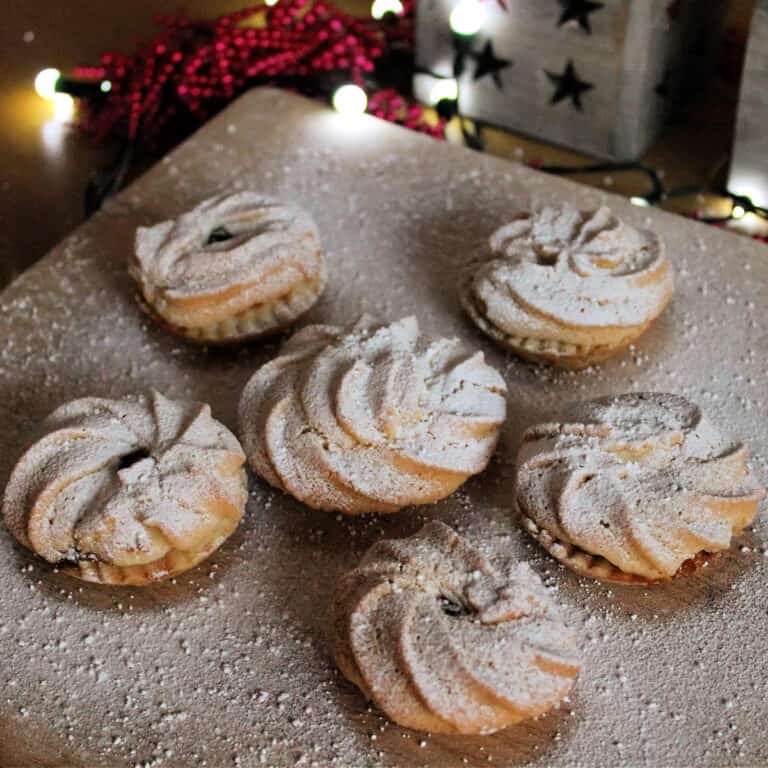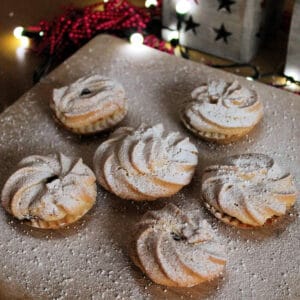 Cranberry and Almond Viennese Whirl Mince Pies
Viennese mince pies make a lovely alternative to normal shortcrust mince pies to jazz up your Christmas baking, with a pretty Viennese whirl top
Print
Pin
Rate
Save
Saved!
Ingredients
For the Viennese whirl topping
Instructions
Rub the butter into the flour until it looks like breadcrumbs.

Stir in the caster sugar, and then pour in the egg. Use your hands to bring the dough together. If needed, add a little cold water to help it come together. Do not over knead, this keeps the pastry short.

Form the dough into a ball, wrap it in clingfilm, and chill it in the fridge for about half an hour.

Next, make the Viennese whirl topping. Using a wooden spoon, beat together the butter and icing sugar until it is very soft and fluffy.

Add the flour, baking powder and almond extract and mix together thoroughly. Spoon into a piping bag with a star nozzle fitted onto it.

Roll out the pastry and use a cutter to cut out circles that fit your mince pie or muffin tin.

Grease each hole in the tin then press in the pastry gently.

Place a couple of teaspoons of the mincemeat in each pastry base.

Pipe the Viennese whirl topping onto the mince pies in swirls, as if you were icing cupcakes.

Bake at 180 degrees for approximately 25 minutes until the whirls have risen and are golden brown.

Allow to cool, then serve cold, or warm with cream. Dust with icing sugar for that snowy effect!

Did you try and love this recipe?
Then please leave a review and rating in the comments at the bottom of the post. If you post your creation on Instagram, tag me @bakingqueen74 or use hashtag #bakingqueen74!
These cranberry and almond viennese whirl mince pies were mainly baked so I could take part in the Sunday Baking Club's Technical Challenge Week last Sunday, which had the theme of Mince Pies.