Perfect for Easter – Slow Cooker Easter Cookie Cake!
Have you tried a cookie cake before? A huge, thick cookie baked in one pan, they are very naughty indeed, a delicious treat. In America they are sometimes called skillet cookies. A bit like the huge cookies you can get from Millie's too.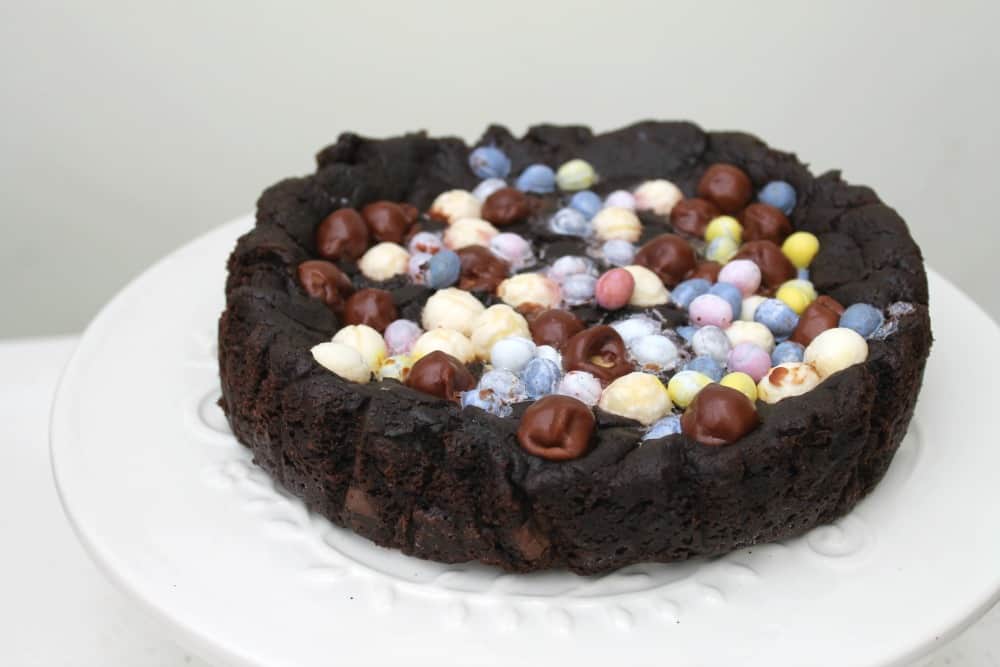 I've made this one using a double chocolate cookie dough, and then topped it with more chocolates. I've used Maltesers, some leftover Milkybar mini eggs and a few micro eggs. Basically any leftover Easter eggs that were around in my kitchen.
Do you think it has enough chocolate in it??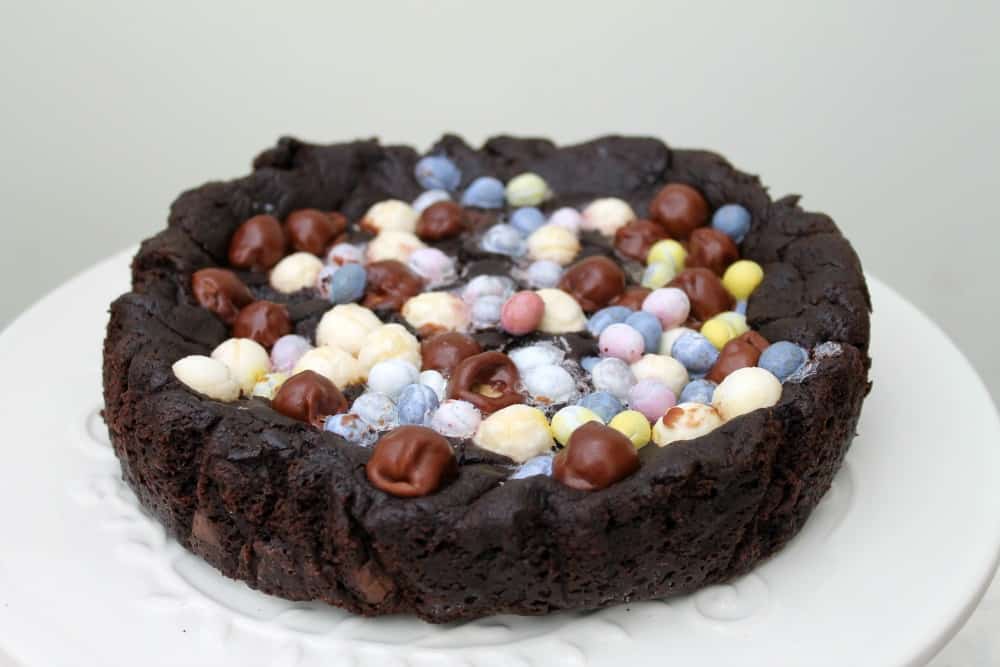 Slow Cooker Baking
You can bake something like this in a normal cake tin in the oven, or in a frying pan/skillet on the hob as well of course.
I made this cookie cake in the slow cooker – then the chocolates can be added on top before the cookie becomes firm, without them sinking in or completely melting as they would in the oven.
Baking in a slow cooker has so many advantages, my favourite being you can safely leave your bake baking and do a few chores in the meantime!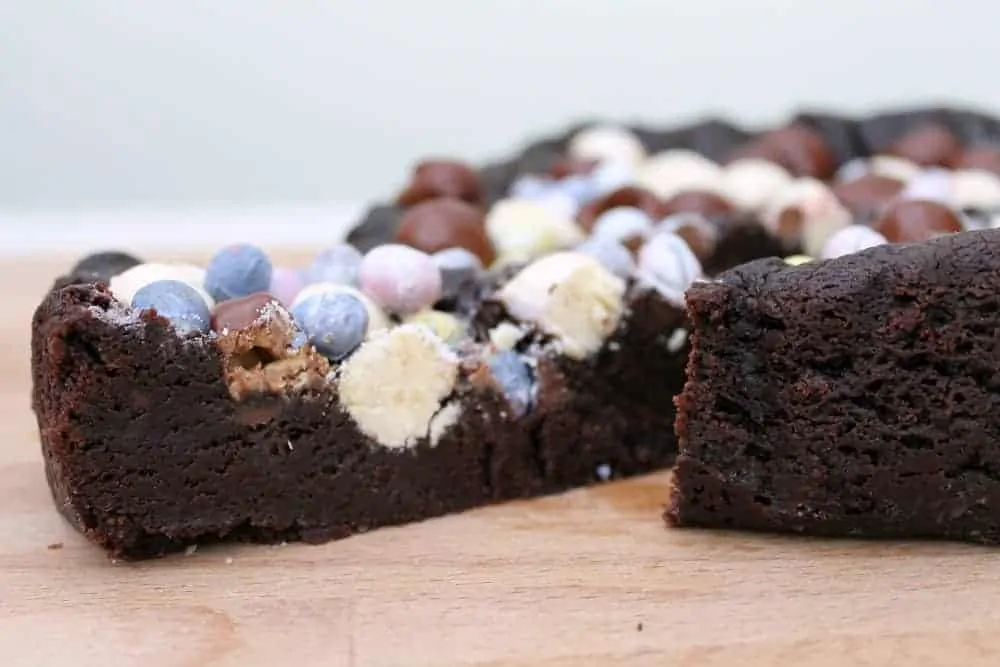 Step by Step Instructions
Make up the cookie dough and add chocolate chips.
Line a silicone baking pan, add the dough and press it in with your fingers. Place the pan in the slow cooker and add two small jugfuls of water in the slow cooker dish under the pan.
Cook on low for two hours.
Add the chocolate eggs after two hours (so they don't sink in completely during baking).
Cook for another 30 minutes on high.
More Easter Sweet Recipes
What Easter treats will you be baking? Check out my other Easter recipes here.
You might love my slow cooker creme egg chocolate cake or my slow cooker creme egg shortbread recipes!
If you want more ideas to use up Easter chocolate, my slow cooker chocolate flapjacks are another great idea.
Pin this recipe
Recipe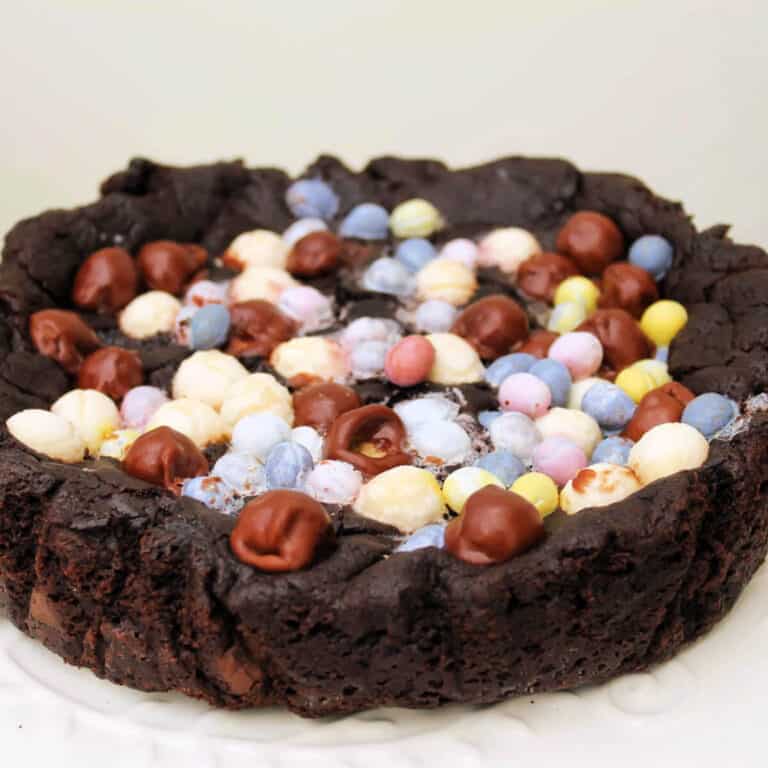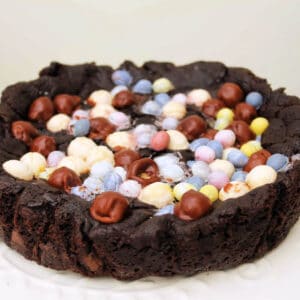 Slow Cooker Chocolate Overload Cookie Cake
A delicious treat perfect for using up chocolates or candy left over from Easter, Halloween or Christmas!
Print
Pin
Rate
Save
Saved!
Instructions
Cream the sugar into the butter until soft and fluffy.

200 g unsalted butter,

250 g light muscovado sugar

Beat in the eggs and add the vanilla bean paste.

2 medium eggs,

1 tsp vanilla bean paste

Sift the flour, cocoa powder and baking powder in a separate bowl.

300 g self-raising flour,

65 g cocoa powder,

1 tsp baking powder

Fold the flour mixture in bit by bit. I found at the end that I needed to use my hands to combine it together fully and form a dough.

Add the chopped chocolate to the dough and mix well.

Line a large round silicone baking pan with baking paper and spoon the dough in. Press the dough down with your fingers to fill the pan.

Place the pan in your slow cooker (I used a large 5.7 litre slow cooker that fits my silicone pan) and add two small jugfuls of water around the silicone pan.

Place the lid on the slow cooker, with a tea towel tucked in under the lid to stop the condensation dripping on the cookie cake.

Turn the slow cooker on low and cook for 2 hours.

After the two hours, add the chocolates on top. The top should not yet be firm, so you can press the chocolates into the dough.

140 g chocolates for topping

Cook for a further 30 minutes on high.

Check that the dough has risen and seem firm around the edges. It won't feel firm in the middle but it will firm up as it cools, as cookies do.

Remove the silicone pan from the slow cooker and leave the cookie cake to cool completely. If needed (or if you just fancy it) you can add more chocolate on top before serving!
Did you try and love this recipe?
Then please leave a review and rating in the comments at the bottom of the post. If you post your creation on Instagram, tag me @bakingqueen74 or use hashtag #bakingqueen74!
Linking up with Dom from Belleau Kitchen's link up Simply Eggcellent, the theme for April is chocolate.
I'm also linking up with Tea Time Treats with Karen from Lavender and Lovage and Janie from The Hedgecombers, where this month's theme is also chocolate.