The abundance of summer, with all the fruit on the trees and bushes, is one of my favourite aspects of this time of year, alongside the warmth of the sun of course. Preserving the fruit in the form of jam is a wonderful way to hang onto a bit of summer.
It gives me a very satisfied feeling to know that we will be able to feast on summer fruit which we picked and preserved ourselves, during the colder months. Damson and redcurrant jam will be a welcome treat when the skies are grey.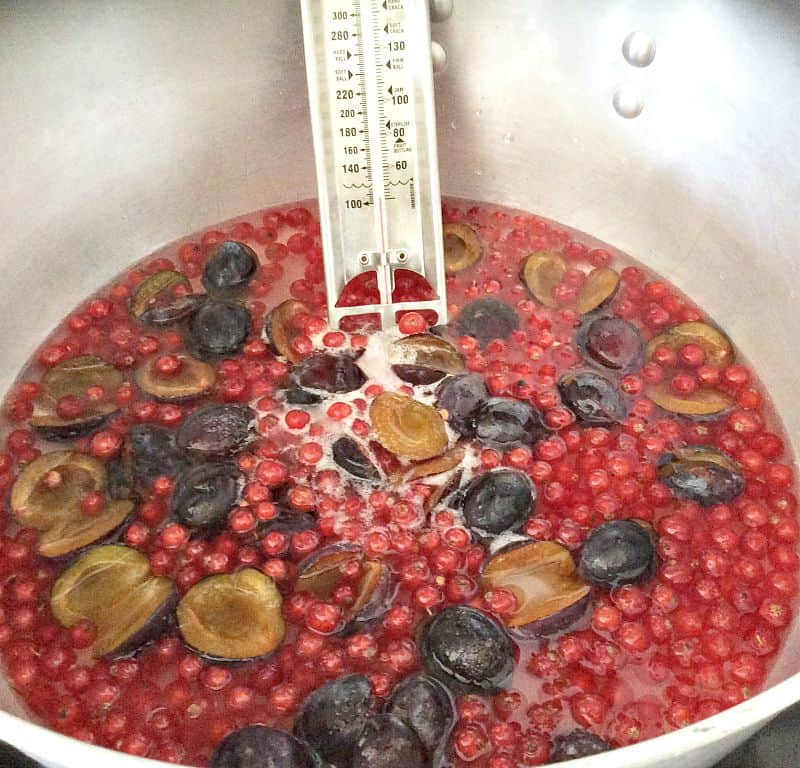 The damsons were picked (and shaken) from a tree in our garden, and these redcurrants grew in my mum's garden.
I've also made gooseberry jam earlier this summer, as well as a batch of plain redcurrant jam, both from fruit picked at the local pick-your-own farm.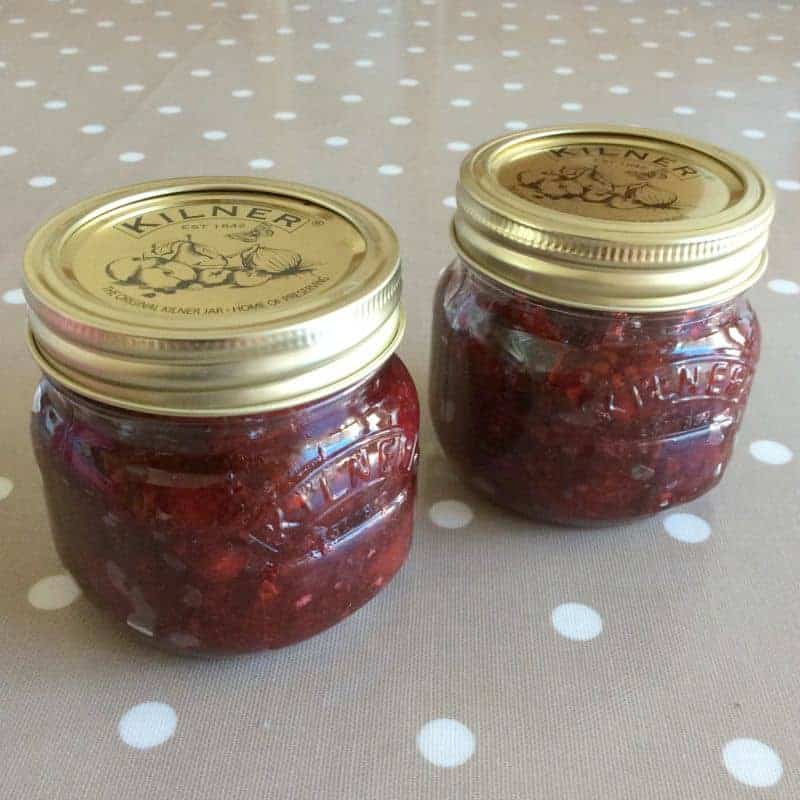 Redcurrant jam can be quite bitty if you don't remove the seeds, so for this batch I passed the jam quickly through a muslin before jarring.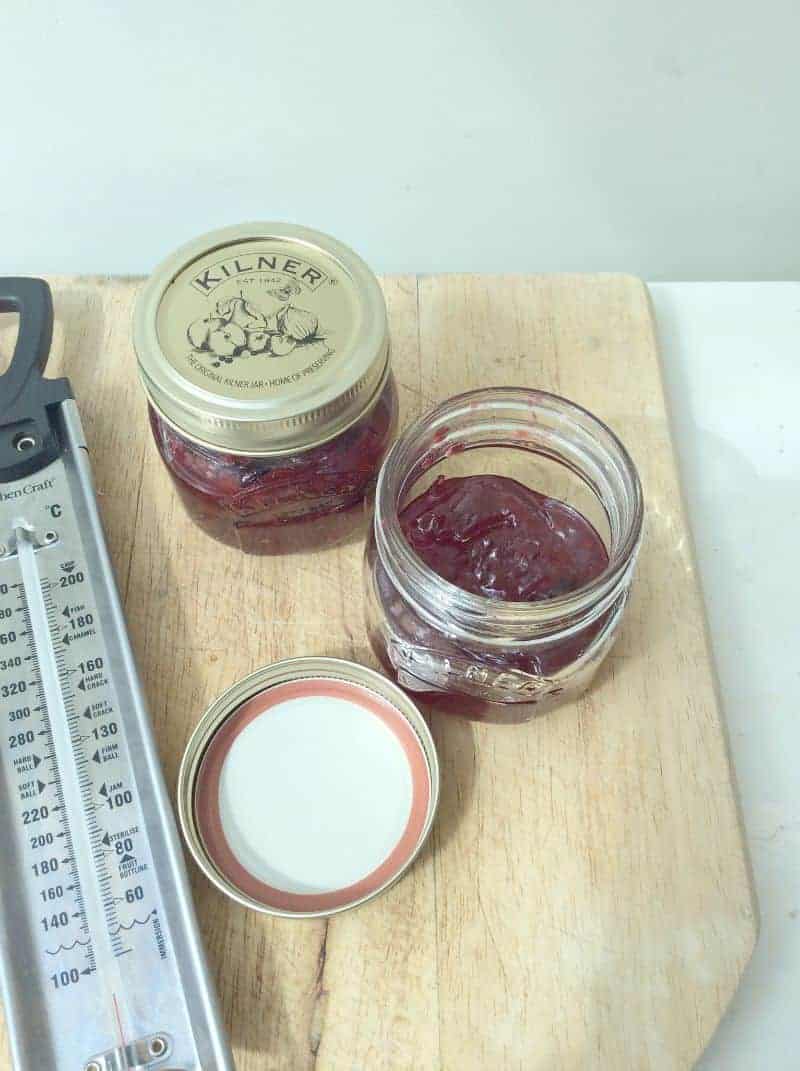 More Jams to Try
For more jam recipes, take a look at these: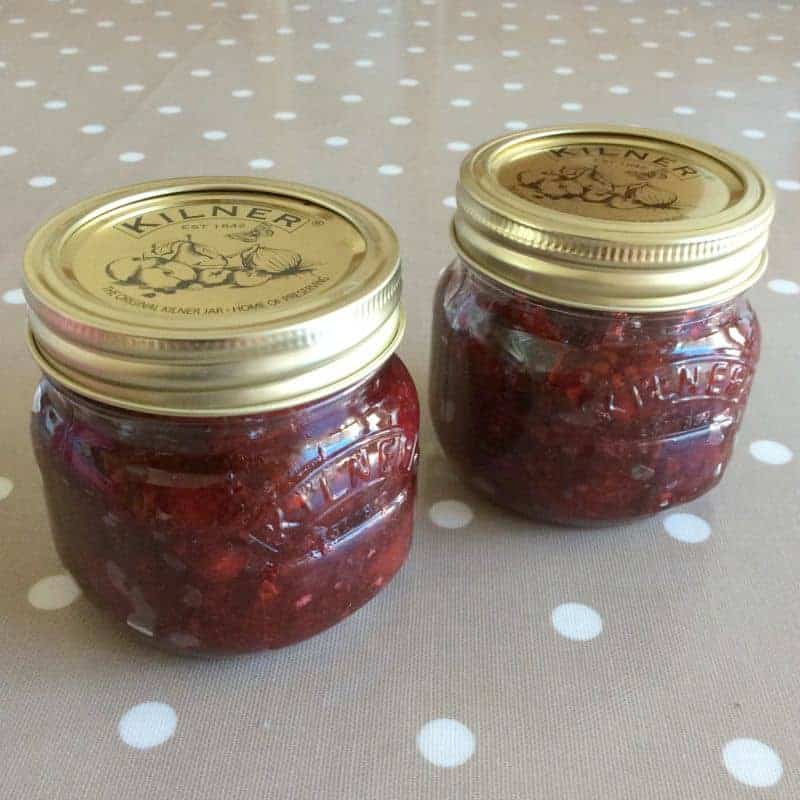 Damson and Redcurrant Jam
Homemade jam using British traditional fruits damson plums and redcurrant
Print
Rate
Ingredients
355

g

damsons

washed and destoned

250

g

redcurrants

washed

500

ml

water

480

g

granulated sugar
Instructions
Place the fruit, water and sugar in a jam pan. Attach your jam thermometer to your pan if you have one.

Cook on low heat for 15-20 minutes until the sugar has dissolved and the fruit has softened.

Bring the pan to the boil and boil hard for 10 minutes, until the thermometer shows the jam has reached the setting point (marked "jam" on my thermometer).

If you don't have a thermometer you can test for setting as described in my gooseberry jam recipe.

To remove the redcurrant seeds, pass the jam through a muslin bag using a jam strainer. As this jam sets very quickly due to all the pectin in the fruit, I squeezed the liquid jam through the muslin so that I could jar it while still hot.

Place your jam in your sterilised jam jars. I wash mine in hot soapy water then place them in the oven at 100 degrees for ten minutes to sterilise, but there are other methods you can use.

Place the jars in a dark place for 24 hours to set. This recipe made three small jam jars.