It is time once again for a roundup of what is new in my kitchen; some new products I've tried out recently. Thanks to the companies who sent me samples to try out. Read on to find out more.
Amedei milk chocolate drops and Boyajian citrus oils from Kings Fine Foods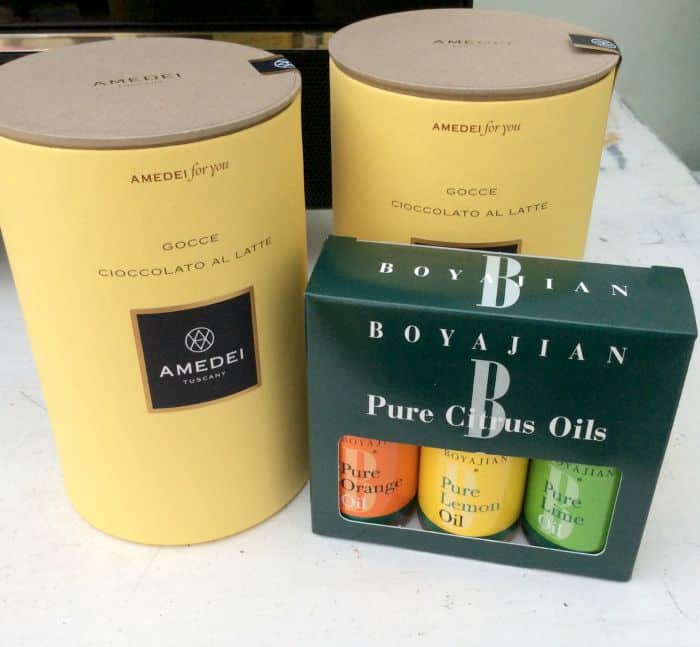 Via my friend Angela from Patisserie Makes Perfect, I was sent some very good quality products from Kings Fine Foods. I tried the lime oil from the set of pure citrus oils by Boyajian in my mango, lime and pistachio biscotti. I found that the lime oil gave a great natural flavour to the biscotti and adding it into the recipe did not affect the texture of the bake at all. The Amedei milk chocolate drops are a very high quality chocolate which have an excellent flavour. I am saving them for a recipe which has chocolate at the forefront and will suit such a high quality chocolate.
Degustabox – July
I was sent the Degustabox for July to try out. If you haven't heard of Degustabox, it is a a monthly subscription food and drink tasting box, containing a range of new and limited edition products. It costs £12.99 per month. You can find Degustabox at www.degustabox.com.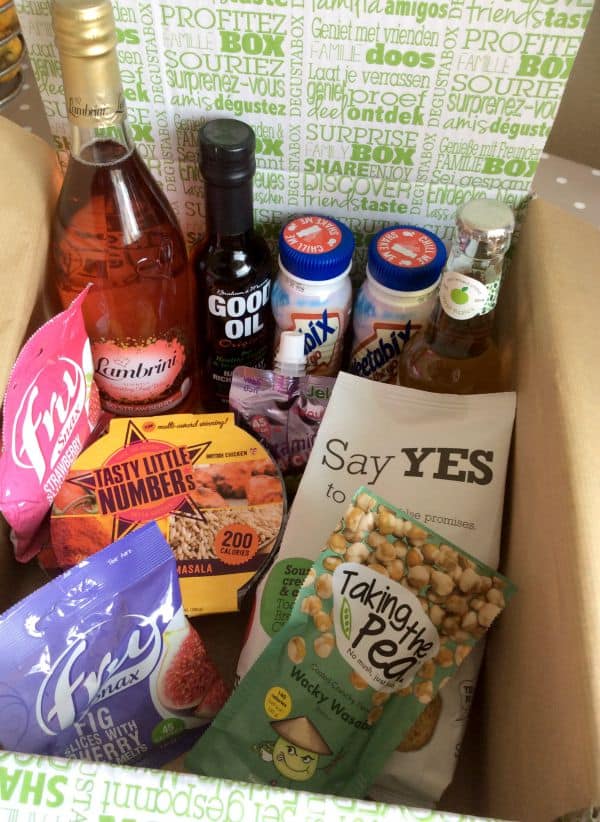 My box contained:
2 x Fru Snax – this is a fruit snack made up of freeze dried fruit pieces and freeze dried yogurt squares. I thought they were tasty and might be good in baking as well. RRP £1.25 each
1 bottle of Newtons appl fizzics, a sparkling apple juice made byblending apple juice and sparkling water. This was good, it tastes like Appletiser but is less sugary and I think tastes more natural. RRP £1.20
2 x Weetabix on the go breakfast drinks. Not tried yet but they will be useful when commuting to work. RRP £1.49 each
1 x Say Yes to No Sour cream and onion toasted bread chips. I liked these, they would be great in a lunchbox or as a nibble in the evening. RRP £1.49
1 x Taking the Pea wasabi flavour coated crunchy peas. A nice strong wasabi flavour makes these a great snack I think, with less fat than nuts. RRP £1.50
1 x bottle of Good Oil, a British hemp oil, which has less saturated fat than and many times more Omega 3 than olive oil. To be used in salad dressings before the summer is out. RRP £4.49
2 x Tasty Little Numbers meals – chicken tikka masala and beef sausage and beans. These are billed as delicious food in smaller portions. They do not need to be refrigerated but no preservatives are used in their production. I might use these for convenient lunches for work days, but I wouldn't go out of my way to buy more. RRP £3.49 each
1 bottle of Lambrini So Strawberry. Not really my kind of thing so I haven't tried this. RRP £3.29
Birchall Tea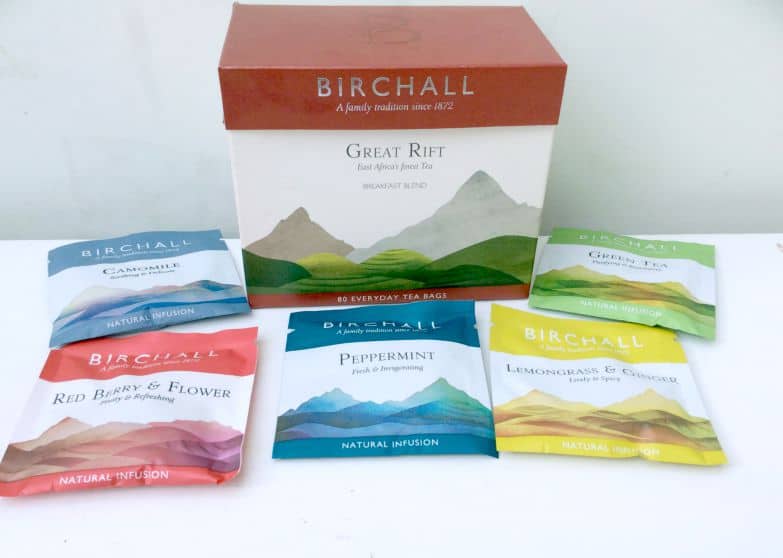 Birchall sent me a pack of their Great Rift breakfast blend tea along with some sachets of different flavours to try. The tea is hand picked and contains a blend of teas from across East Africa. Rainforest Alliance certified and members of the Ethical Tea Partnership, Birchall Tea is a family company that has been running since 1872. I found the Great Rift tea to have a clean and mellow taste, and would certainly have it again. You can find Birchall Tea at www.birchalltea.co.uk.
Disclosure: Thanks to Kings Fine Foods, Degustabox and Birchall Tea for the samples. I was provided with these products for the purpose of a review. All views are my own.