So pleased that the summer is on its way; I have seedlings growing to be planted in my raised beds in the garden and the summer fruit is nearly at its juicy best. All those berries will be delicious when baked into a pie is one of my first thoughts! Why not a slow cooker berry pie!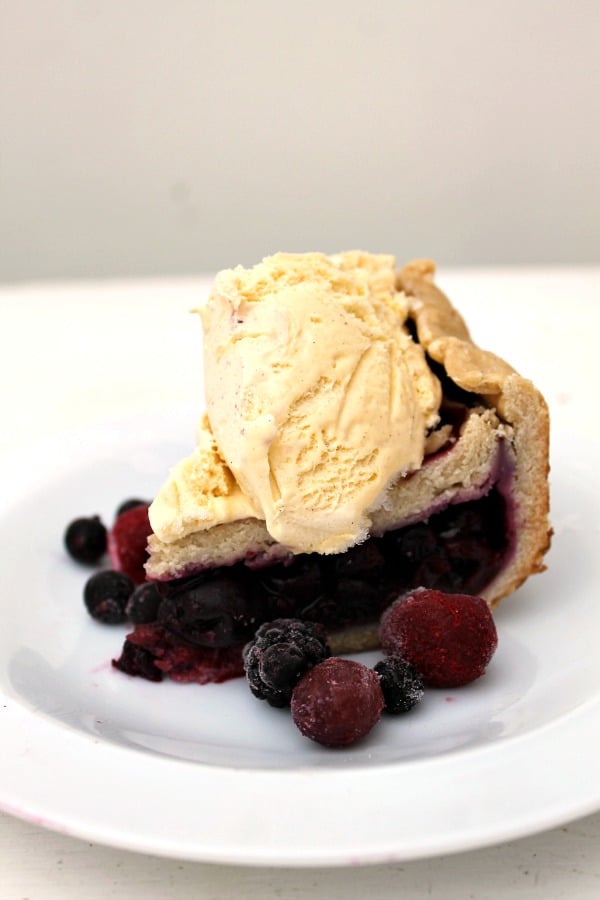 Jump to:
However if you don't want the hassle of having the oven on when it is already hot in the house, you can always rely on the slow cooker to bake your pie instead!
My Slow Cooker Berry Pie is simple to make and a great option when you want pie but don't want to heat up the kitchen.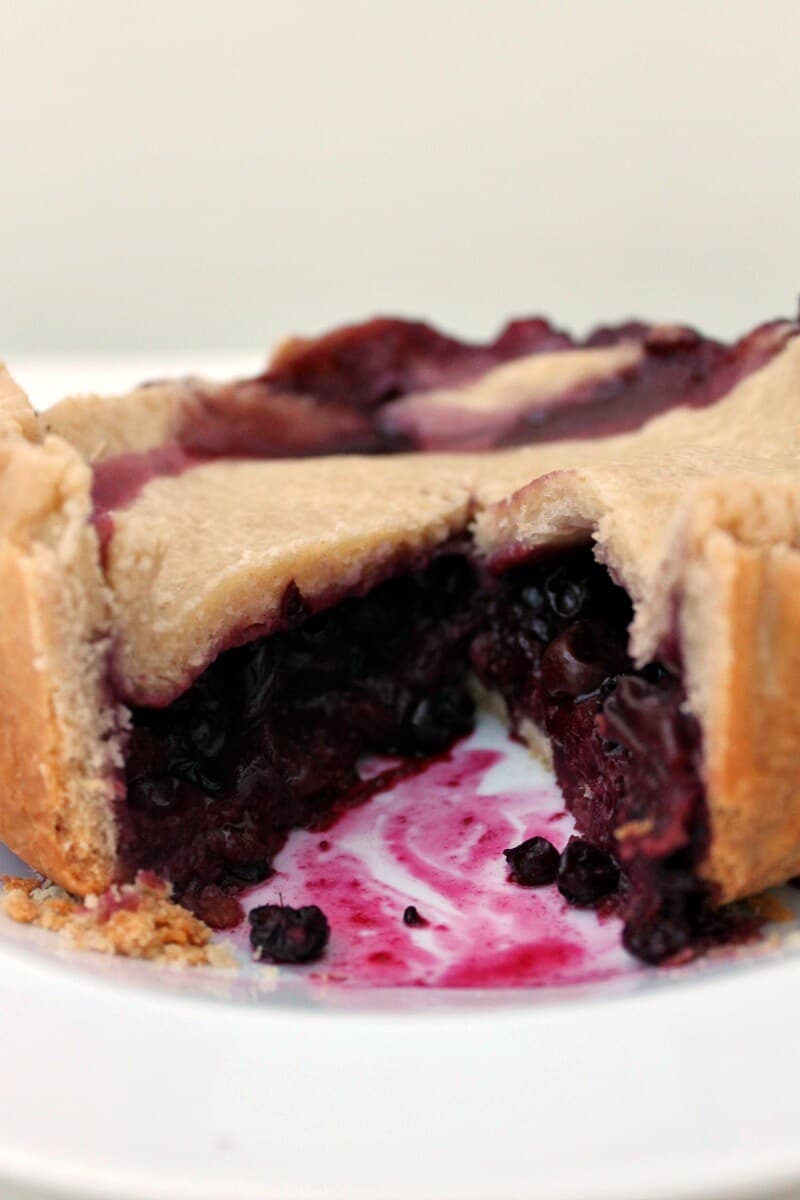 Baking in a slow cooker
You might think why on earth would I want to bake a fruit pie in a slow cooker! Well if you are thinking that, firstly, what are you doing on my blog hehe, secondly you should go and look at Baking in a slow cooker and see all the delicious slow cooker bakes you can make.
This slow cooker berry pie is yet another to add to your arsenal of slow cooker desserts.
If you are stuck at home and busy with work or jobs in the house, you can bake in your crockpot without needing to watch over it! It also costs less to run the slow cooker than your oven, and if you live in a hot place it won't heat up your kitchen as an oven can!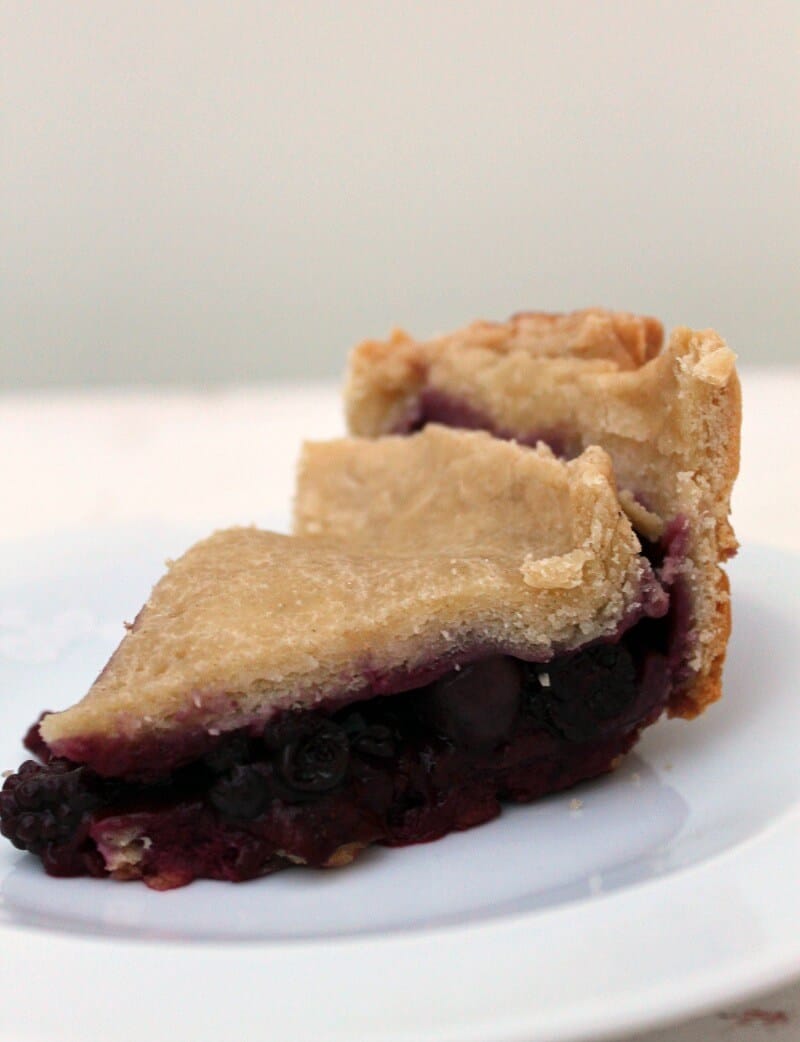 Ingredients needed
shortcrust pastry mix or a sheet of shortcrust pastry – you can also make your own pastry
tin of strawberries in light syrup
frozen mixed berries
caster (superfine) sugar
Step by step instructions
Form pastry shell in slow cooker pot.
Fill with fruit.
Add the pastry lid and seal well.
Cook on high with dish towel under the lid. During cooking you'll see the pastry start to crisp and brown.
Stand for 30 minutes then remove carefully and serve.
You get a crispy crust on the pastry, not a "soggy bottom" in sight.
Top tips
Just make sure you follow my top tips for baking a pie in the slow cooker to make sure yours is a success too:
Line your slow cooker pot with two layers of parchment/baking paper/large cake cases – this protects the edges of the pastry from burning
Put a clean tea towel/dish towel under the lid of your slow cooker – this prevents water from dripping off the lid onto the top of the pastry and making it soggy
Seal the edges of your pie well where the top meets the sides of the pastry to prevent it from leaking – as you can see mine did leak on one side this time!
Remove the pie from the slow cooker very carefully using the layers of parchment or baking paper to pull it out – be gentle to prevent the sides of the pastry from breaking
Lastly, as with any good berry pie, apply cream liberally and serve!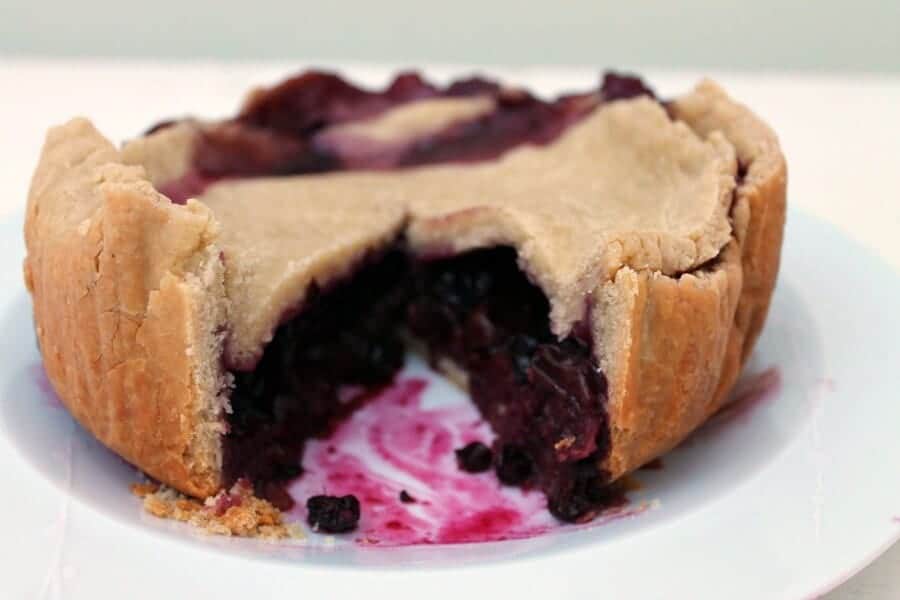 I'm definitely trying out more slow cooker pie fillings over the summer. Apple and cinnamon, simply strawberries, peaches, perhaps even something tropical with mango or pineapple.
Let me know if there's a pie variety you'd like me to post and I'll do my best to comply.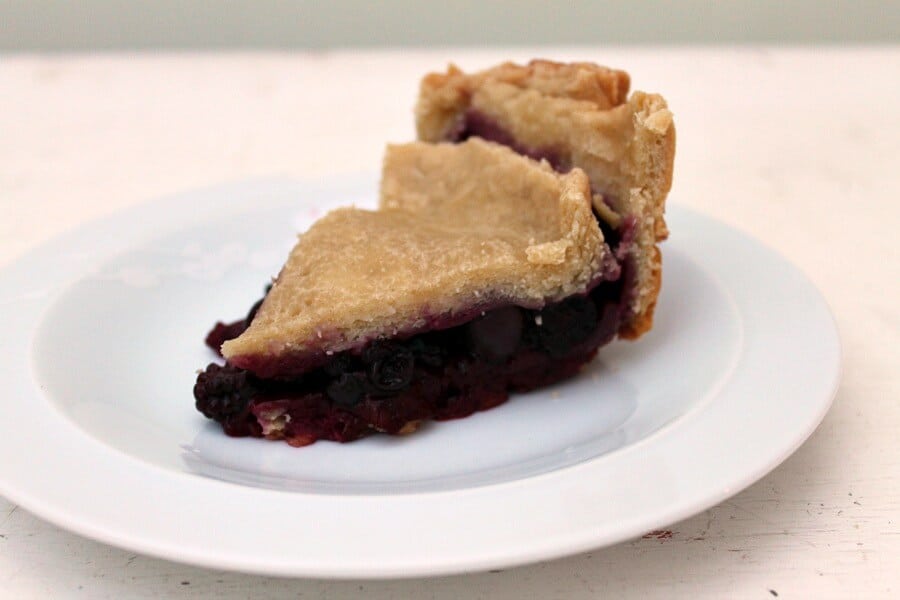 Make sure you pin my recipe for Slow Cooker Berry Pie for later!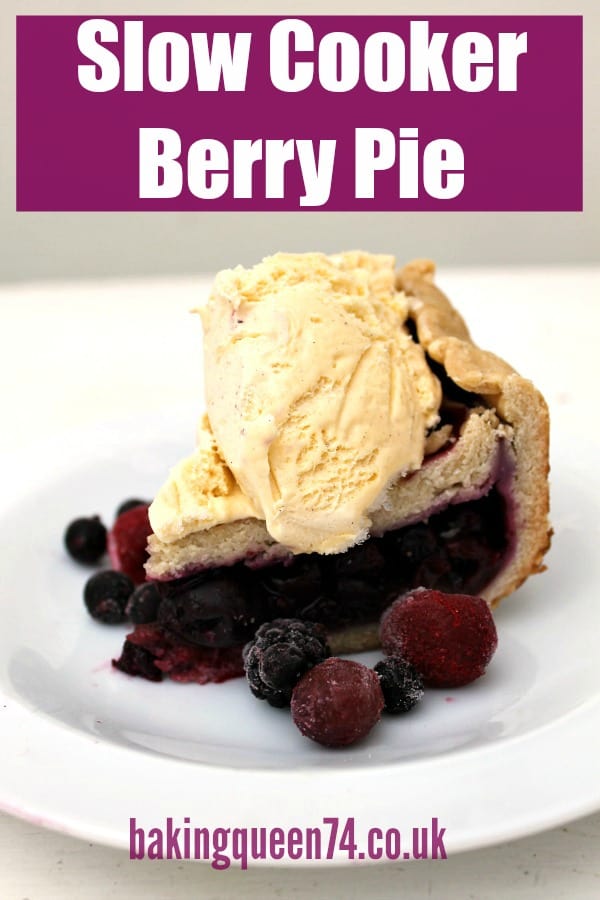 Recipe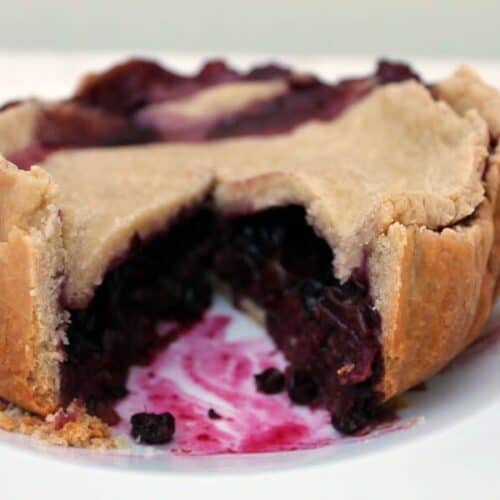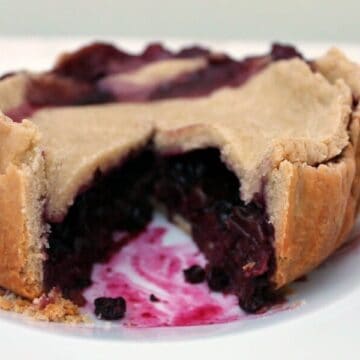 Slow Cooker Berry Pie
Make a delicious mixed berry pie in your slow cooker with a shortcrust pastry crust!
Print
Pin
Rate
Save
Saved!
Ingredients
450

g

pack of shortcrust pastry mix

alternatively you can use a ready made sheet of shortcrust pastry or make your own pastry

400

g

tin of strawberries in light syrup

drain off most of the liquid

250

g

frozen mixed berries

25

g

caster sugar
Instructions
First make up your pastry and roll it out using a rolling pin. Don't make it too thin.

I used a bag of shortcrust pastry mix to save time and made it up following the directions. If you are using a ready-rolled sheet or ready-made pastry block, remove it from the fridge for the time directed on the package.

I used a round 3.5 litre slow cooker to make my pie, so I ended up with a round pie, this also makes it easier to join the edges as well.

Line your slow cooker pot with two round cake cases (in England you can buy these from shops like Poundland or Home Bargains). You can also use layers of baking paper/parchment. Have a third cake case ready for the next step.

Place the third cake case on top of the pastry and mark out a circle which is approx. two inches larger than the cake case (or slow cooker pot) then cut this out with a knife.

Drape the circle of pastry over the third cake case, place it in your slow cooker and press in the sides gently so the pastry is flat to the base and sides of the lined pot.

Spoon in the strawberries and mix in the frozen berries.

Make a lid using the remaining pastry and cut to size.

Put on the pastry lid and dampen and crimp the edges to seal. Sprinkle the caster sugar over the top of the pie.

Place a tea towel under the lid and cook on high for 2 to 2.5 hours until the pastry is cooked and no longer soft. Leave the pie to stand for approx 30 minutes before you try to remove it, using the sides of the cake cases to pull it out gently.

Note regarding timings: Slow cooker baking times differ depending on your slow cooker, some of them cook much faster and some cook very slowly. You will need to look for the pastry being cooked and crisp and no longer soft, and look out for burning, to tell when your pie is done. This might take more or less time than in my slow cooker.

Transfer to a plate, slice and serve with cream!
Did you try and love this recipe?
Then please leave a review and rating in the comments at the bottom of the post. If you post your creation on Instagram, tag me @bakingqueen74 or use hashtag #bakingqueen74!