Perfect for your Easter dinner table, a joint of lamb cooked in the slow cooker is so succulent and melt in the mouth. What better than slow cooked leg of lamb with garlic and rosemary!
If you are busy with family and friends visiting on Easter Sunday, you can leave your lamb to cook while you hunt for chocolate eggs in the garden, and it won't need your attention – it's a win win situation! Lamb is also of course a great roast dinner for a normal week too, and ideal in the Spring when the British lamb is in the shops.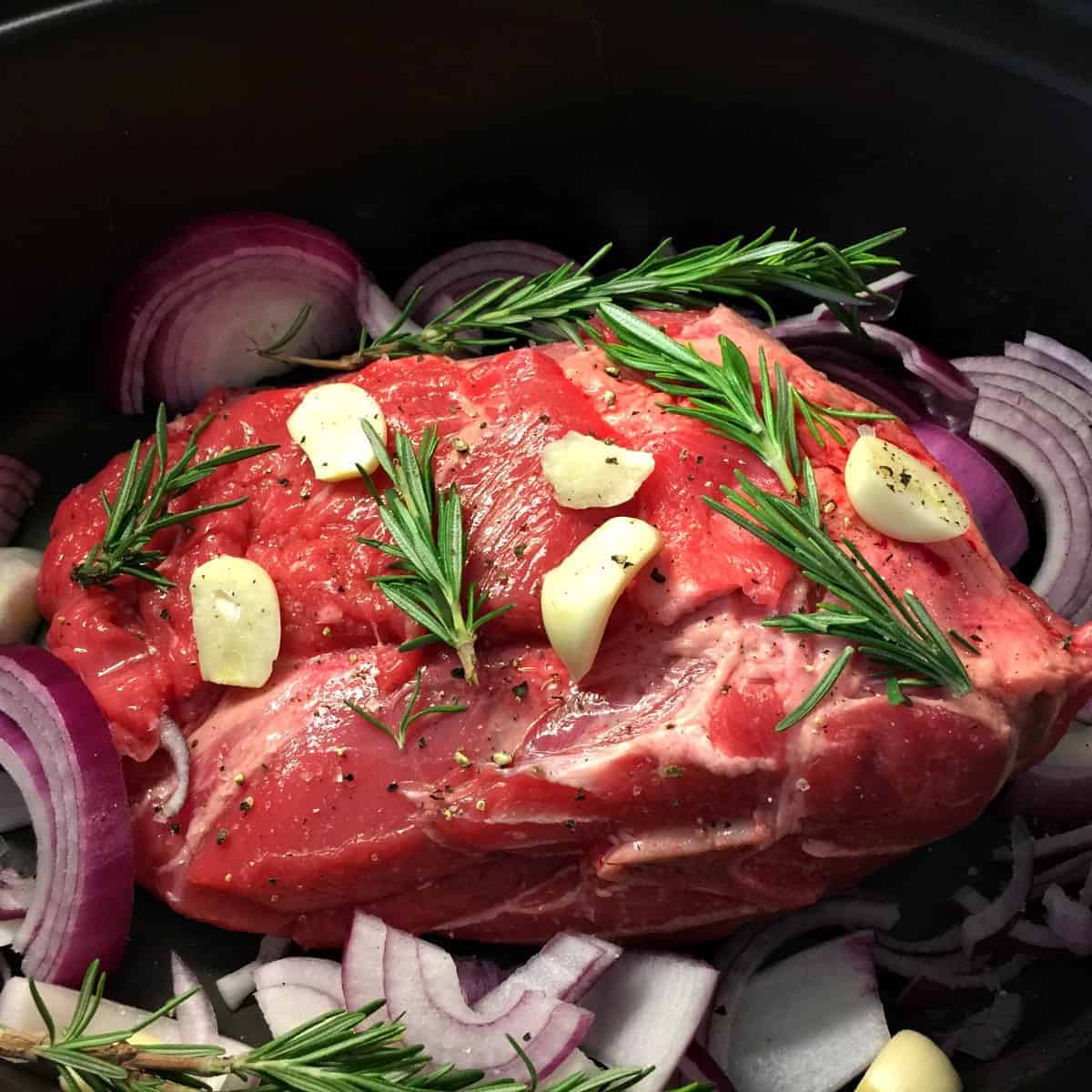 Jump to:
Ingredients
lamb joint – leg of lamb or shoulder. If you are cooking a whole leg make sure it fits your slow cooker – as a guide I tend to cook a 2 kg leg of lamb in a large 5.7 litre slow cooker, this fits well but it depends on the length of the leg joint.
a garlic bulb
fresh rosemary – gives better flavour than dried so try to use fresh if you can, a rosemary bush in the garden is so useful for this
mint sauce – if you love mint sauce then keep a jar of your favourite mint sauce or jelly in the fridge for your lamb
red onion – good as a base to put your meat on, also adds flavour if you want to make gravy from the meat juices afterwards
salt and pepper – always season your meat to your taste
Variations and method
We have slow cooker lamb with garlic and rosemary regularly for Sunday dinner so I have a few variations to show you. It's a firm favourite in our house! Here we have half a lamb shoulder with red onion, garlic and rosemary. Just prepare as you can see in the photo above, there is no liquid added at all. Cook on high for five hours or on low for eight hours.
A leg of lamb is another great option if you have a large slow cooker, as you can even fit in a whole one if you choose carefully, and feed a crowd at Easter.
This next version is a leg of lamb, with slashes cut into it and garlic and sprigs of rosemary pushed into the slashes, with mint sauce smeared over it, then cooked for about 1 hr on high then 7 on low (in a 5.7 litre slow cooker).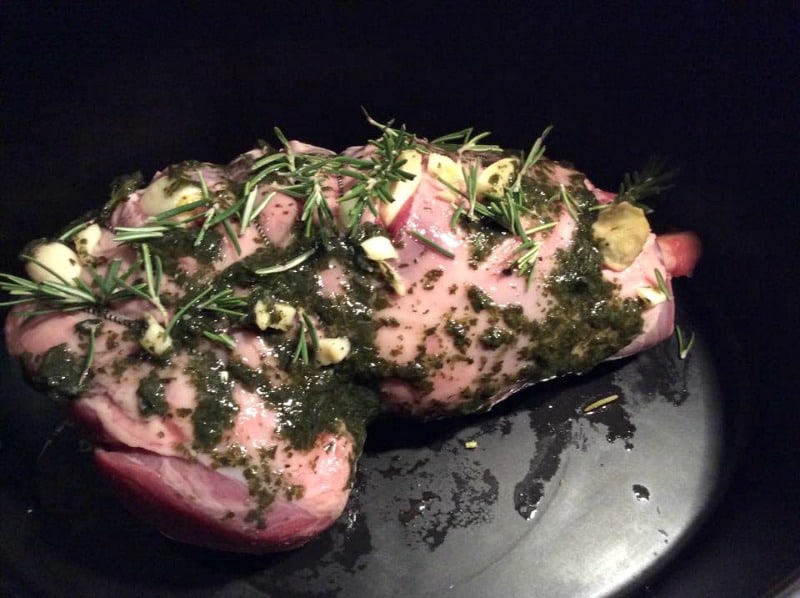 After cooking, the lamb has browned in the slow cooker and comes away from the bone cleanly, and you can see the wonderful rich juices produced by the meat.
This is delicious if you want to make your own gravy by adding a little flour and cooking it off in a pan.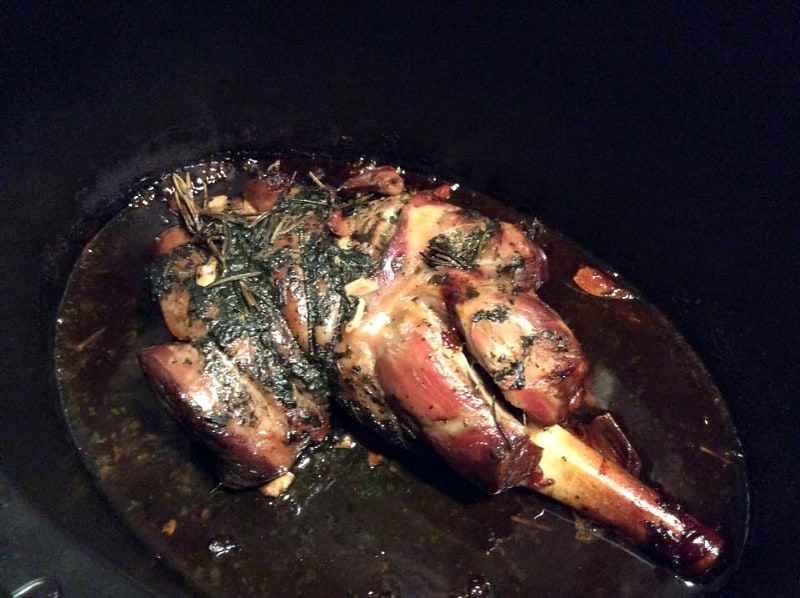 In this version below, I have not used mint sauce but done the same with the garlic and rosemary.
This is a half leg of lamb and it was cooked for about 4-5 hours on high. I use high to cook meat if I am only putting it on at lunch time, ready for the evening. If cooking all day, you would generally use the low setting.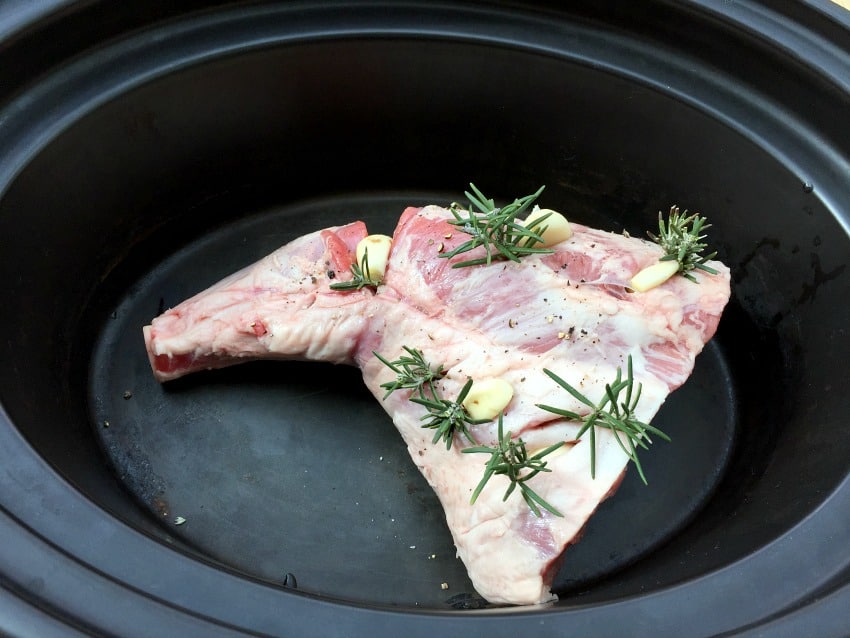 After cooking the meat is so tender, and falls off the bone. The garlic and rosemary can be removed now and their flavours have cooked through the lamb during the long slow cooking.
The meat has turned golden brown and you would almost not believe this is from a slow cooker!
For more slow cooker roast recipes make sure you take a look at my guide to slow cooker roasts.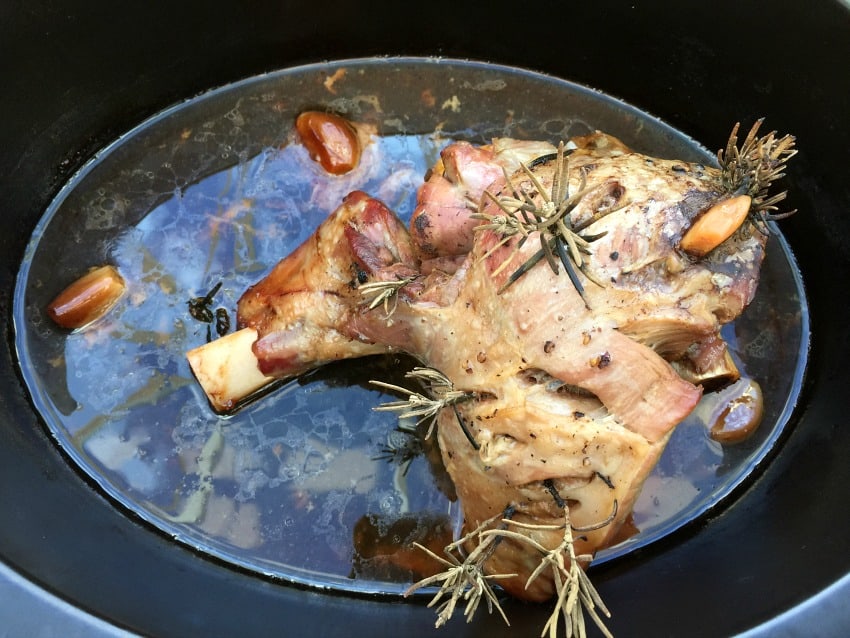 More lamb recipes
For some other lamb recipes to try, take a look at these suggestions from fellow food bloggers:
Pin this slow cooker lamb for later!


Recipe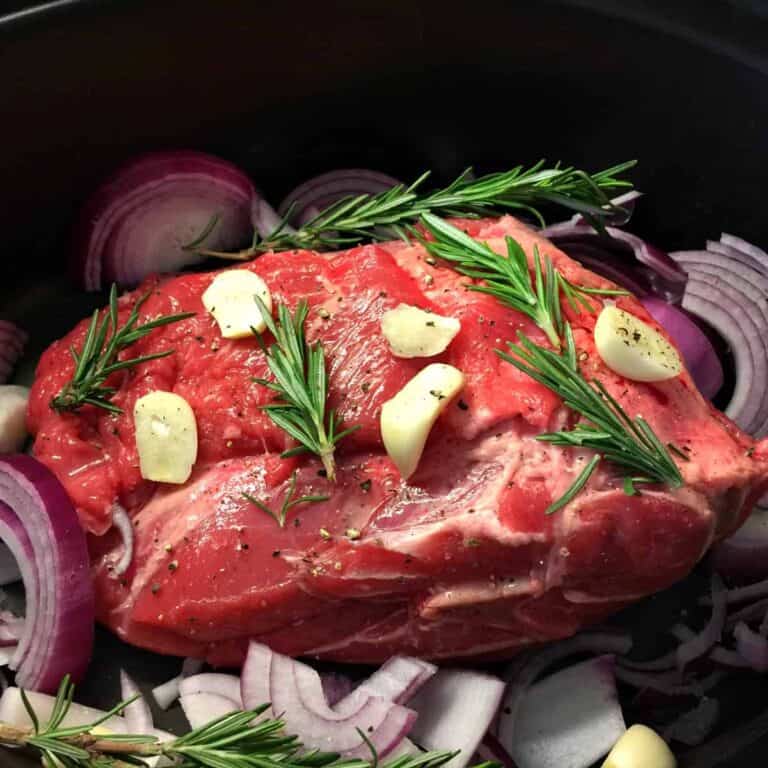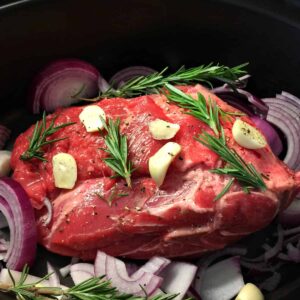 Slow Cooker Lamb with Rosemary and Garlic
Delicious leg of lamb (or shoulder) cooked in your slow cooker with sprigs of rosemary, cloves of garlic, and mint sauce if you like it, on a bed of red onions, for a delicious roast meal.
Print
Pin
Rate
Save
Saved!
Ingredients
1

half leg (or a shoulder) of lamb

if buying a whole leg, make sure it will fit your slow cooker!

salt and pepper

4-5

cloves

of garlic

a few sprigs of rosemary

optional: red onions and mint sauce
Instructions
Place the lamb in the slow cooker, make slashes in the meat and push the cloves of garlic and sprigs of rosemary into the holes.

Season with salt and pepper.

Cook on high for 4-5 hours or on low for 8 hours.
Notes
Delicious served with roast potatoes and gravy made from the lamb juices, as well as fresh carrots and green spring vegetables. Ideal for your Easter meal! Why not follow it with a slow cooker chocolate overload cookie cake to use up the Easter chocs.
Did you try and love this recipe?
Then please leave a review and rating in the comments at the bottom of the post. If you post your creation on Instagram, tag me @bakingqueen74 or use hashtag #bakingqueen74!