If you are short on time and still want to enjoy homemade bread from scratch, slow cooker no knead bread is a great solution. This delicious rustic loaf can be yours with only minutes of prep!


Jump to:
What is no knead bread
Have you come across no knead bread before? It is a way to avoid the tedious and sometimes lengthy kneading step when you are making yeasted bread. Instead of kneading you leave the dough to rise for much longer than normal, and the gluten strands develop during this process instead of through the process of kneading.
Combining this with baking the bread in the slow cooker or crockpot means the whole bread making process is pretty hands off! That's why I love making this slow cooker no knead bread, it is great when you are short on time.
This easy no knead bread recipe is perfect to prepare the night before so you can enjoy homemade bread the next day with very little hands on time!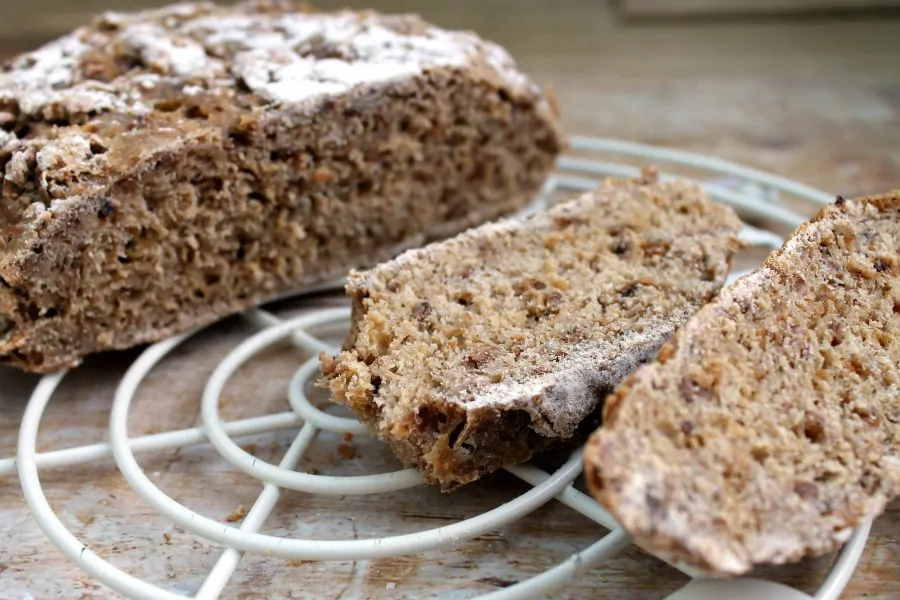 Preparation the day before
The only preparatory step needed is to mix together the ingredients to a dough and leave to prove in a bowl overnight. That's it!
The next morning, I shape the dough into a boule shape, dredge with flour, put it in the slow cooker pot on baking paper and leave to bake for a couple of hours.
Turn it over about 30 minutes from the end to ensure the top is not soft and doughy. See the step by step instructions below with pictures too.
All the taste of a homebaked loaf of bread but without all the hassle! As long as you can remember to make the dough up the day before you want it, and can spare 5 minutes to do that, that's all you need to do.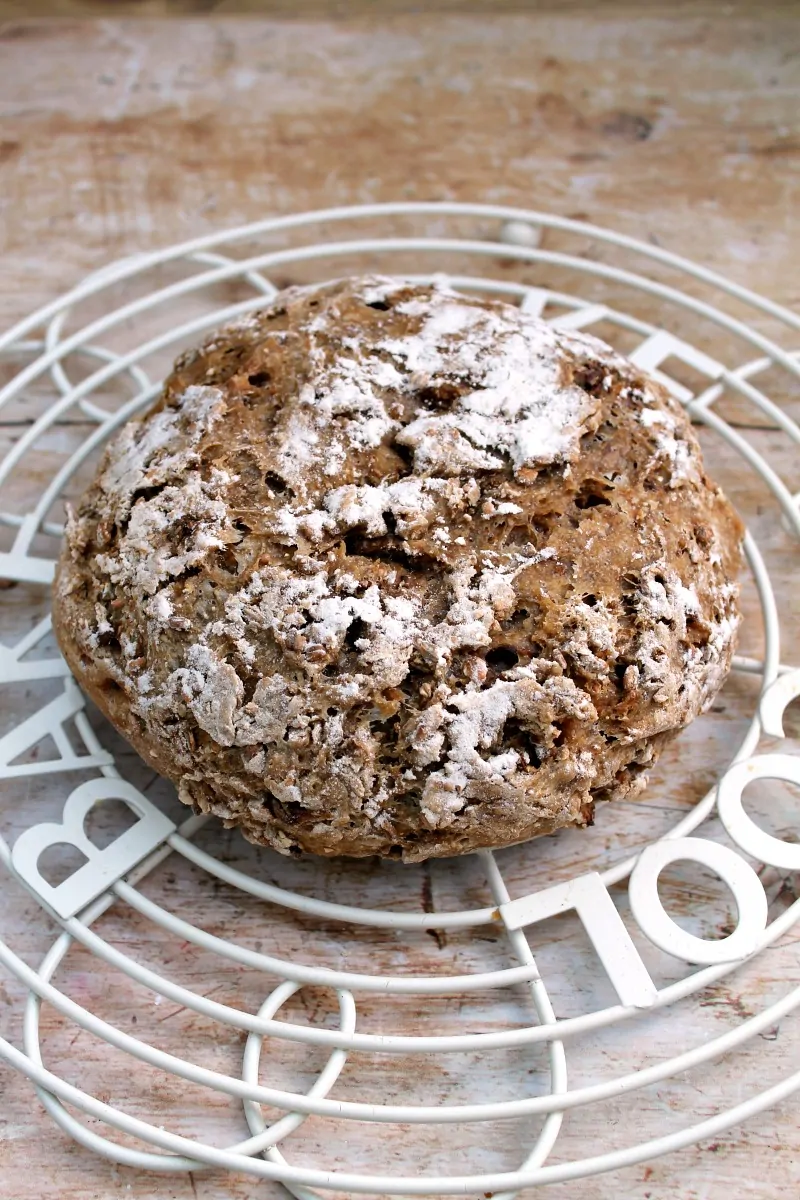 Which flour to use
This rustic loaf was made using a Wessex cobber bread flour from Wessex Mill that I picked up at the local farm shop, which is a malted flour similar to granary flour.
It contains malted wheat flakes and the loaf produced has a nice malty nutty flavour. You can see it has a nice light brown colour.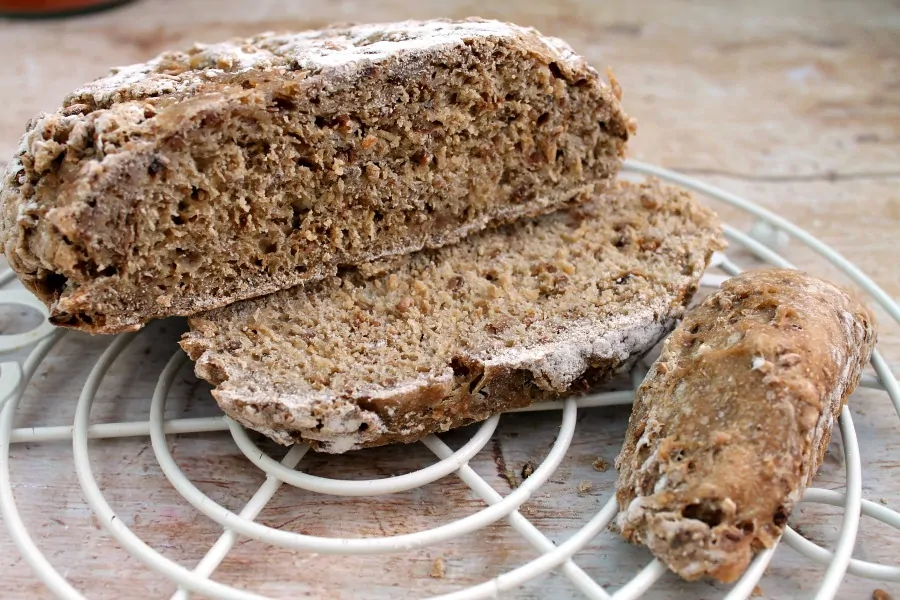 You can certainly also use a normal strong white or brown flour instead, for a smoother more uniform loaf.
Do make sure you choose a a strong flour made for making bread with though. That's what you will need for this slow cooker no knead bread recipe.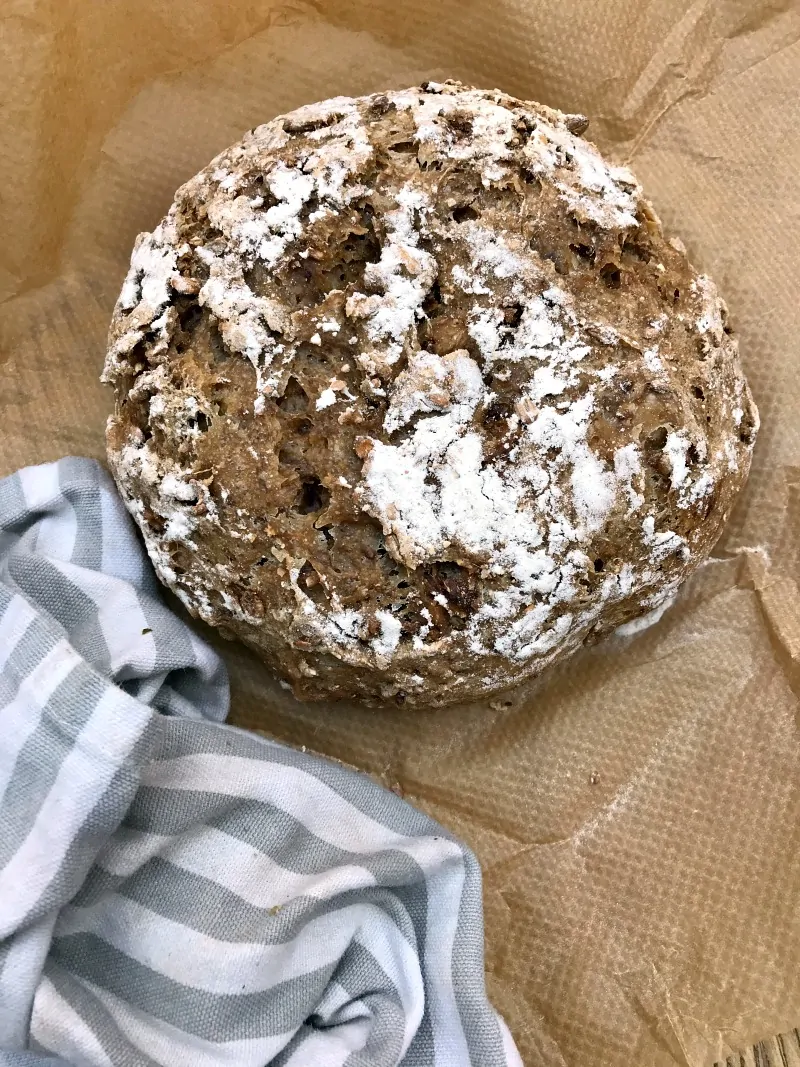 Step by step instructions
Step 1. In a large bowl place your flour, yeast and salt. Make sure you put the yeast and salt in on different sides of the bowl (salt kills yeast).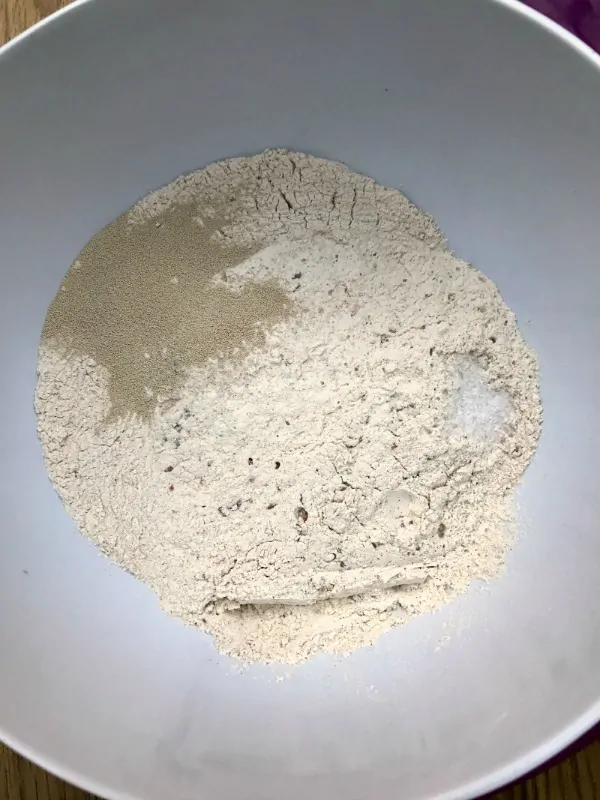 Step 2. Add lukewarm water.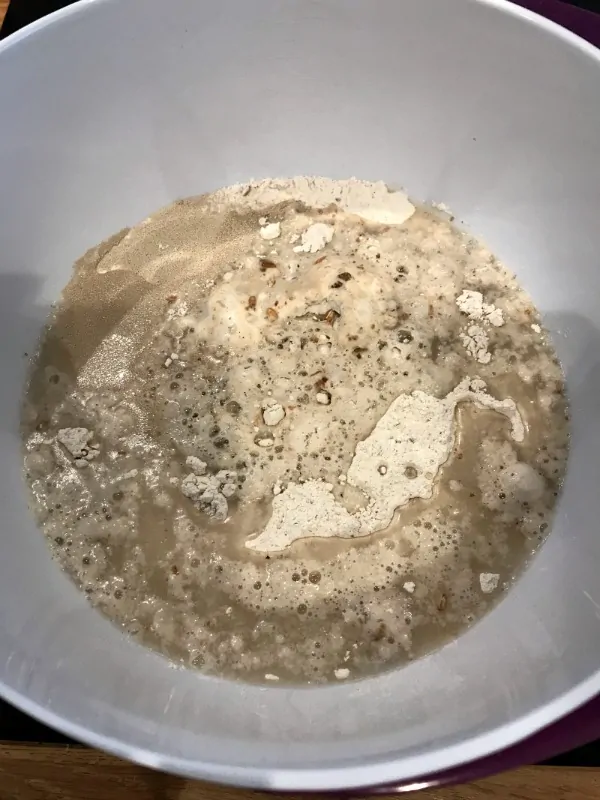 Step 3. Mix together util it forms a dough. Remember, you don't need to knead it!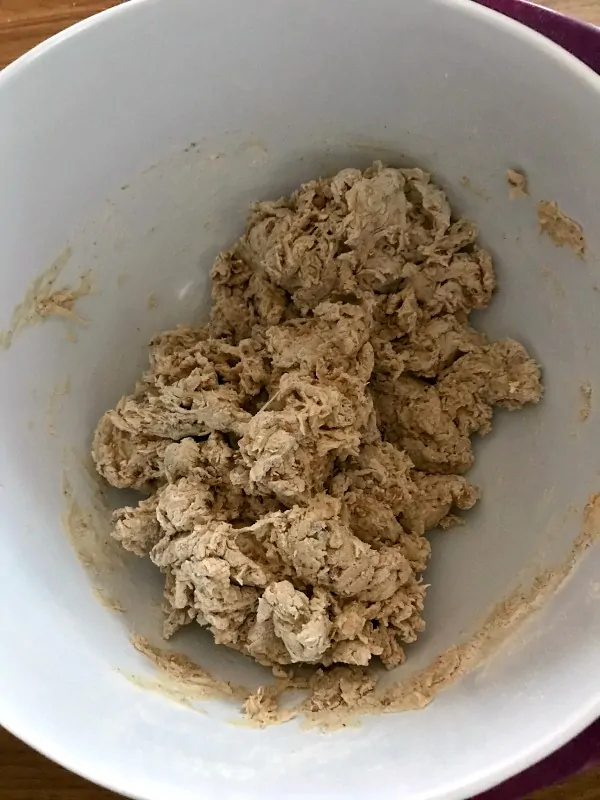 Step 4. Bring the dough together into a ball. Now cover it with clingfilm and leave overnight. I left mine from 3pm to the next morning as it was during a cold spell. In the summer it would take less time.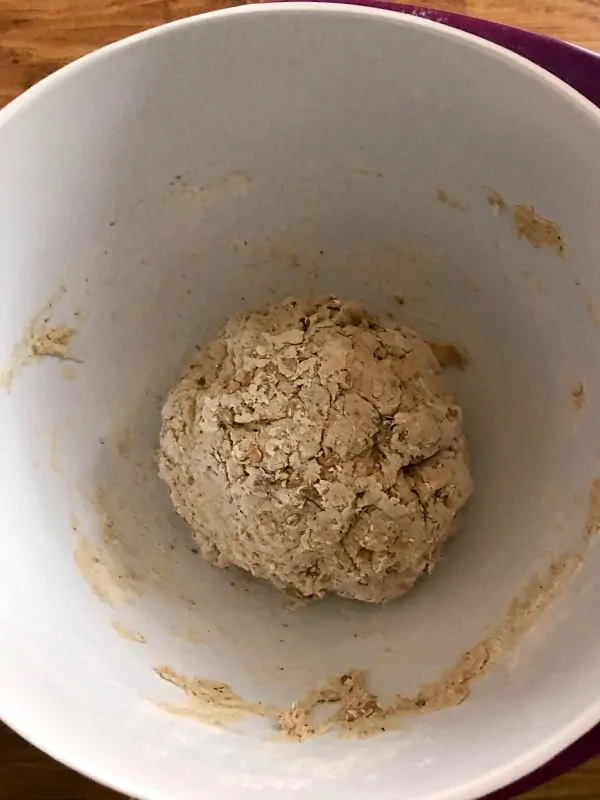 Step 5. Next morning, check that the dough has now doubled in size as mine has here, you can now bake it.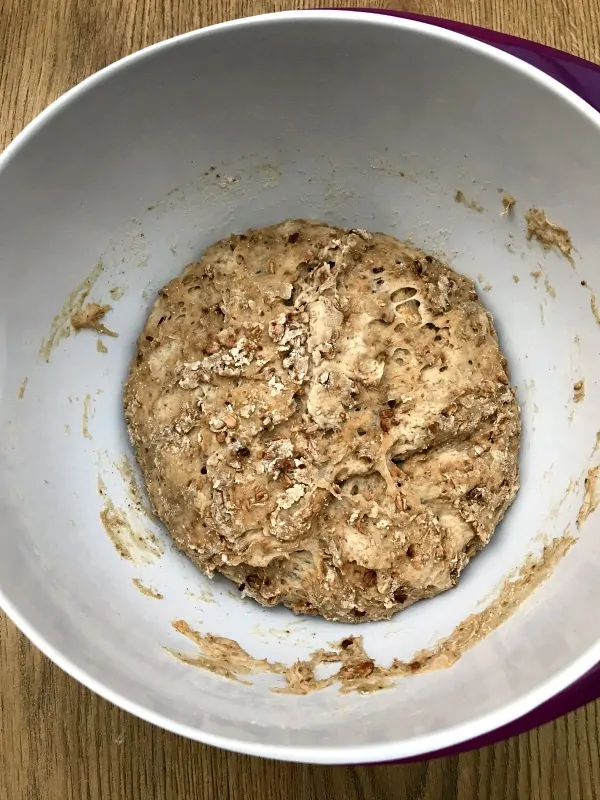 Step 6. Take the dough out of the bowl, form it into a ball shape and place on baking paper.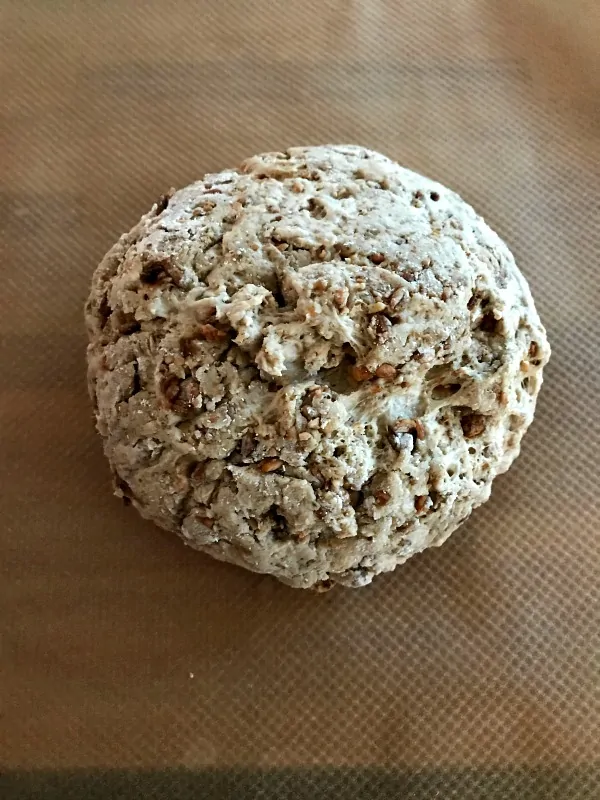 Step 7. Dredge over a little flour and put it in the slow cooker on the baking paper.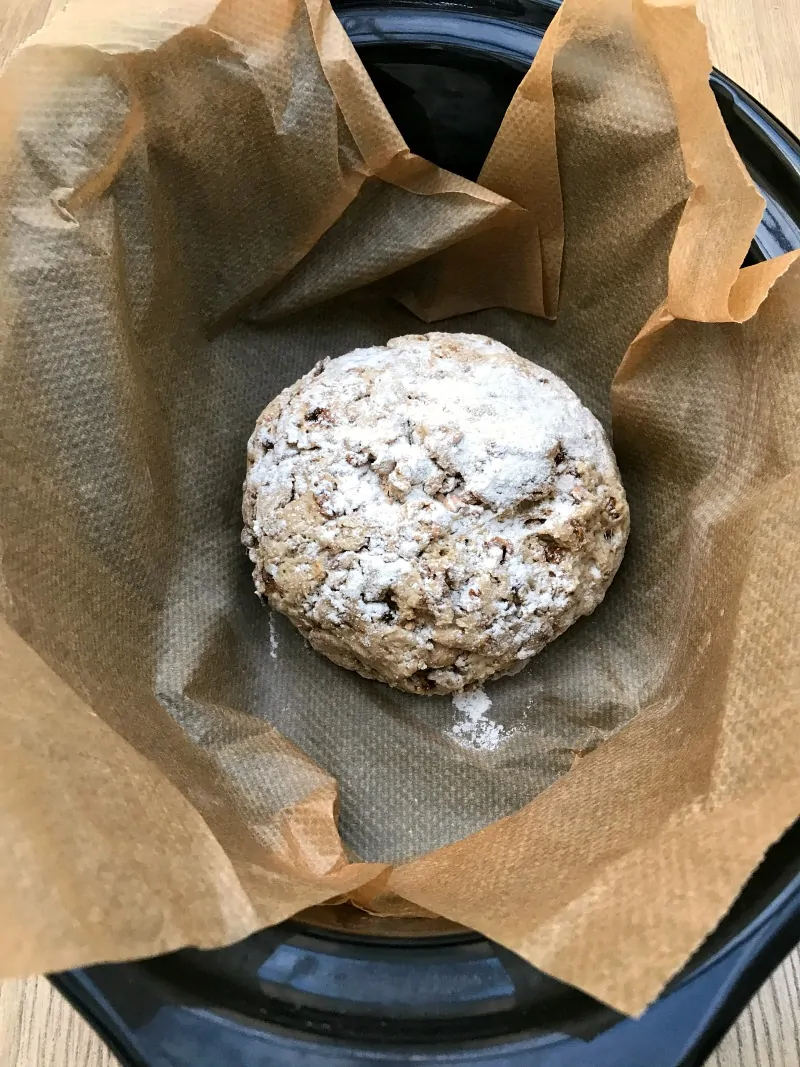 Step 8. Place a clean tea towel under the slow cooker lid, put the lid on and fold the edges of the tea towel over the top of the lid.
Cook on high for 2 hours. Check during baking. Turn over and bake for another 30 minutes.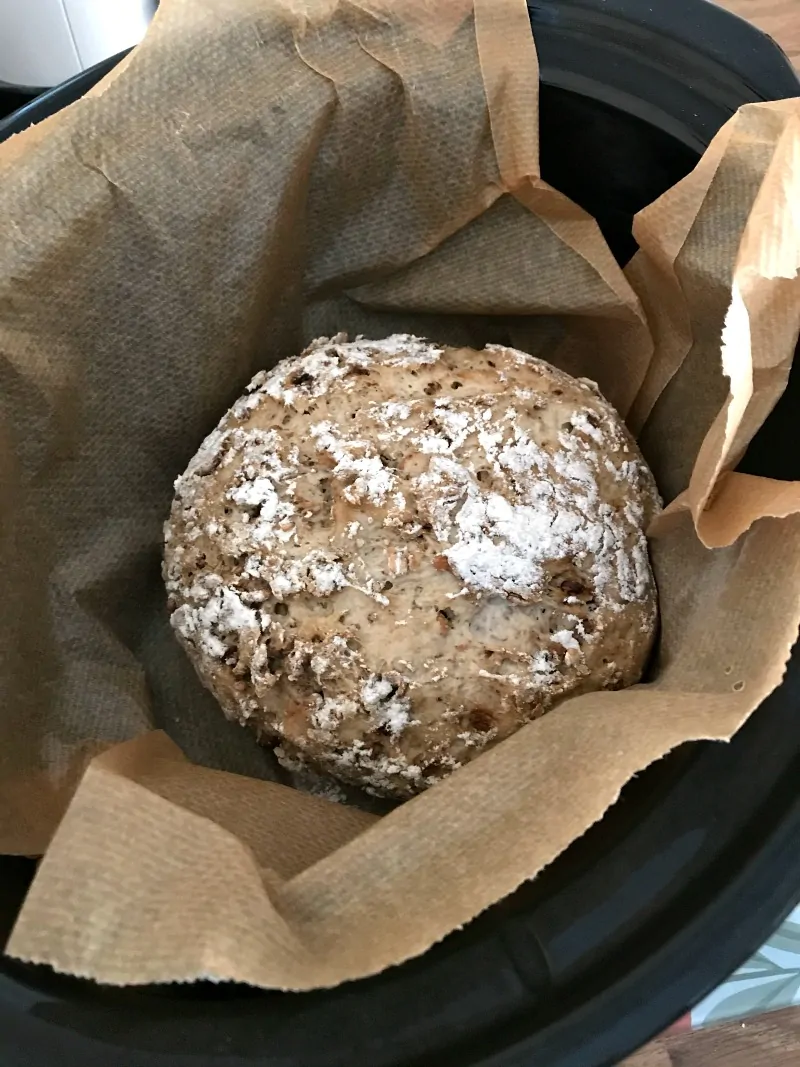 Step 9. Check that the loaf is cooked through by tapping the base and ensuring it sounds hollow. Also check that no areas of the crust still look doughy.
To be totally sure, you can use a Thermapen or similar food thermometer to check the internal temperature (bread needs to reach around 90 degrees Celsius or 190 degrees F).
Keep cooking until you are sure it is fully cooked. Once cooked, remove from the pot, allow to cool. Then slice and enjoy!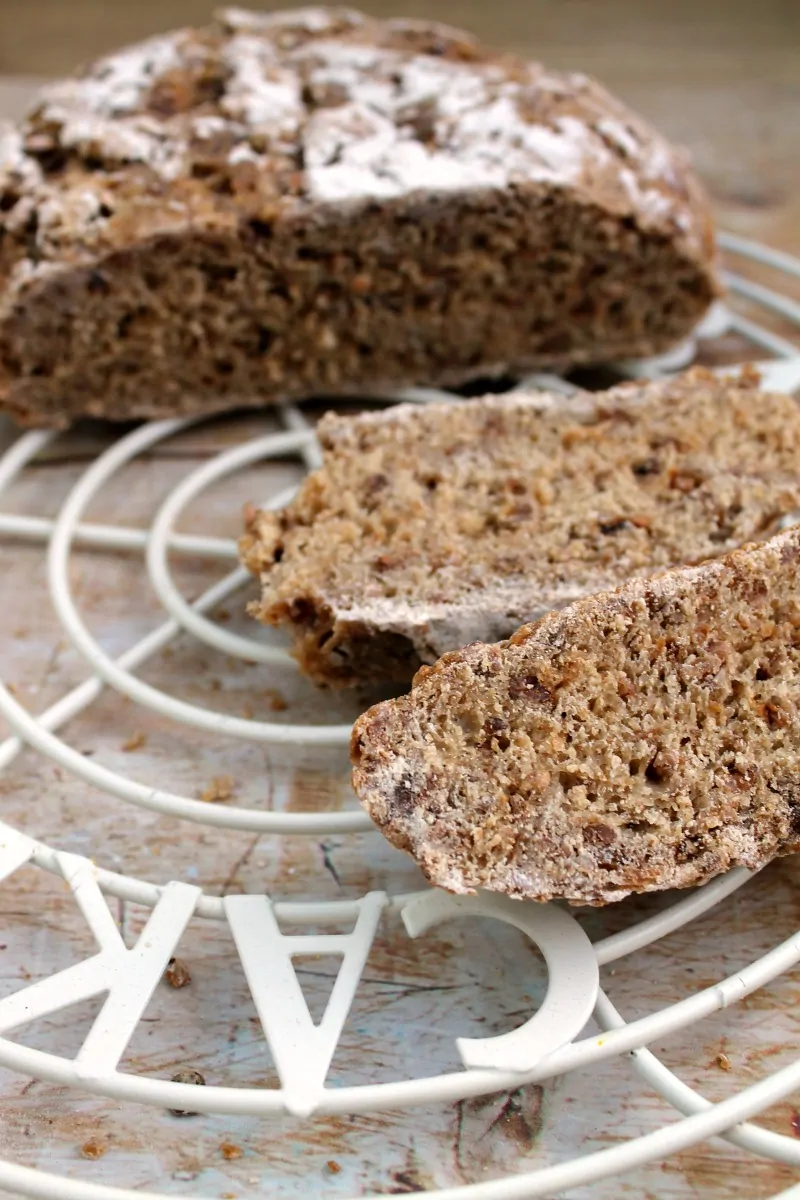 More slow cooker bread
If you've been bitten by the slow cooker bread bug, then I have plenty more recipes you can try:
There are even more in my Bread archives. Baking in a slow cooker is a hobby of mine so make sure you check out all the amazing things you can bake in your crockpot too.
If you want to branch out with your breadmaking after getting hooked by no knead bread, and try making sourdough, this easy recipe from the Clever Carrot is perfect for beginners.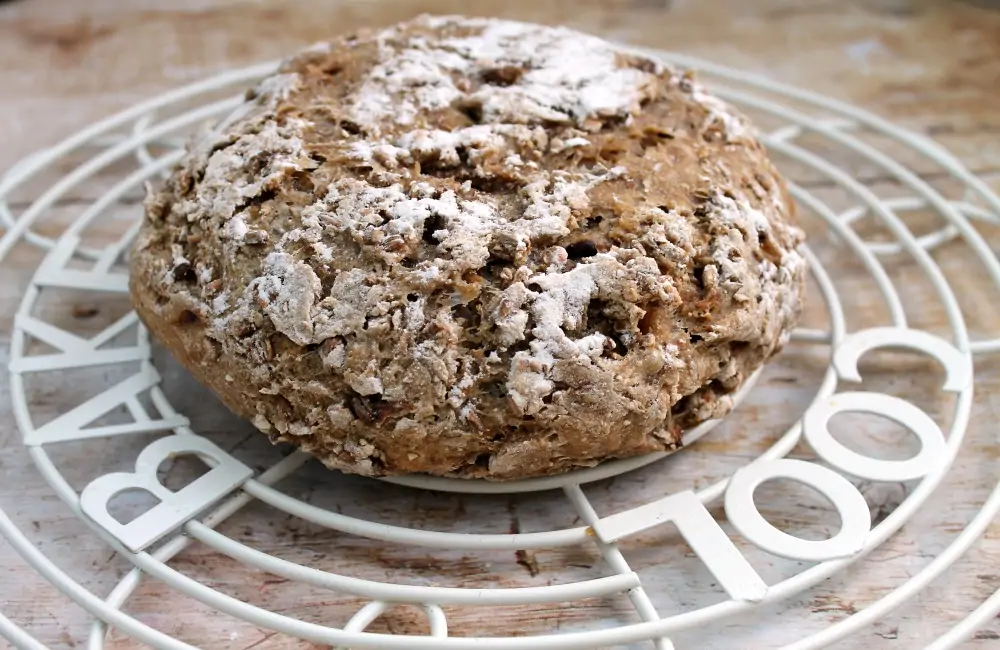 Pin this recipe for later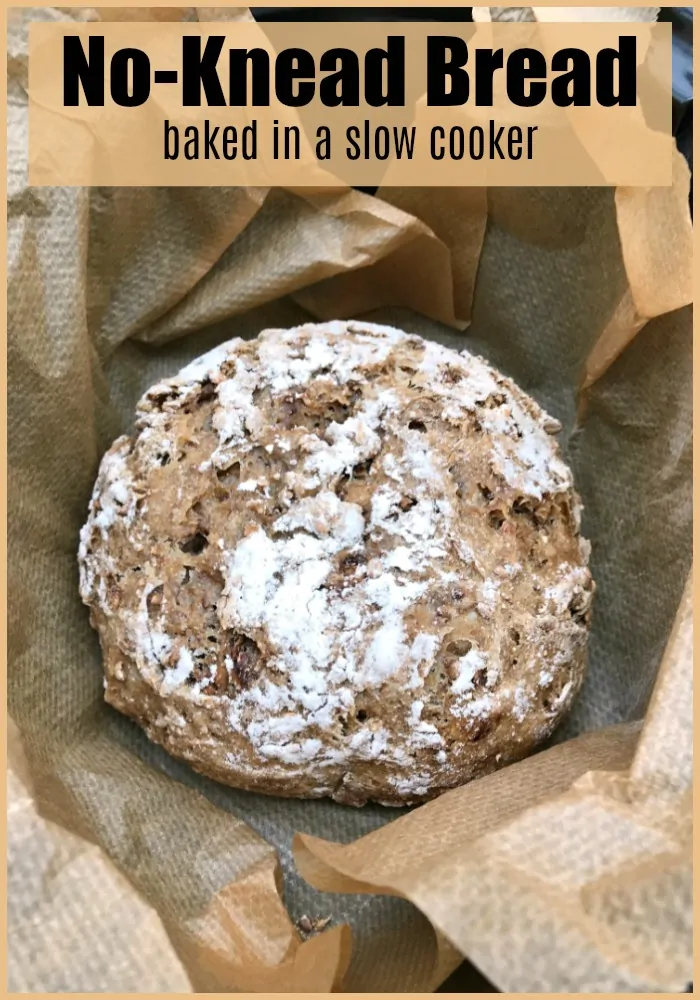 Recipe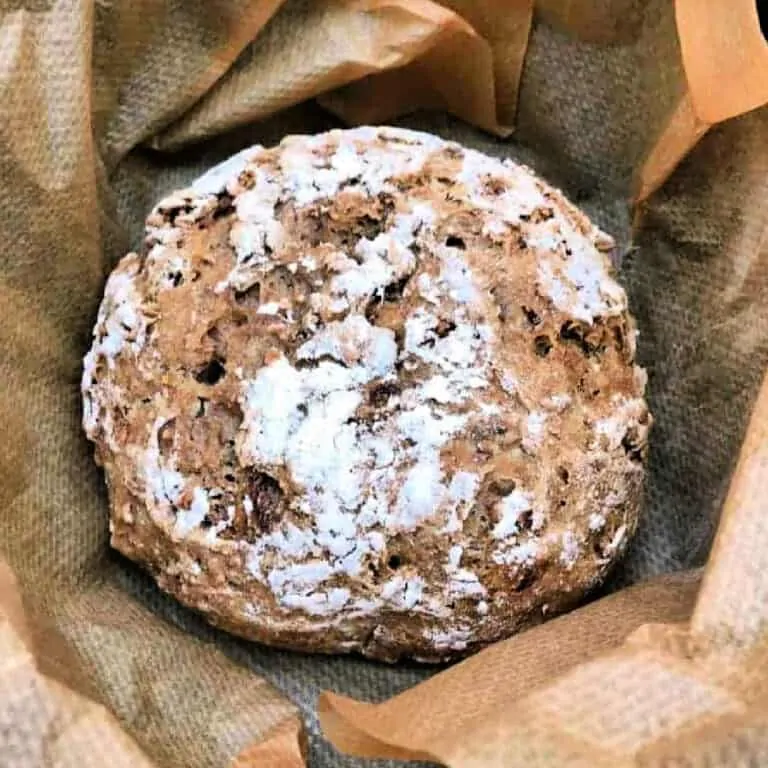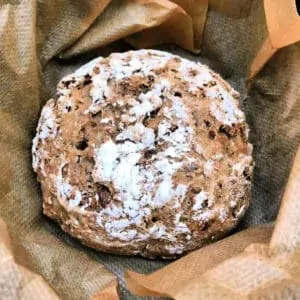 Slow Cooker No Knead Bread
A simple recipe for a delicious rustic loaf of bread baked in your slow cooker and with no kneading required
Print
Pin
Rate
Save
Saved!
Ingredients
480

g

bread flour

I used malted

1

sachet

yeast

1

tsp

salt

280

ml

tepid water
Instructions
Put the flour in a bowl and add the yeast on one side of the bowl and the salt on the other.

480 g bread flour,

1 sachet yeast,

1 tsp salt

Pour in the water and mix together to form a dough.

Bring the dough together into a ball.

Cover the bowl with clingfilm and leave for 12-16 hours overnight, to prove, in a warm place.

After the overnight prove, the dough should have doubled in size.

From the dough into a ball, place on baking paper and dredge with a little flour.

Place the dough and baking paper into the slow cooker pot. Put the lid on and put a tea towel under the lid, folding up the sides over the top of the lid.

Cook on high for 2 hours. Turn over and cook for 30 minutes more.

Check it is cooked through either by tapping to check it sounds hollow, inspecting for doughy areas or using a thermometer to check the internal temperature has reached 90 degrees Celsius.

Remove from the slow cooker, allow to cool, slice and enjoy.
Notes
Slow Cooker Size Used
I baked this loaf in a large 4.7 litre/5 quart oval slow cooker.
You can cook it in any size slow cooker the dough will fit in. I would recommend either a midsize or large slow cooker.
Did you try and love this recipe?
Then please leave a review and rating in the comments at the bottom of the post. If you post your creation on Instagram, tag me @bakingqueen74 or use hashtag #bakingqueen74!