This slow cooker tomato paprika bread is brilliant served with veggie soup or alongside a big bowl of chilli or stew too, so it is really versatile. You don't need any yeast to make it, just self-raising (self-rising) flour and yoghurt, so it is great if supplies are low.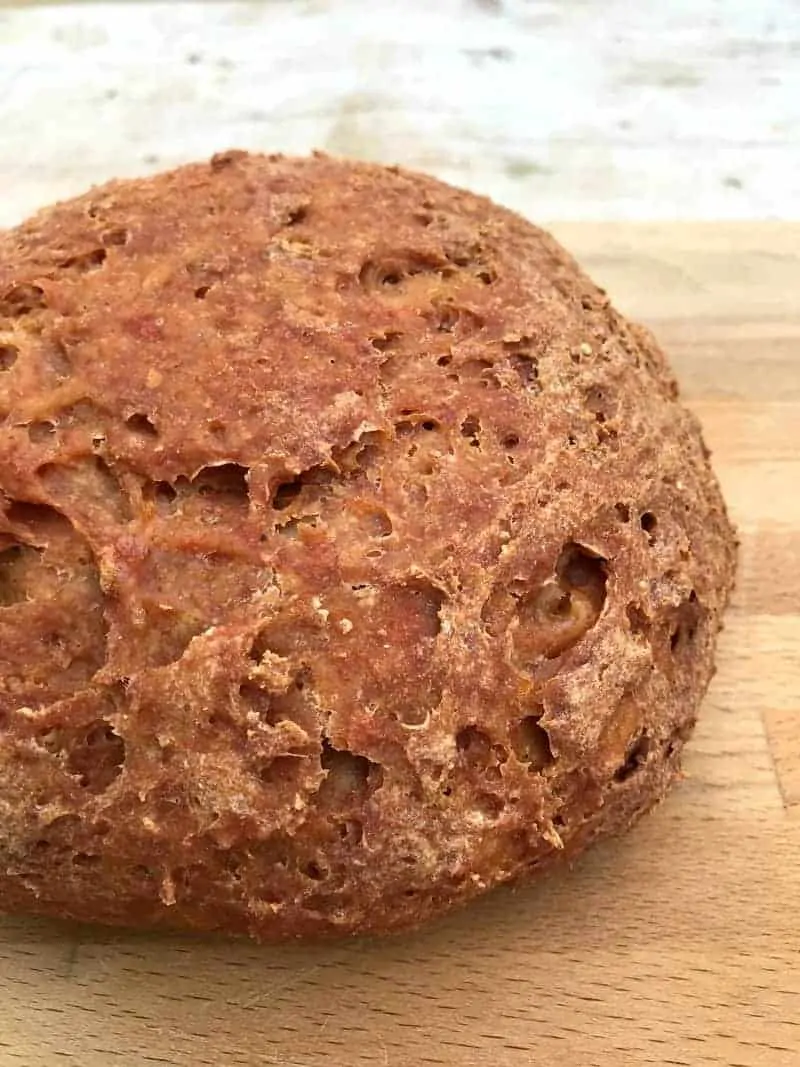 Have you baked bread in your slow cooker before? I find you can get a really good crust so I use my slow cooker for bread quite often.
It is great to be able to make soup in one slow cooker and a loaf of homemade bread to serve with it in another!
Jump to:
Getting a brown crust in slow cooker
No oven was used in the making of this bread! Yes that's right, the tasty crust you can see here was just from the slow cooker.
How is this possible? Well a thick tea towel/dish towel under the lid of the slow cooker stops water dripping onto the loaf and means it stays pretty dry inside your pot.
If the top seems a bit wet and soft you can turn over the loaf and the contact with the base of the lined slow cooker pot will brown it off. For this loaf I only turned it over for the last ten minutes.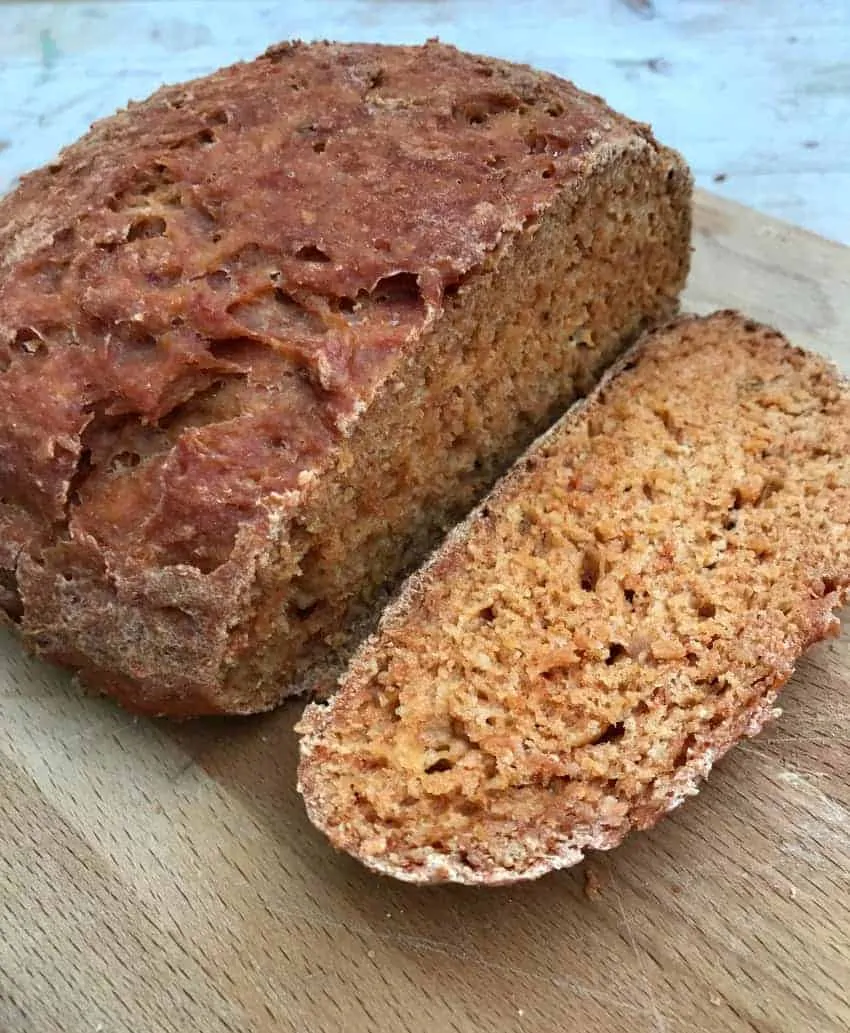 Step by step
This slow cooker tomato paprika bread is a no rise and no yeast bread, it is so easy to make. I used Greek yoghurt in this bread but any kind of yoghurt would work if the stores are out.
Tomato puree (from a tube or small can) is used in this recipe – note that the US equivalent to European tomato puree is tomato paste. It is a thick dry paste.
I chose 0% fat Greek yoghurt to make this as this has zero points on WeightWatchers. So it is healthy too!
Step 1. Make your dough by mixing together the flour, yoghurt, salt, baking powder tomato puree (tomato paste) and paprika in a bowl, then shape into a rough round.
Step 2. Put it into the lined slow cooker pot. I put the dough on top of a couple of pieces of baking paper, both folded.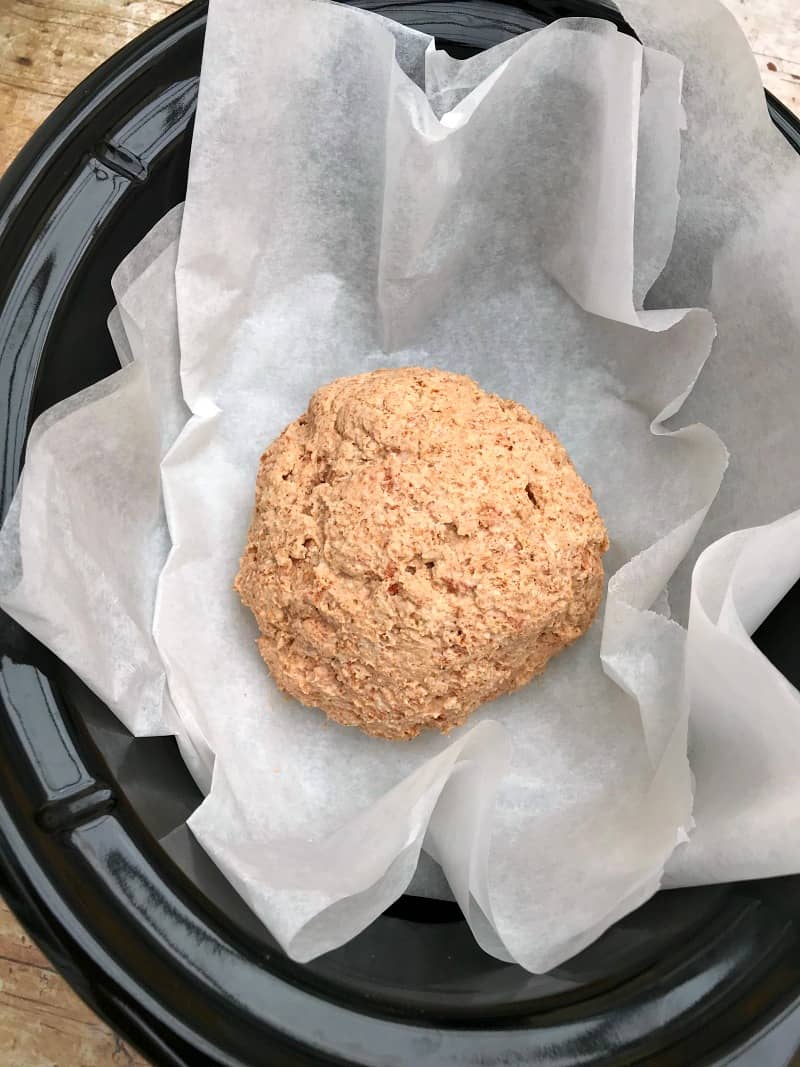 Step 3. Cook on high for a 2-3 hours, turn over the loaf brown the top for the last 30 minutes, and the loaf below will greet you when you lift the lid! I loved the artisanal rustic look of this loaf. Nearly as pretty as a sourdough loaf but a lot less hassle to make!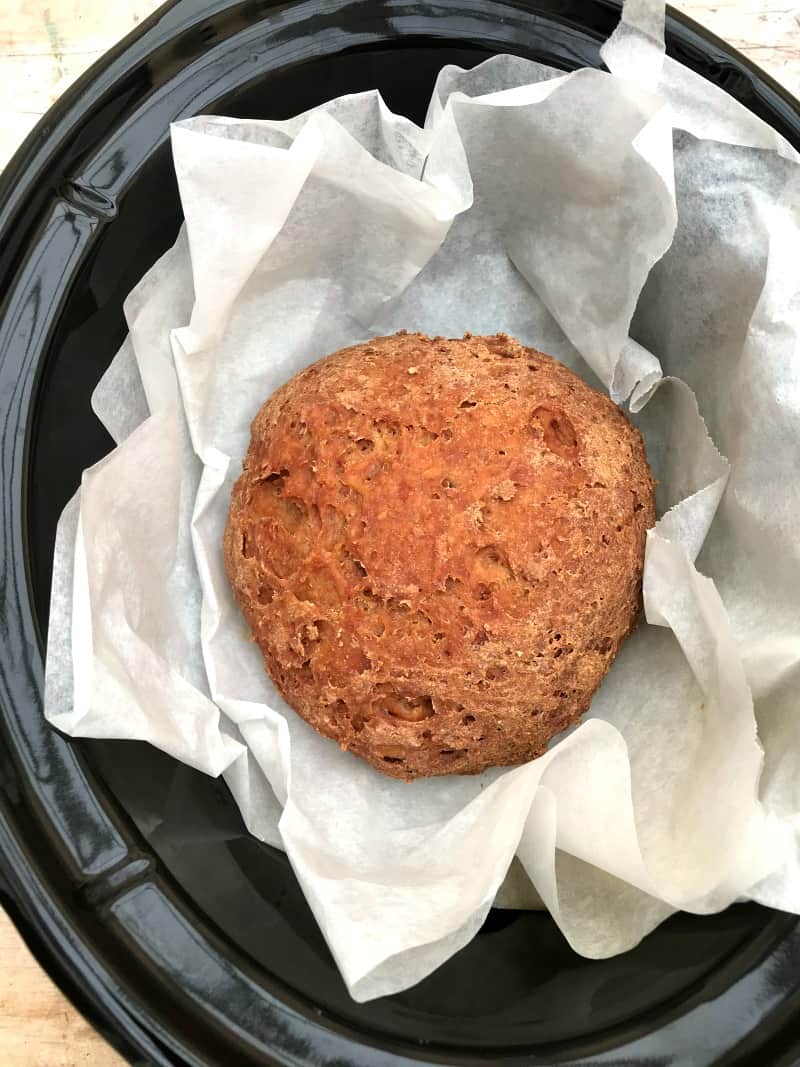 As I chose tomato and smoked paprika flavours for this loaf, it has a lovely reddish tinge.
The flavours go so well with a spicy soup or a pot of chilli or just buttered with salads and cheese, however you prefer it really.
Recipe swaps
This bread is delicious but the recipe is also very versatile as a base:
Leave out the tomato puree and paprika and you have a good plain white bread recipe.
Add in any dried or fresh herbs you have available.
Add your favourite grated cheese to make cheese and tomato bread.
Drain some sun-dried tomatoes, then chop them into small pieces and add into this recipe for an even more intense tomato flavour.
Add in some chopped red peppers.
More slow cooker bread
For more slow cooker bread recipes you might want to try more of my recipes:
For lots of sweet slow cooker baking make sure you look in my Slow Cooker Desserts category.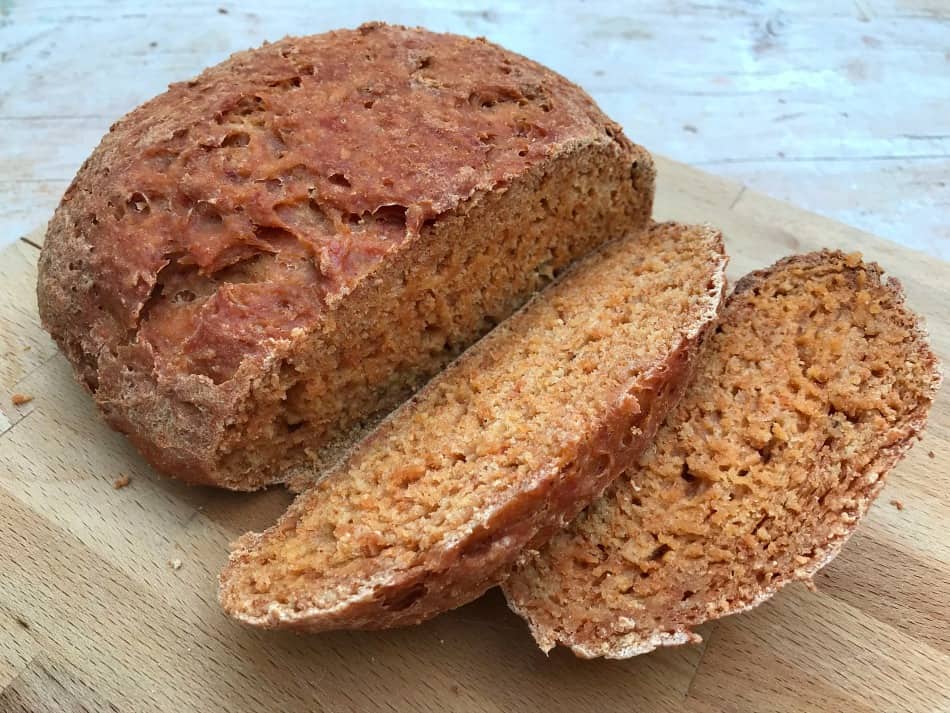 Pin this Slow Cooker Tomato Paprika Bread Recipe for later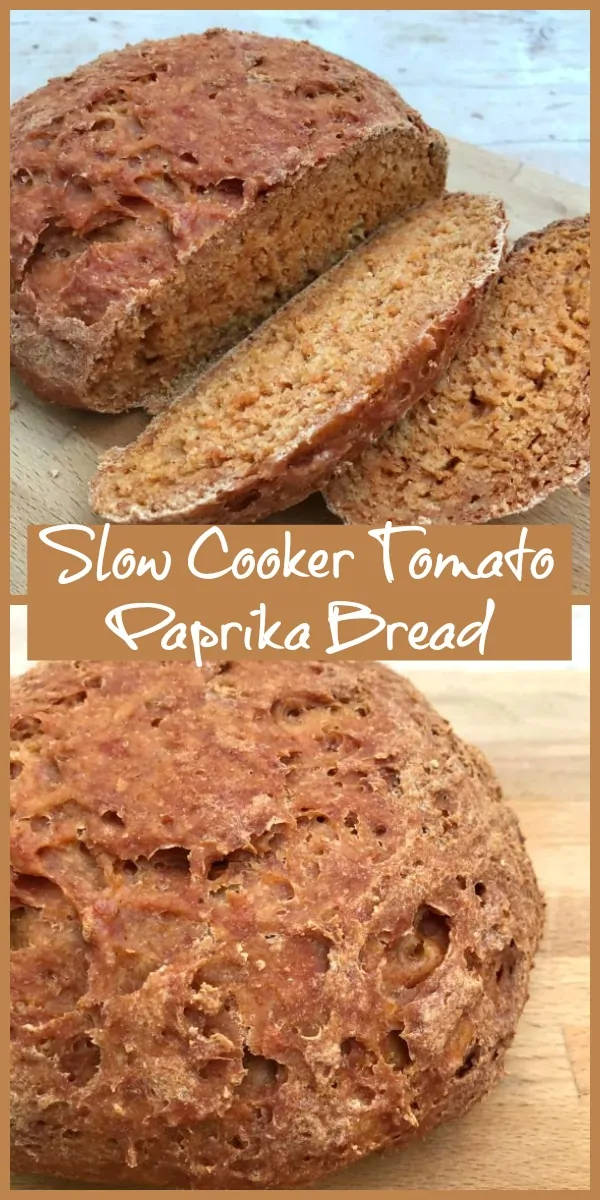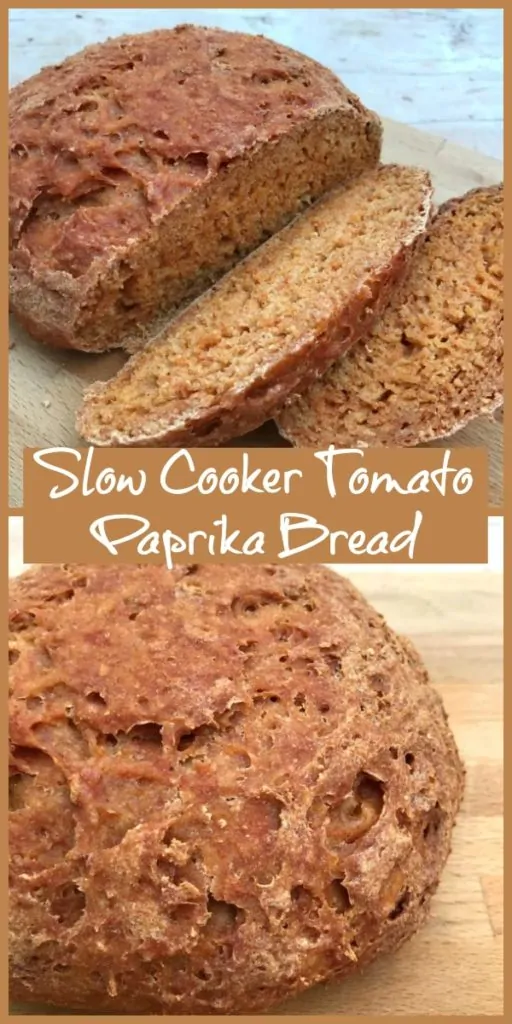 Recipe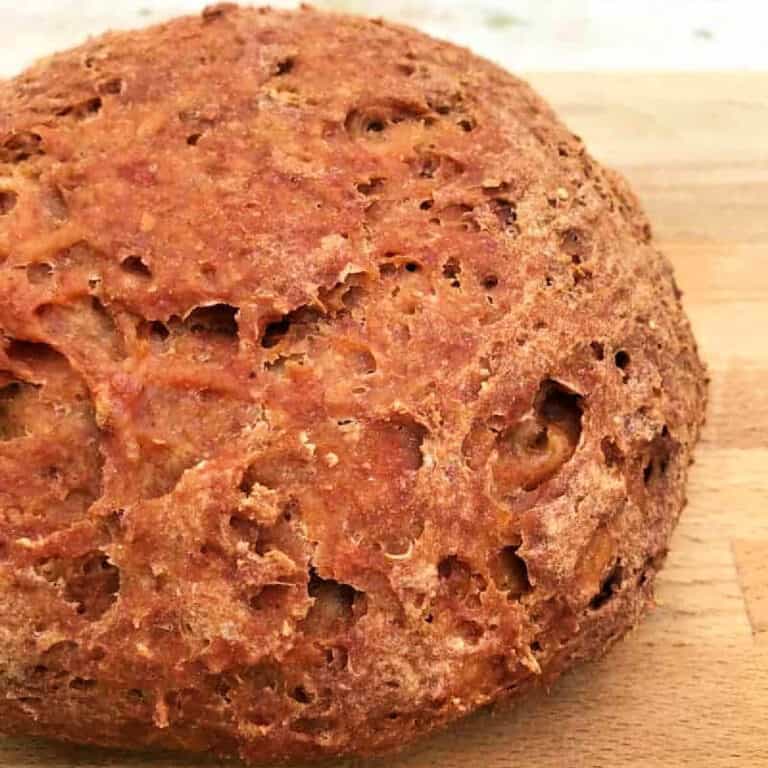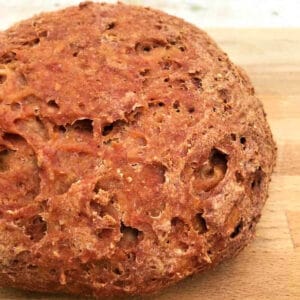 Slow Cooker Tomato Paprika Bread
A tasty loaf with smoked paprika and tomato flavours, baked in your crockpot
Print
Pin
Rate
Save
Saved!
Instructions
Place the flour, baking powder and salt in a large bowl.

350 g self-raising flour,

2 tsp baking powder,

0.5 tsp salt

Add the Greek yoghurt, smoked paprika, tomato puree/paste and a couple of splashes of water (if needed) and stir until it forms a soft dough.

250 g Greek yoghurt,

2 tsp smoked paprika,

3 tbsp tomato puree

Place a folded piece of baking paper in the slow cooker pot. Fold another piece, place the dough on it and form into a round.

Cook on high, with a tea towel or a few pieces of kitchen paper under the lid to catch drips, for three hours.

For the last ten minutes, turn the loaf over to brown the top.

Use the baking paper to lift the loaf out. Cool slightly then slice and serve.
Notes
Slow cooker size used:
This loaf is made in a large 6 litre/6 quart slow cooker.
Did you try and love this recipe?
Then please leave a review and rating in the comments at the bottom of the post. If you post your creation on Instagram, tag me @bakingqueen74 or use hashtag #bakingqueen74!