If you are out of bread then why not try baking bread in your crockpot. These simple slow cooker bread recipes will allow you to bake at home without worrying about keeping your eye on the oven!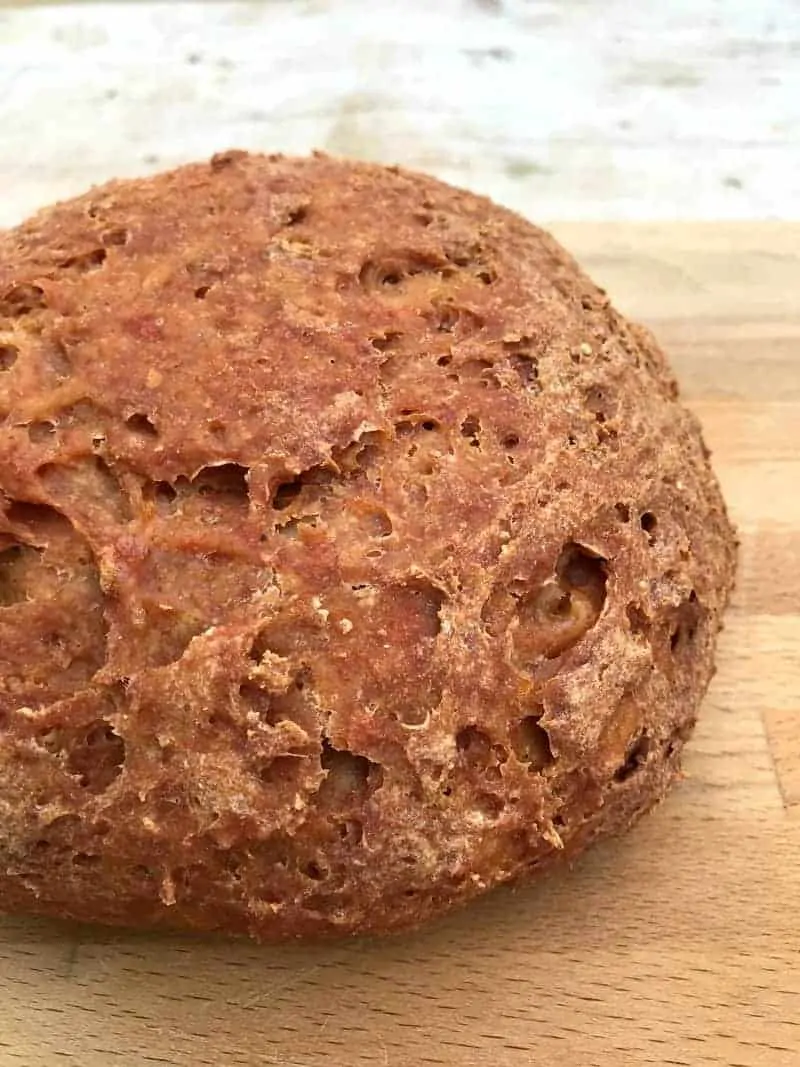 Yes the delicious loaf shown there was baked in my slow cooker! So it goes to show you can make your own bread at home in your slow cooker with great results.
If you can't get hold of any yeast there are plenty of bread recipes without yeast you can try.
Many of these recipes are based on soda bread style recipes, either using buttermilk, milk or yoghurt.
These are made using normal plain (all purpose) or self raising (self rising) flour so you don't even need to have strong bread flour to hand.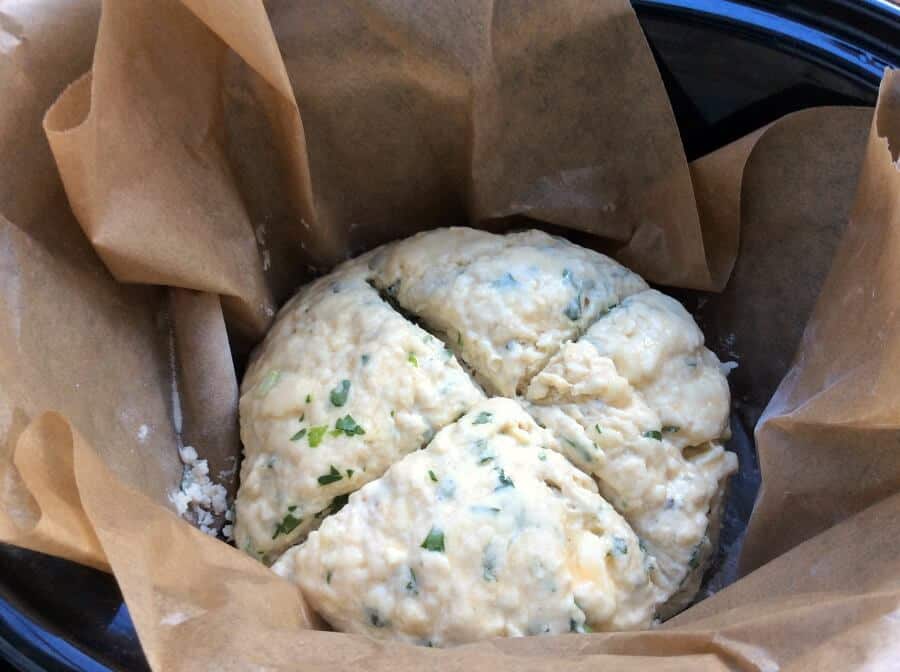 Do note though that British self-raising flour differs from American self-rising in that it doesn't contain salt, so do omit salt from your recipe if you are in the US and using self-rising flour, so that the bread won't become too salty.
If you are lucky enough to have bread (strong) flour and yeast then this opens even more recipes up to you.
Jump to:
Tips for slow cooker baking
As always through my extensive slow cooker baking experience I have plenty of tips to make sure your slow cooker bread succeeds:
Line your slow cooker pot with baking paper/parchment or large cake cases, before putting your dough in the pot.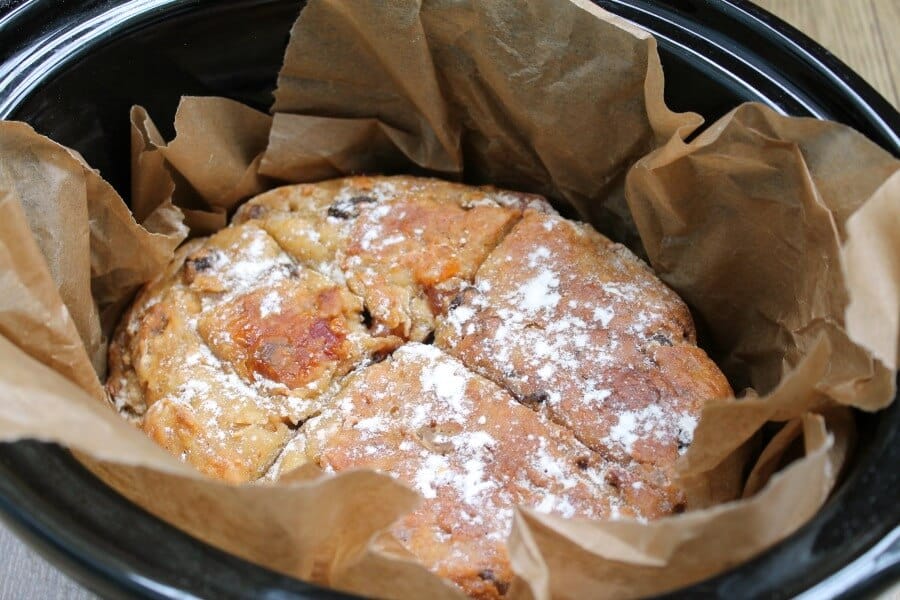 The reason for this is two-fold: first, this provides some protection from burning by making sure your bread is not directly in contact with the pot.
It is a good idea to use a double-layer of your chosen paper liner.
Second, you can use the edges of your baking paper to pull the loaf out, saving you from burning your fingers.
Use a tea towel/dish towel under the lid of the slow cooker to stop the moisture from the lid dripping onto your loaf during cooking. Fold up the sides over the lid so it doesn't hang over the sides of the slow cooker.
As it is the contact with the slow cooker pot which makes your bread brown, turn the loaf over during cooking a couple of times to make sure you get an even crust.
Slow cooker bread without yeast
This type of bread typically relies on baking powder or self-raising flour to make it rise. So there is no kneading or proving required, just mix the ingredients then bake.
If you are not normally a bread baker then this is an easy type of recipe to start with if you need to make bread at home.
Easy slow cooker bread recipes can be a real help when supplies are low.
Cheesy mozzarella bread is versatile and can be used in sandwiches or with soup. It is quick and easy to prepare too.
This tomato bread with paprika is delicious with stews and soups. Again this is so simple to prepare.
Cheesy cornbread can be the basis of a meal in itself by adding veggie toppings.
For a sweet option why not try these options filled with dried fruit or berries:
Slow cooker bread with yeast
If your pantry is stocked with bread flour and yeast then the world is your oyster when it comes to baking your own bread.
You'll need to knead the dough (unless going down the no-knead route) and this can be done either by hand or in a stand mixer.
When you bake in the slow cooker the proving is carried out by setting the slow cooker to low for an hour instead of leaving the dough to rise in a covered bowl.
After the dough has risen you then switch to high to bake. It couldn't be simpler!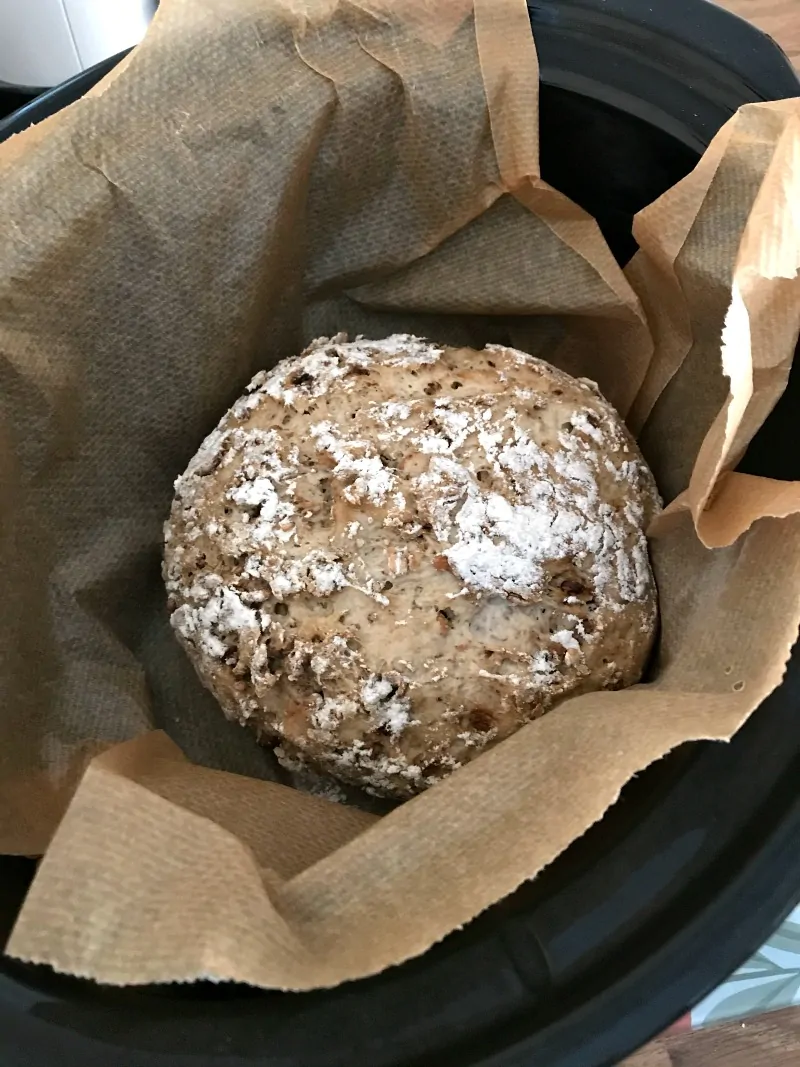 No knead bread is one of the easiest types of yeasted bread to make because you don't have to do any kneading at all! Just mix the ingredients together and leave to rise then bake.
By baking this in your slow cooker it lets you get on with work or chores while it bakes without worrying about it burning.
Or if you prefer a plain white bread made the traditional way (with kneading) then this easy white bread recipe would be perfect for you.
It works on the side of soups and casseroles as well as as part of a summer picnic with ham, cheese and salads.
Ideal for breakfast, cinnamon and raisin bread can be baked in your crockpot too so it is ready for you to enjoy in the morning.
Or for a savoury option this focaccia is like a pizza and you can change the toppings to whatever you have on hand.
If you have fruit to use up you can add it into your bread too, such as pumpkin and apple here.
Bread mixes
You can also bake a ready-made bread mix in your slow cooker. To do this, follow the packet instructions including making up the dough (usually you will need to add water to the pack) and kneading.
Next, if the instructions tell you to leave the dough to rise, you can skip this and instead you will put the dough in your slow cooker on low for 1 hour to rise.
Follow the tips above and line your slow cooker pot first and put a tea towel under the lid.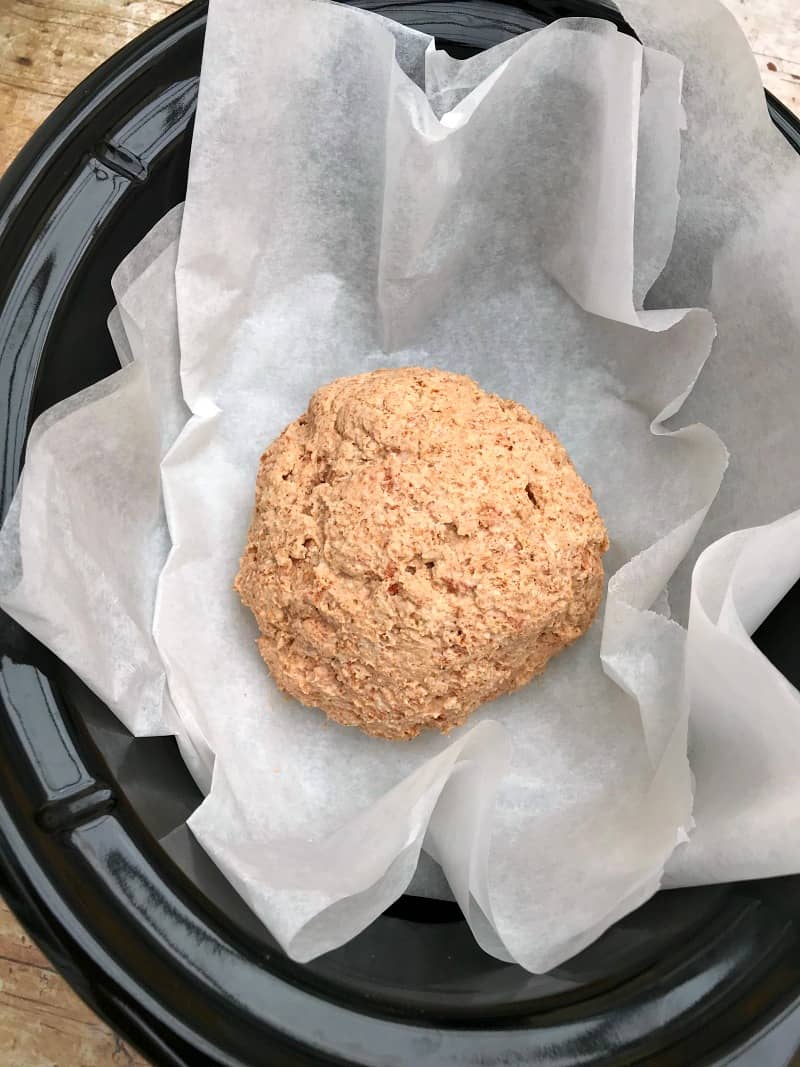 After that, switch your slow cooker to high for 1.5 to 2 hours to bake the bread. Halfway through, turn the loaf over so you get a brown top crust as well.
Then remove the loaf from the slow cooker using the baking paper to pull the loaf out.
Tap the base of the loaf to check that it is cooked through – bread should sound hollow when tapped on the base when cooked.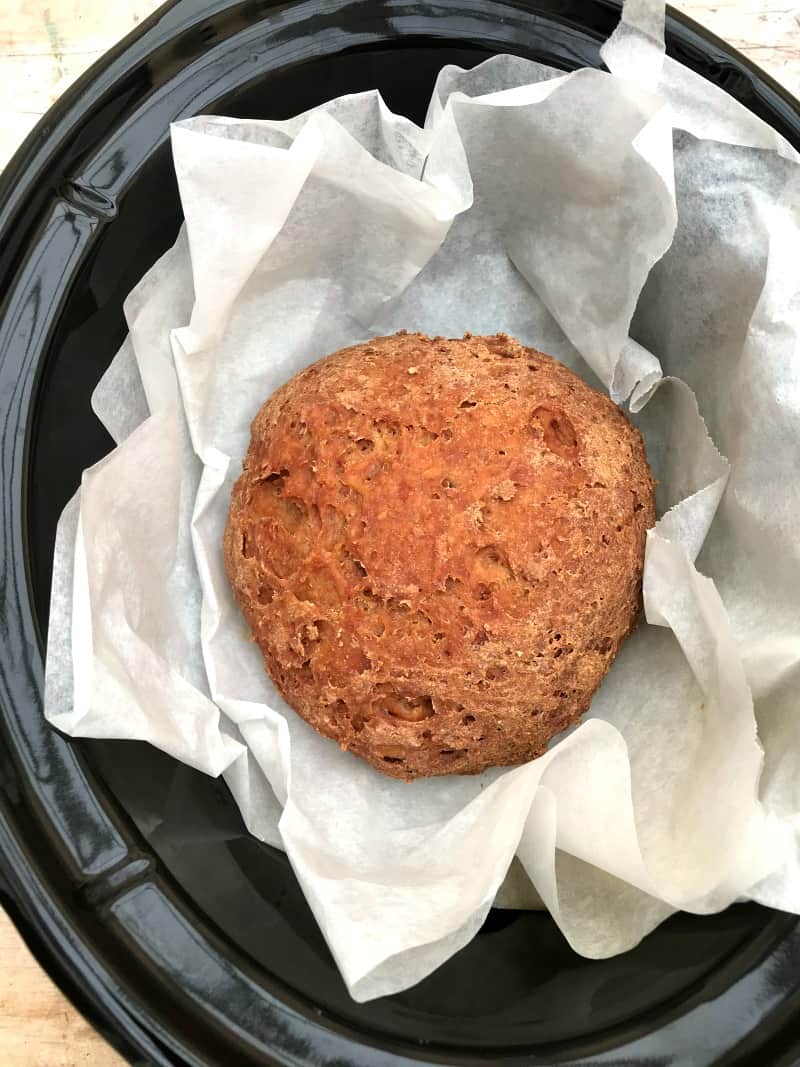 You can also check using a food thermometer like a Thermapen or similar to make sure the bread has reached the correct internal temperature.
Bread needs to have reached 88 to 93 degrees Celsius (200 to 210 degrees Fahrenheit).
More slow cooker baking ideas
If this has got you in the mood for baking then make sure you check out all my slow cooker desserts including cakes, cookies, fudge, brownies, blondies and more! My guide to baking in a slow cooker is packed full of tips and recipes too.
For more slow cooker bread recipes this roundup has plenty more recipes as well including some of mine.