I love to bake with strawberries in the summer months, so read on for my recipe for strawberry yoghurt cake, a lovely light cake topped with strawberries.
When it is hot and strawberries are ripe, you can't beat baking with summer fruit, especially strawberries! This cake is light and fresh and ideal for those long hot days of spring and summer when the heat saps your energy.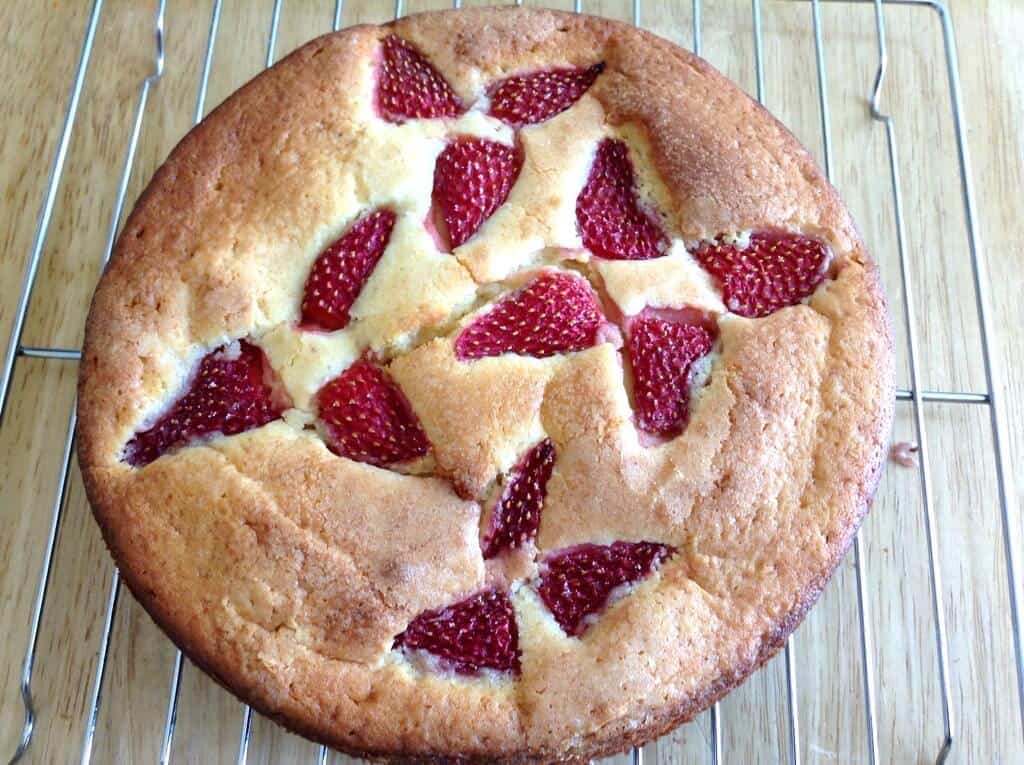 Jump to:
What yoghurt to use
The cake is made with Greek yoghurt which keeps it lovely and moist and gives it that delicate fresh flavour. If you want to keep it light you can use 0% fat Greek yoghurt which also reduces the fat content a little.
I added vanilla extract and lemon zest to enhance the flavours further, as yoghurt can have quite a sour flavour at times. So light it is ideal for summer baking, when only a slice of cake will do.
You might also like to try my redcurrant yoghurt cake.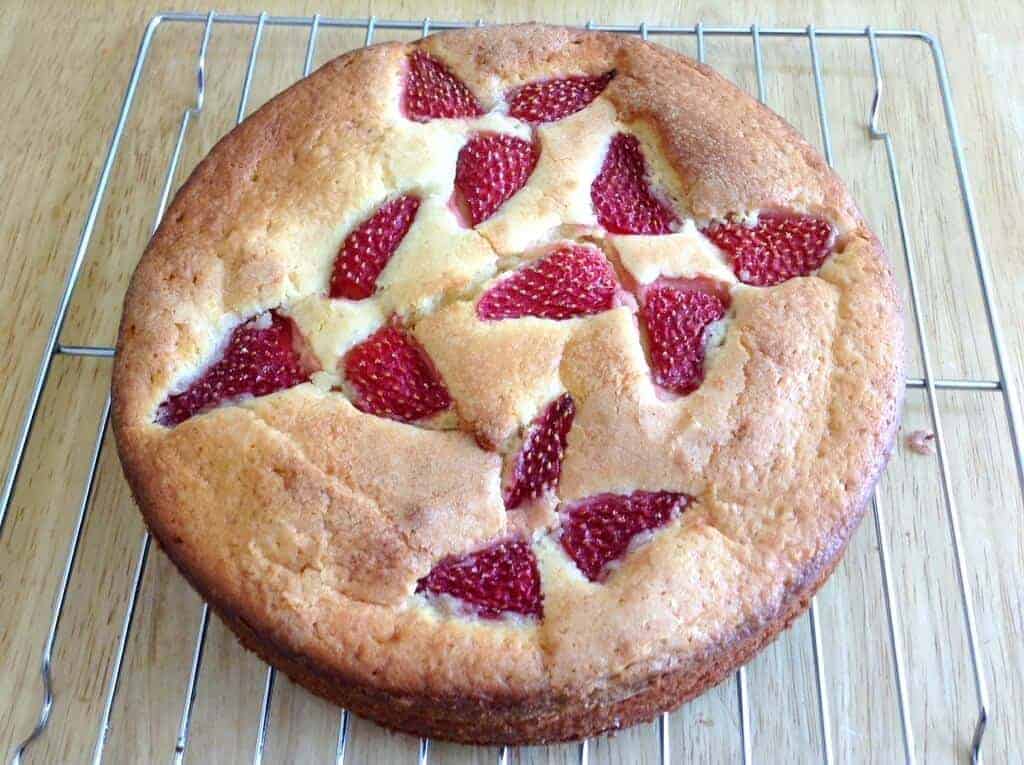 Ingredients needed
butter or margarine
caster sugar
2 eggs
vanilla extract
self-raising flour
Greek yoghurt (normal or 0% fat)
lemon zest
strawberries
Step by step
Cream the butter or margarine with the sugar until fluffy.

Break in the eggs and mix well.

Add the vanilla extract and stir.

Add half the flour, and mix in. Then add half the yoghurt and mix in.

Repeat with the rest of the flour, and the rest of the yoghurt.

Grate in the lemon zest and combine.

Pour the cake batter into a greased deep 8 inch tin. Smooth over the top so it is even.

Slice the strawberries and arrange as desired. I put my strawberries in a flower-type pattern, with the seeds facing upwards.

Bake for 25-30 mins at 180 degrees (fan oven) until golden brown and a skewer comes out clean.

Allow to cool in the tin for a few minutes, then turn the cake out and cool on a rack.

Enjoy!
How to serve
Take this strawberry yoghurt cake as part of a picnic or take slices in a packed lunch for a day out, whatever you do it will be scoffed fast.
For a real treat include a slice in lunch boxes.
Variations
Add strawberries into the mixture as well as on top.
Use different soft fruit – blueberries or blackberries or raspberries would also work well.
Storage
This cake is quite soft due to the yoghurt used in the recipe. It is best eaten within 2-3 days of baking, stored at room temperature.
Freezing
You can freeze your yoghurt cake too. Wrap well in clingfilm, then a layer of foil, finally put the whole thing into a large freezer bag. Cakes can be frozen for up to three months.
You might also like…
Pin this strawberry yoghurt cake for later!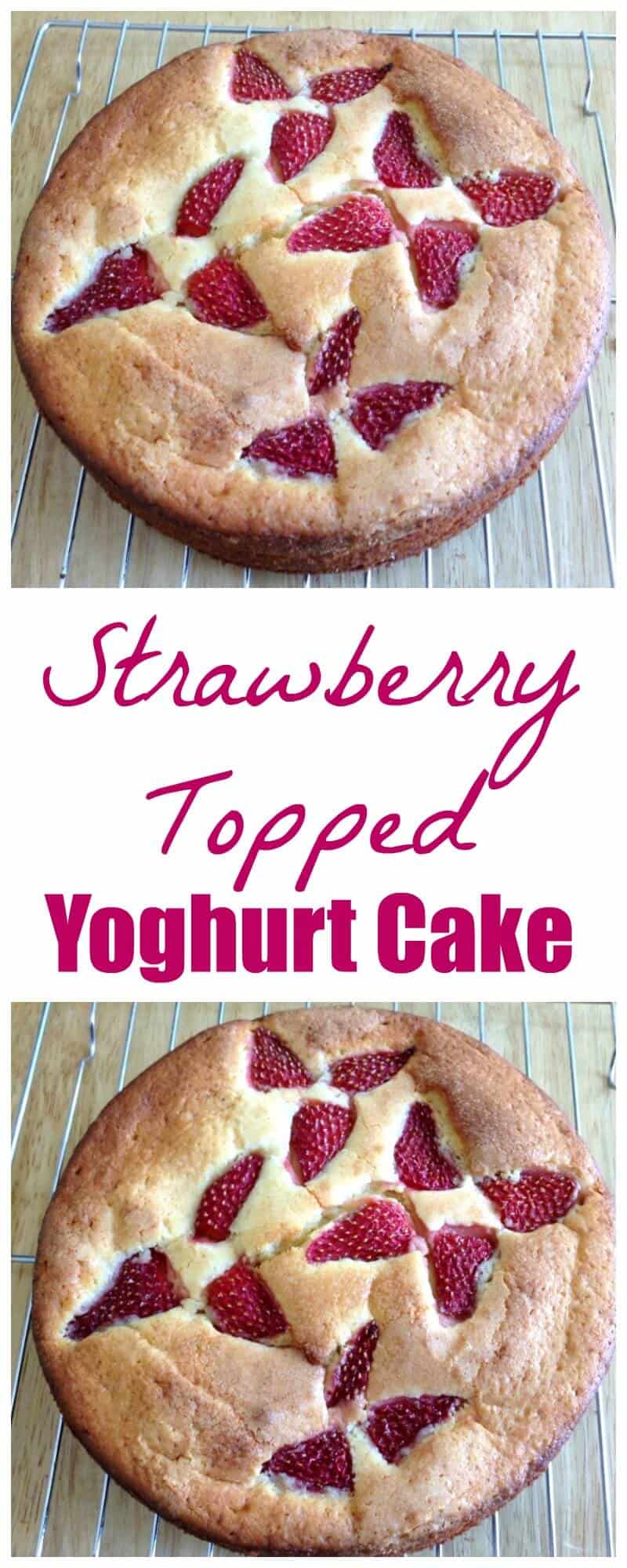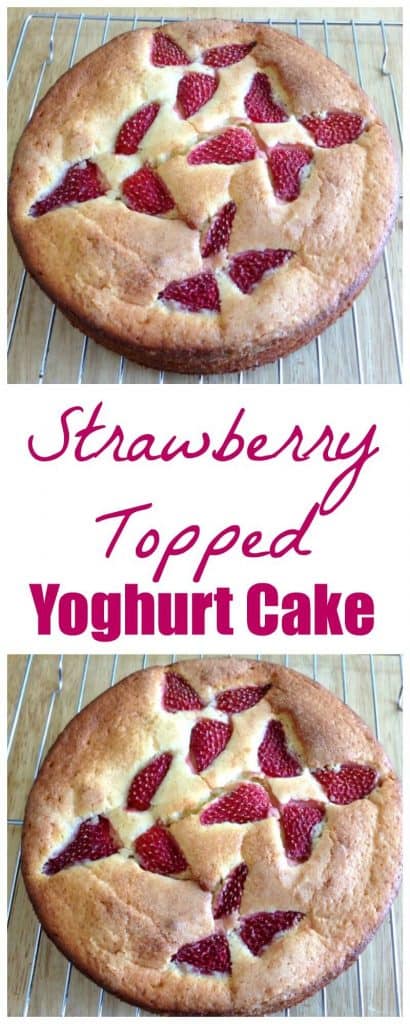 Recipe