Bread crammed with soft fruits is a great way to start the day. My slow cooker cranberry soda bread is delicious for breakfast and snacking, or even for lunch with cheese for a tasty sweet and savoury combination.
I couldn't stop snacking on this cranberry soda bread once I started. The soft and tart cranberries burst as you bite into the bread which is lightly spiced and not overly sweet.
A generous spread of butter and it's just right for snacking on! You feel like you've had a real treat even though there is very little sugar in the recipe overall. It's a great swap for fruit cake!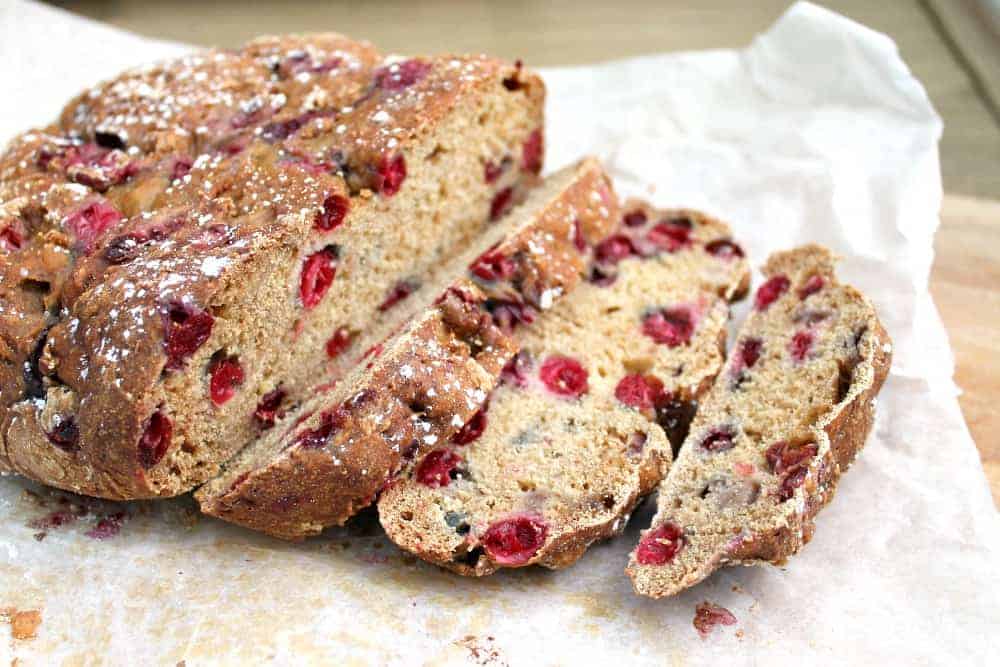 Jump to:
Baking bread in a crockpot
As well as using your slow cooker or crockpot to cook dishes likes casseroles, soups and stews, it can also be used almost like a mini oven, for baking.
You'll be amazed to find that bread bakes really well in your slow cooker, from the contact the bread dough has with the sides of the ceramic pot.
You even get a brown crust as you can see from my photos of my slow cooker cranberry soda bread. I have some great tips you need to follow to make a successful loaf in your crockpot, which I am sharing with you here.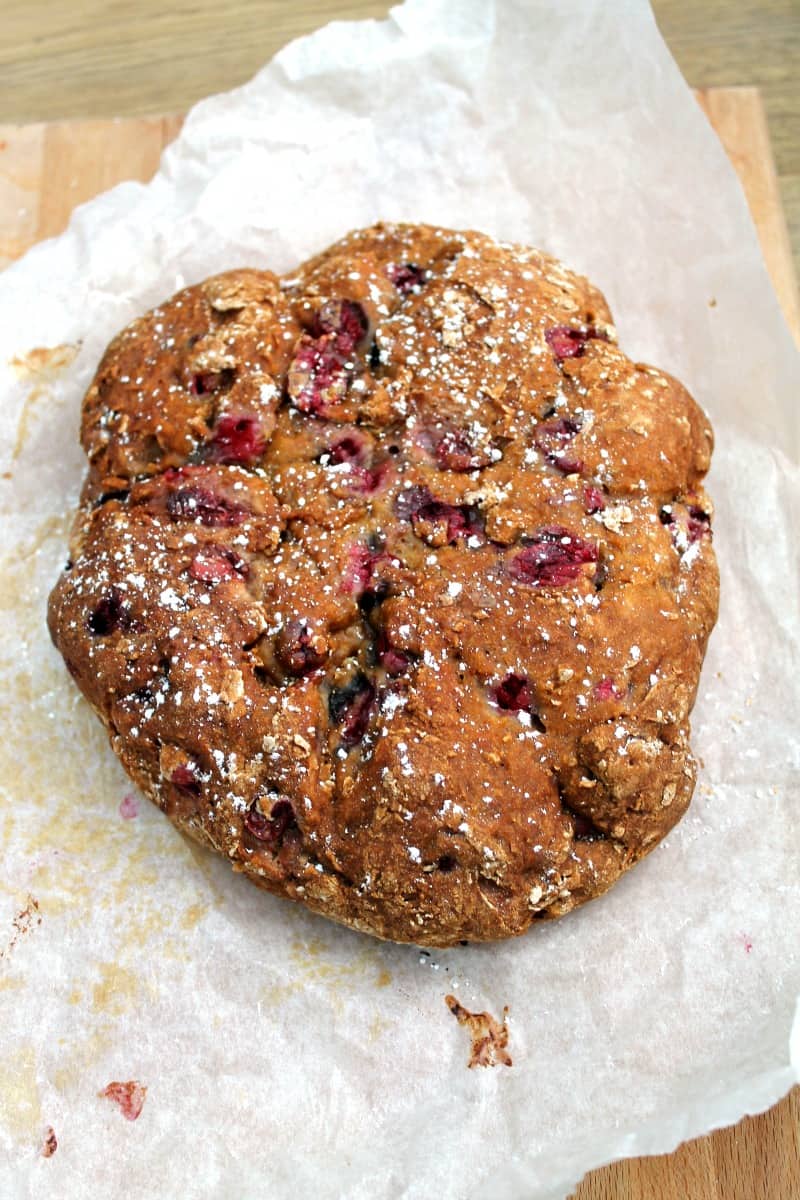 Slow cooker bread tips
The key points to remember for baking bread in your slow cooker that I always use are:
Line the slow cooker with something like baking paper or parchment. This stops the edges of your loaf from sticking to the slow cooker pot and burning. As well as this, you can use the edges of the baking paper to pull out the loaf to check on it, to turn it over during cooking, and to pull it out at the end of cooking without burning your fingers.
Put a clean tea towel/dish cloth or some squares of kitchen towel under the lid of the slow cooker (make sure you fold up the edges over the top of the lid too) to catch drips from the lid. This stops the top of the loaf from getting wet and soggy.
Turn the loaf over once the base is cooked to ensure you get a top crust.
Make sure you read my post all about slow cooker baking for loads more recipes and tips too.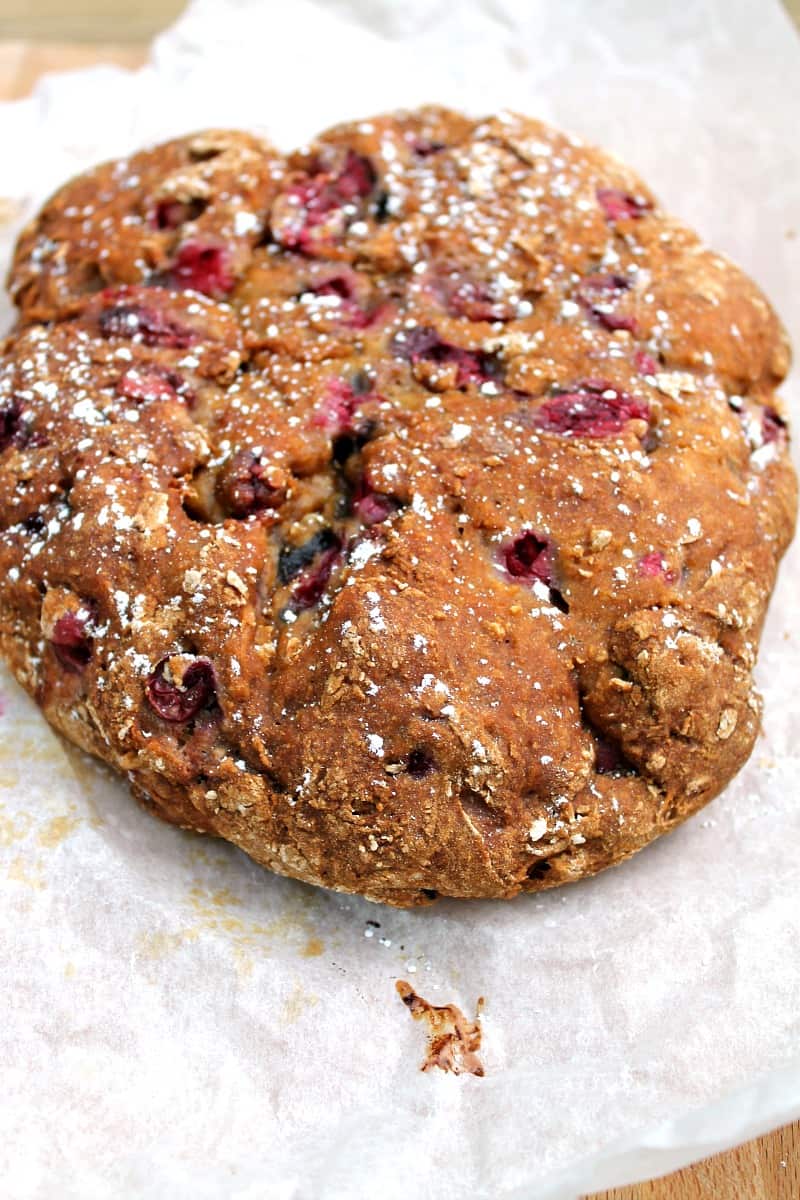 Soda bread – a quick bread to make
Soda bread is a great favourite with me. I love the ease of soda bread as there is none of the extra time needed for a yeasted loaf to prove and rise, or any kneading and shaping.
Savoury soda breads like mozzarella and herb or thyme and red pepper are delicious served with soup and salad or with cheese and cold meats for a light meal or lunch.
Sweet soda breads like tropical fruit soda bread and this festive cranberry soda bread are great for breakfast toasted with butter. Or a slice or two makes a great afternoon snack too.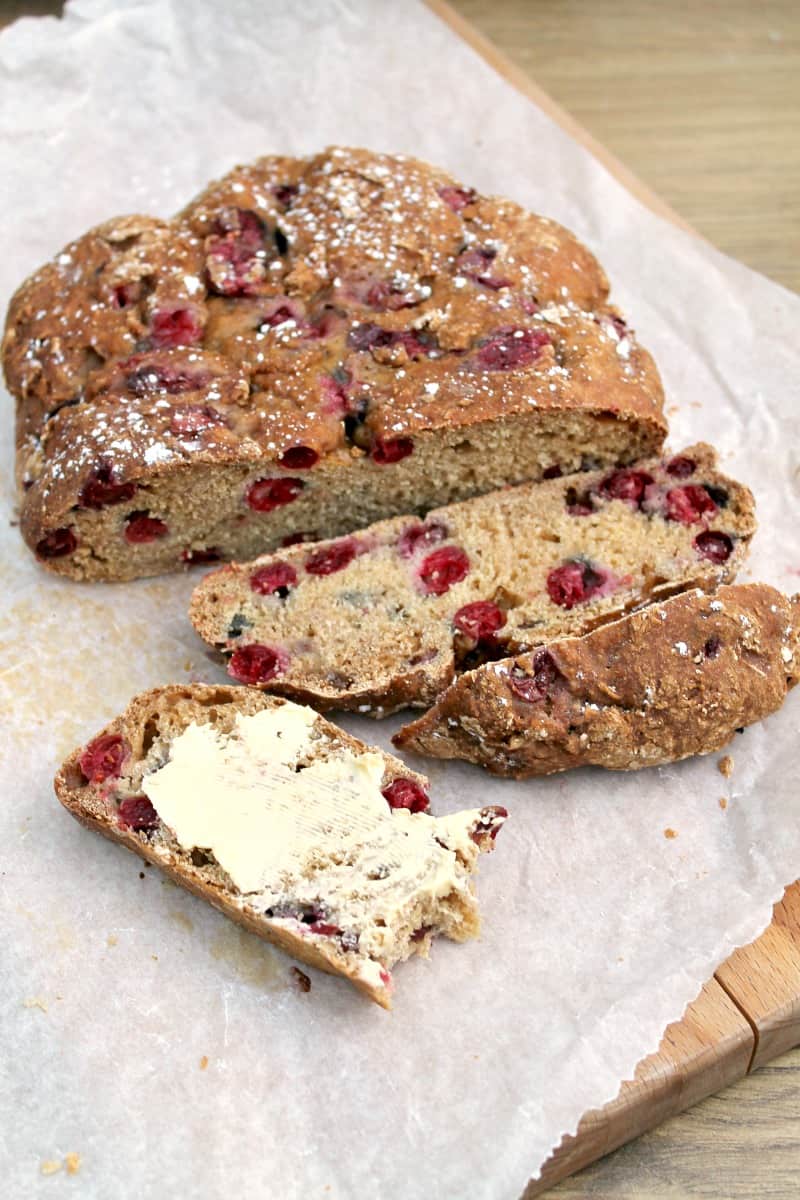 Step by step instructions
Step 1. In a large bowl measure out self-raising flour, sugar, baking soda, cinnamon, salt and fresh cranberries.
Step 2. Add a pot of buttermilk, stir using a spoon and then use your hands to bring the dough together in a ball. Transfer the dough to a floured surface and then shape into a round loaf shape.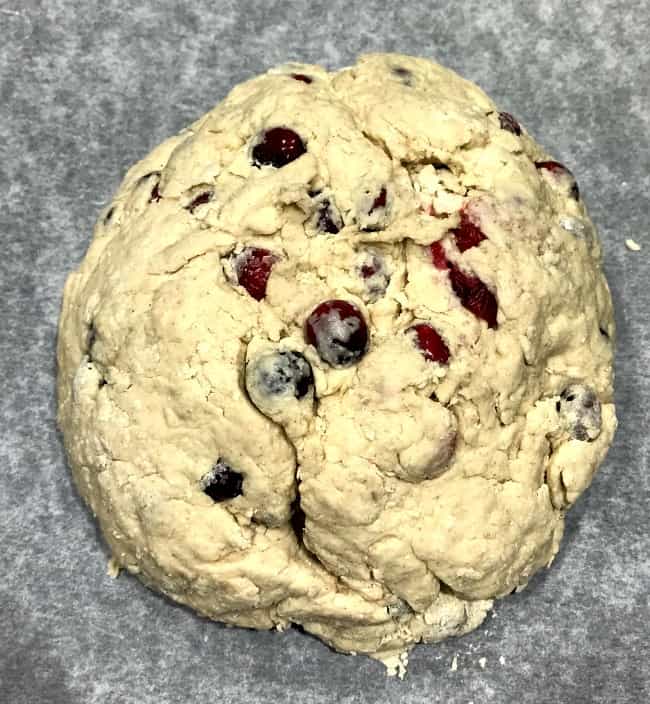 Step 3. Place the dough on a piece of baking paper or parchment, make two slashes in the top of the loaf, and then place the dough on the baking paper in the base of the slow cooker pot.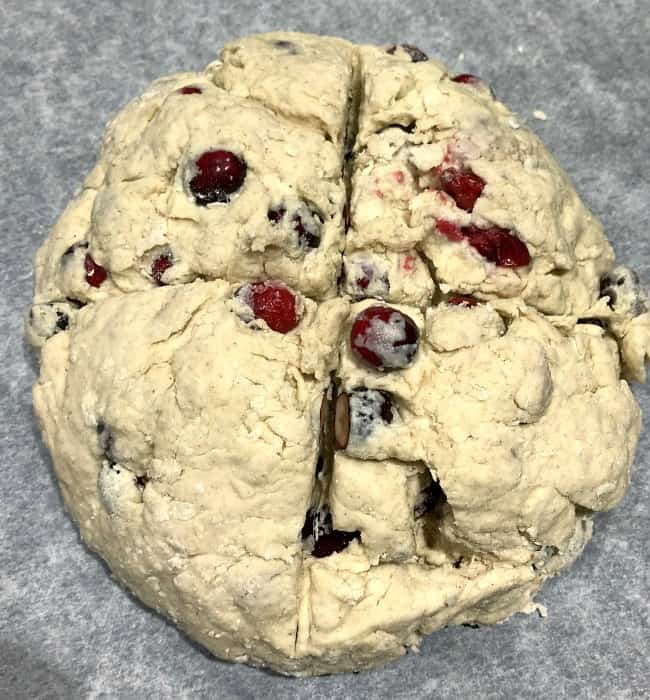 I make this kind of bread in a large 5.7 litre slow cooker as this has room for the loaf as it increases in size during baking.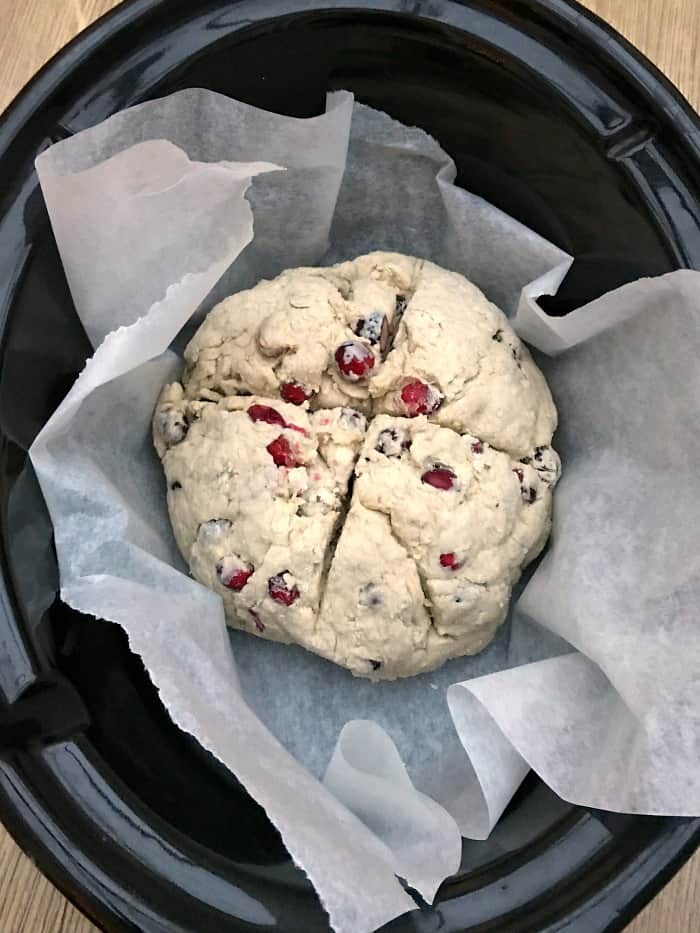 Step 4. Place a tea towel under the lid of the slow cookers fold back the edges and cook on high for two hours.
Step 5. Then turn the loaf over and cook for a further half an hour, until the top of the loaf is baked through with a crust.
Step 6. Transfer to a rack and cool. Dust with a little icing sugar before serving.
Serve either warm or cold, with butter and jam, also delicious toasted.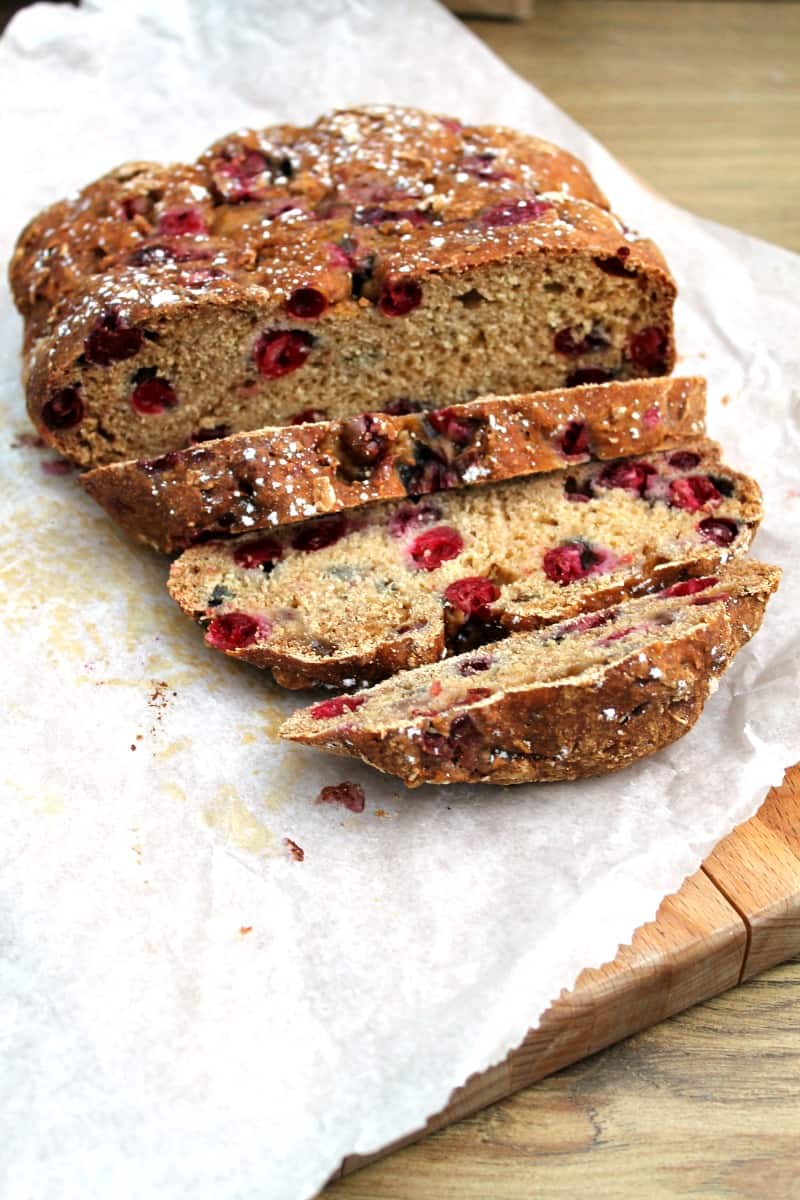 Instructions for oven baking
This recipe can also be baked in an oven. Cook at 180 degrees C in a fan oven for 35-40 minutes, or until golden brown and the base sounds hollow when tapped.
You might also want to use an egg wash to get a good shine on the finished loaf.
Can I make soda bread if I have no buttermilk?
Yes if you have no buttermilk you can still make this soda bread. Instead of buttermilk, use 250 ml of milk and add a tablespoon of white wine vinegar or lemon juice to it. This will make the milk curdle slightly and make it thicken.
More crock pot desserts
More recipes using cranberries
I'd like to suggest these recipes if you have more cranberries you want to cook with:
More Christmas recipes for your slow cooker
Make sure you check out my Christmas slow cooker roundup full of edible gifts, sweet treats, Christmas dinner recipes and more, all made in your slow cooker!
Pin this slow cooker cranberry soda bread recipe for later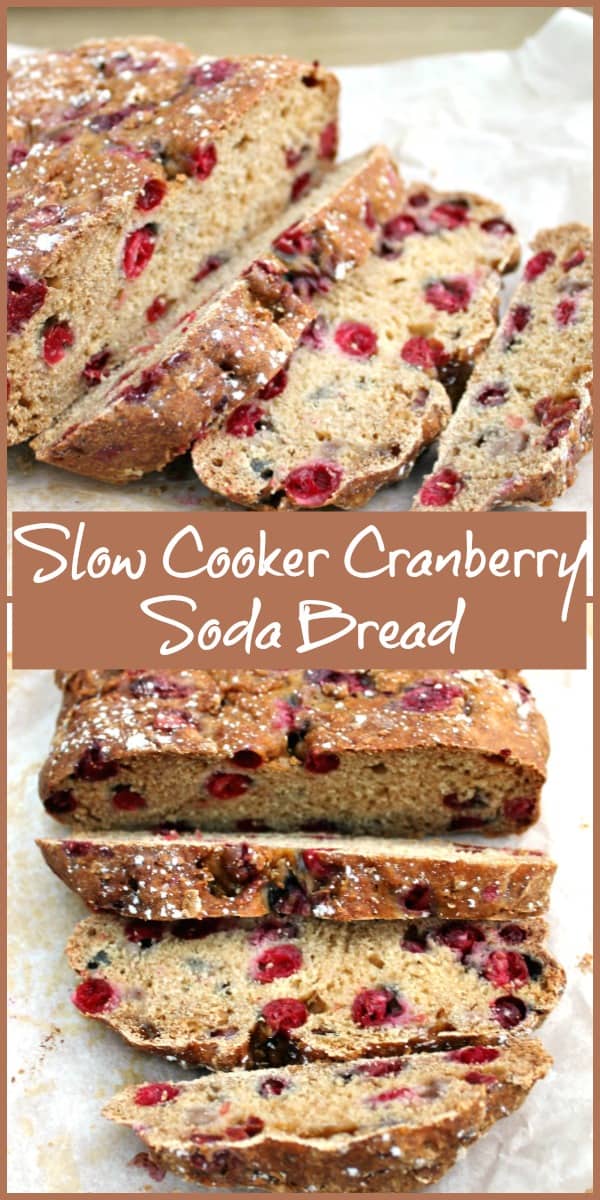 Recipe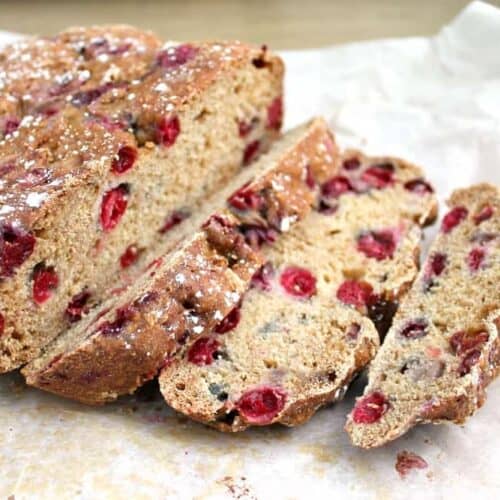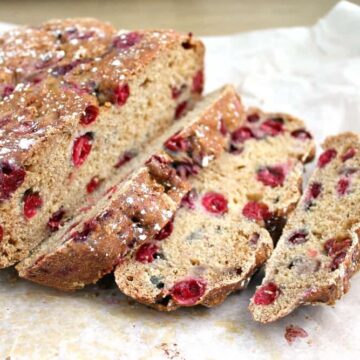 Slow Cooker Cranberry Soda Bread
A sweet soda bread baked in the slow cooker with festive cranberries studded in the loaf
Print
Pin
Rate
Save
Saved!
Instructions
Mix the flour, bicarb, salt, sugar and cranberries in a bowl.

Pour in the buttermilk and stir together.

Bring together with your hands then transfer the dough to a floured surface and form into a round loaf shape.

Line your slow cooker pot with baking parchment and place the loaf inside the pot.

Cook for 2 hours on high, with a tea towel under the lid.

For the last half hour, turn the loaf over to brown the top.

Remove from the pot and allow to cool, dust with icing sugar then slice to serve.
Did you try and love this recipe?
Then please leave a review and rating in the comments at the bottom of the post. If you post your creation on Instagram, tag me @bakingqueen74 or use hashtag #bakingqueen74!