Gooseberry tart with frangipane (almond) filling is a delicious way to enjoy gooseberries when they are in season.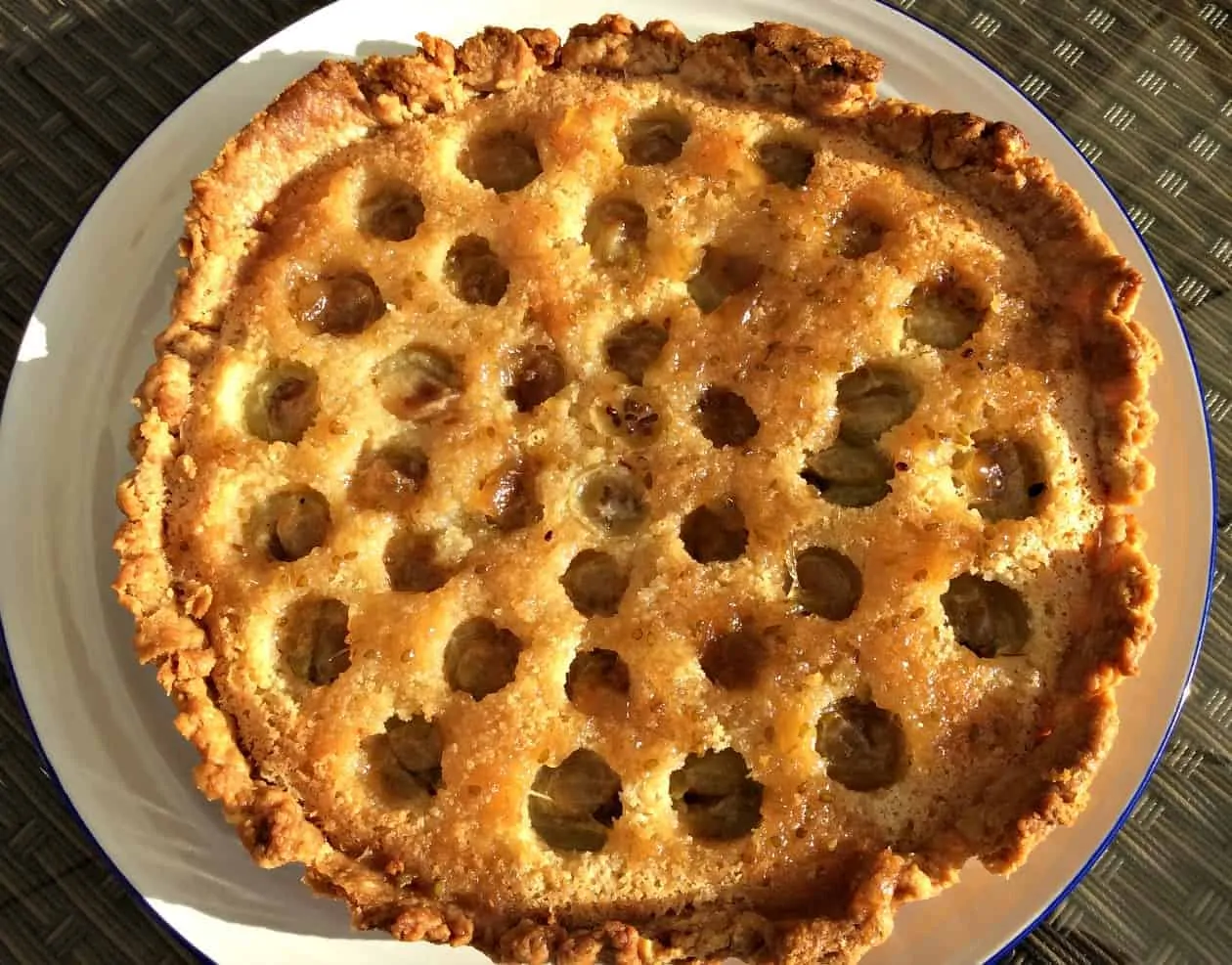 Although picking the gooseberries for the gooseberry jam I made recently was rather torturous, I was back there this week picking more with a gooseberry frangipane tart in mind for Perfecting Patisserie, the baking and patisserie blog challenge and linky I run with Kevin from The Crafty Larder.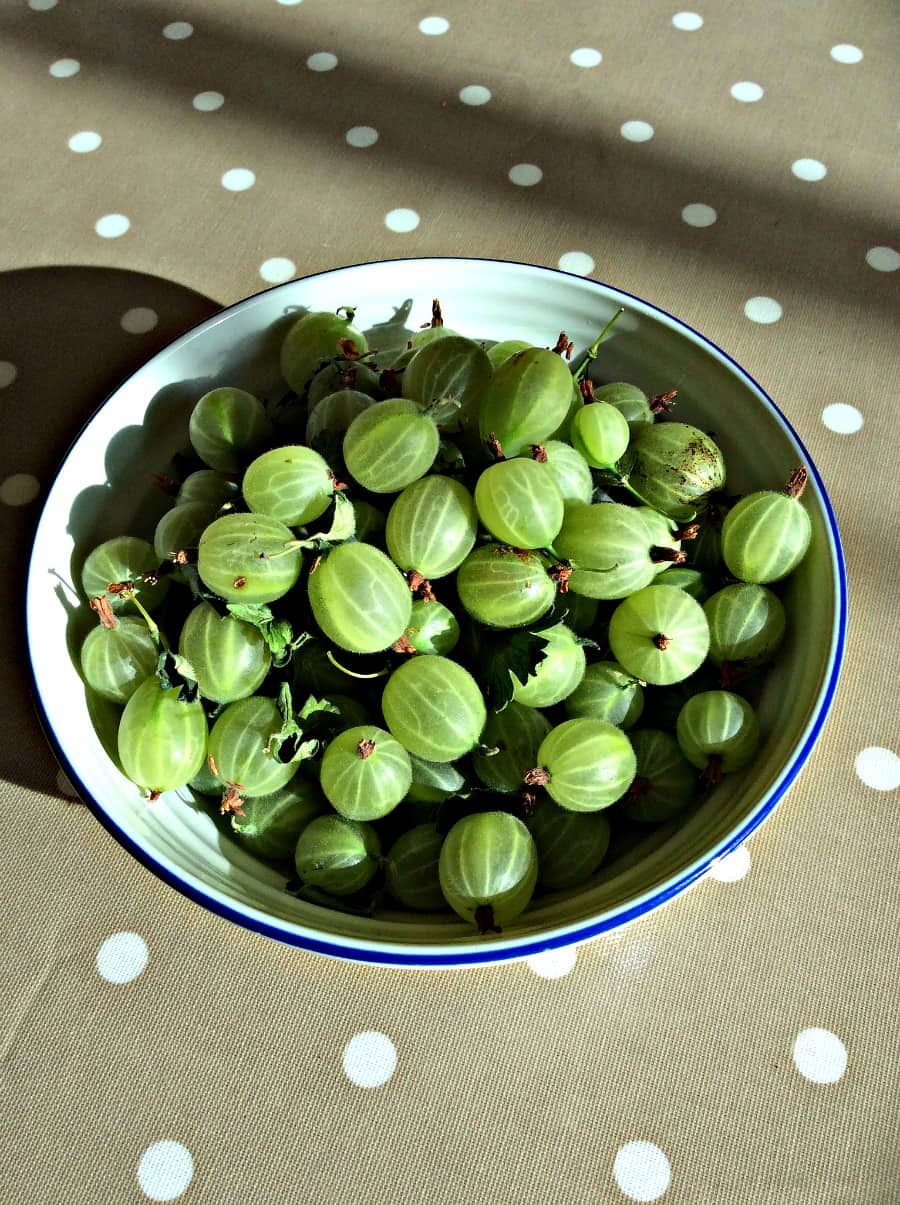 My hands got even more ripped to shreds this time, and I am still removing splinters now. Note to self: wear gloves to pick gooseberries.
I had two tries at making this tart, for the first I had run out of plain flour and used buckwheat flour I found in the cupboard in its place. I found the pastry far too bitter unfortunately and didn't like the taste at all.
On Instagram I was given a tip to mix buckwheat flour with rice and sorghum flour to make it less bitter, and I will definitely I will try that out another time.
I also didn't have enough butter for the frangipane, so used coconut oil instead.
Luckily that part – substituting coconut oil for butter – worked out well, and the gooseberry frangipane was delicious, and even better I had enough gooseberries to try again.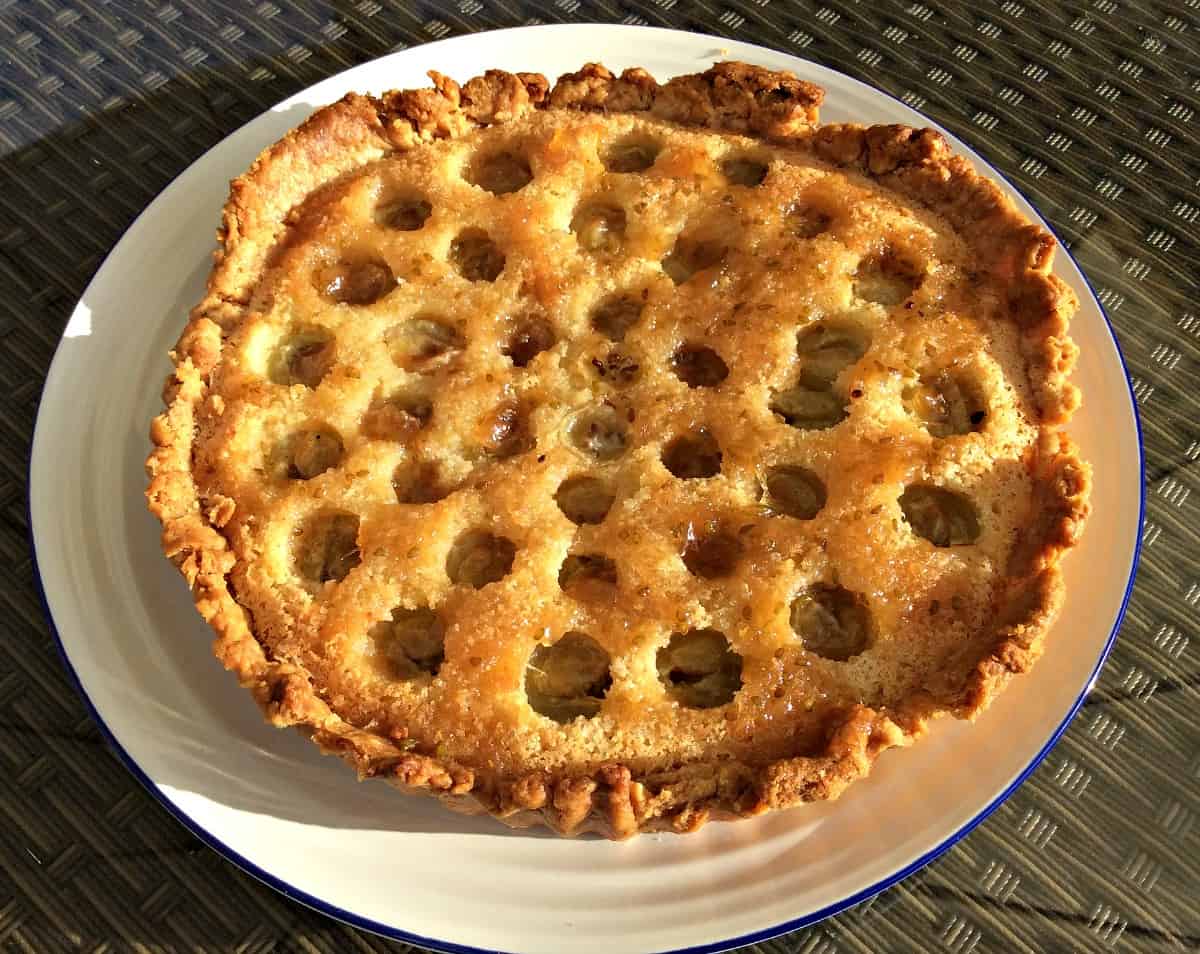 Fast forward to my second try. Plain flour at the ready, I made a sweetened shortcrust pastry, and flavoured the frangipane with a little rose water.
Once again I used coconut oil rather than butter for the frangipane. Sadly I haven't mastered tidy pastry edges yet but my rustic gooseberry frangipane tart tastes delicious.
Luckily, the aim of Perfecting Patisserie is to get out of your comfort zone, try out something new and challenging you haven't made before, and perfect new methods. So I think this gooseberry tart ticks all the boxes for me on that score.
I am sending this gooseberry frangipane tart, or to give it a French title the very posh tarte aux groseilles à maquereaux, over to Kevin at The Crafty Larder who is hosting Perfecting Patisserie this month.
Recipe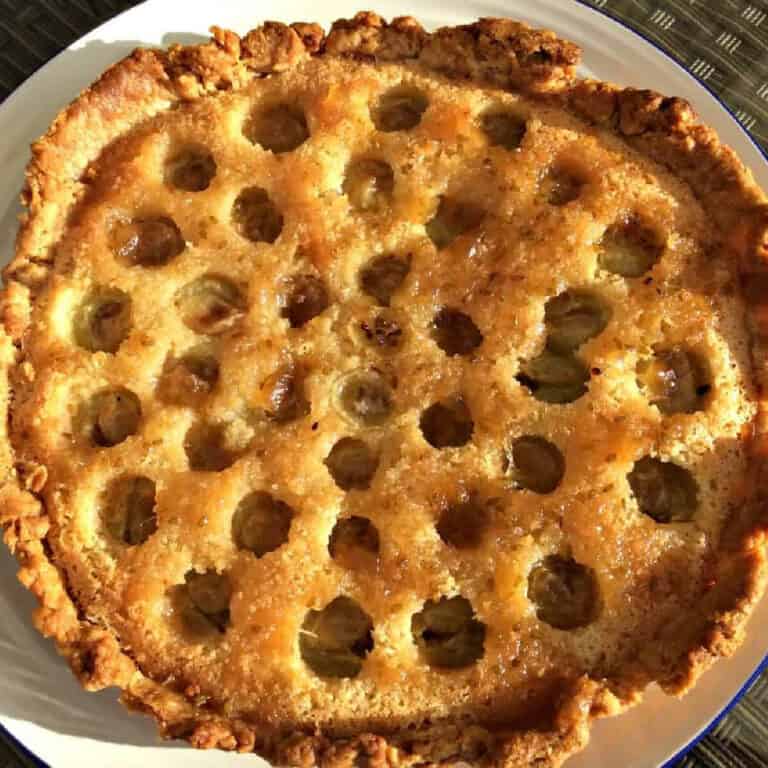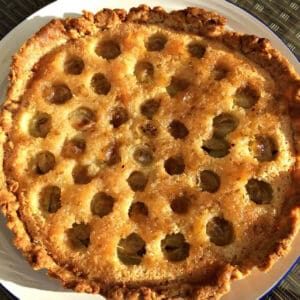 Gooseberry Frangipane Tart
Easy gooseberry tart - a French style frangipane or almond tart with fresh gooseberries 
Print
Rate
Save
Saved!
Ingredients
For the sweetened shortcrust pastry
For the frangipane
100

g

coconut oil

100

g

caster sugar

100

g

ground almonds

2

eggs

10

g

plain flour

1

tsp

almond extract

1-2

tsp

rose water

200

g

gooseberries
To glaze
A few tablespoons of gooseberry jam

I used my homemade jam

A little water
Instructions
Place the flour in a bowl, make a well in the centre and add the butter, chopped into small pieces, egg, sugar and salt.

250 g plain flour,

160 g unsalted butter,

1 egg,

40 g caster sugar,

Pinch of salt

Rub the ingredients together.

When almost combined, add the milk, and knead the dough together into a ball.

Cover the dough with clingfilm and place it in the fridge for at least an hour.

When ready, roll out the dough and use it to line a fluted tart tin.

Line the base of the pastry case with baking paper and fill with baking beans (or dried pasta), and bake for ten minutes at 180℃/ 350 ℉.

After the ten minutes, remove the baking paper and beans and bake for a further ten minutes.

Remove the case from the oven and put to one side.

Cream the coconut oil with the sugar, and then beat in the eggs one by one.

100 g coconut oil,

100 g caster sugar,

2 eggs

Stir in the ground almonds, flour, almond extract and rose water.

100 g ground almonds,

10 g plain flour,

1 tsp almond extract,

1-2 tsp rose water

Spoon the frangipane mixture into the pastry case.

Wash, top and tail the gooseberries and place them on top of the frangipane, pushing them in slightly.

Bake for approximately 25-30 minutes until the pastry is golden and the frangipane is set and light golden.

Melt the jam and water together in a pan or in the microwave.

A few tablespoons of gooseberry jam,

A little water

While the tart is still warm, brush over the jam mixture to glaze the tart.

Did you try and love this recipe?
Then please leave a review and rating in the comments at the bottom of the post. If you post your creation on Instagram, tag me @bakingqueen74 or use hashtag #bakingqueen74!