So the Easter holidays are here, and time, when I'm not working, to enjoy the outdoors and hope the Spring weather stays kind. We'll hopefully do some Easter crafting and baking too, there will certainly be Mini Eggs involved!
This recipe is fun to make with kids and really easy as no baking is needed. They'll love the "Unicorn" multi-colours of this no-bake mini egg white chocolate slice.
If you are from the UK like me, you might not know what these little bright marshmallow pieces are. It is an American cereal called Lucky Charms, I got a couple of small pots of it in the supermarket in the World Food aisle, and I think I've also seen it in the pound shop from time to time.
The tiny marshmallows are in the shape of rainbows, clovers, hearts and all kinds of other things. Add in some Mini Eggs and the Easter bunny might hop by any second!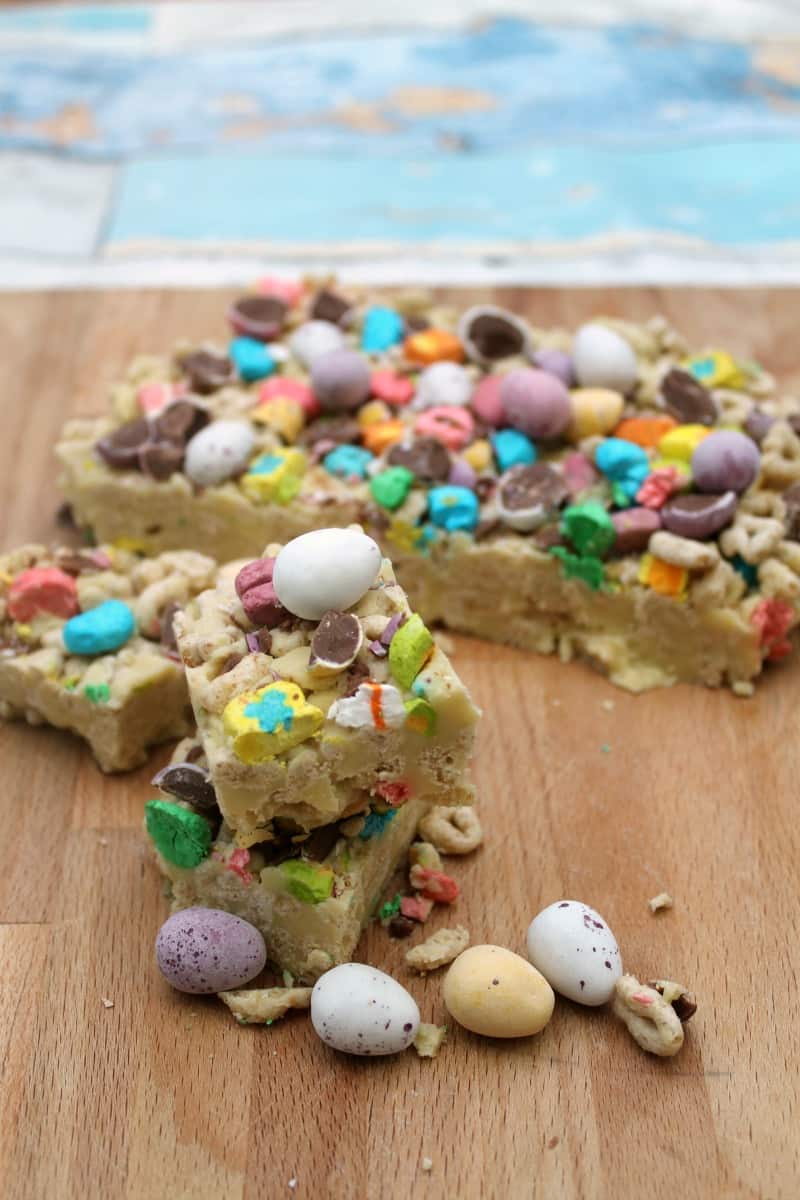 Each piece of white chocolate slice is like a pumped-up Easter version of a Mars Bar slice, that indulgent kind you make with Rice Krispies, melted chocolate and Mars Bars.
I've switched it to Lucky Charms cereal with its brightly coloured marshmallow pieces, white chocolate and Mini Eggs on top for the full Easter experience.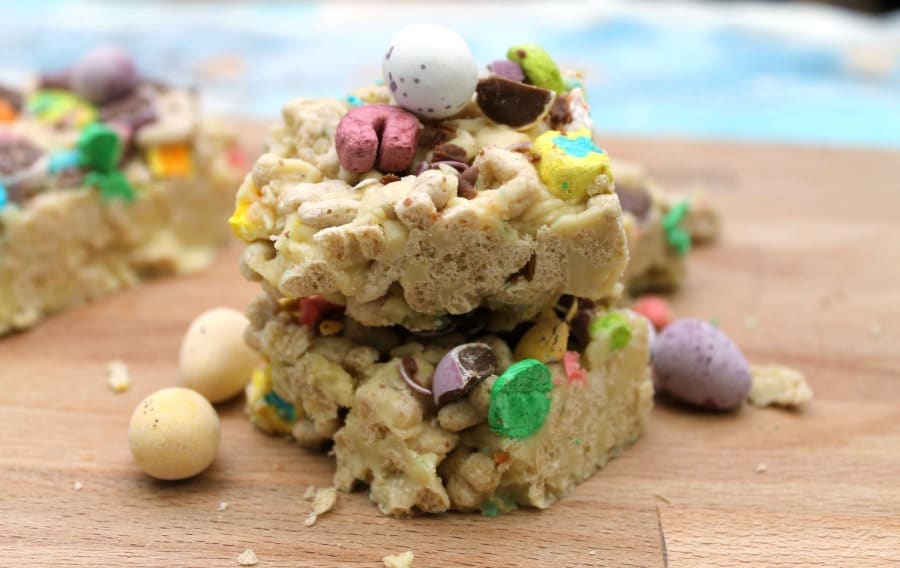 So a quick and easy bake here, great to share with friends. On another note, I had a few technical problems with the blog last week, hope you didn't notice, it's great to have it up and running again this week, and to share a new recipe.
I've got loads of posts on the way, let's hope that I can find some time to finish them off during the school holidays.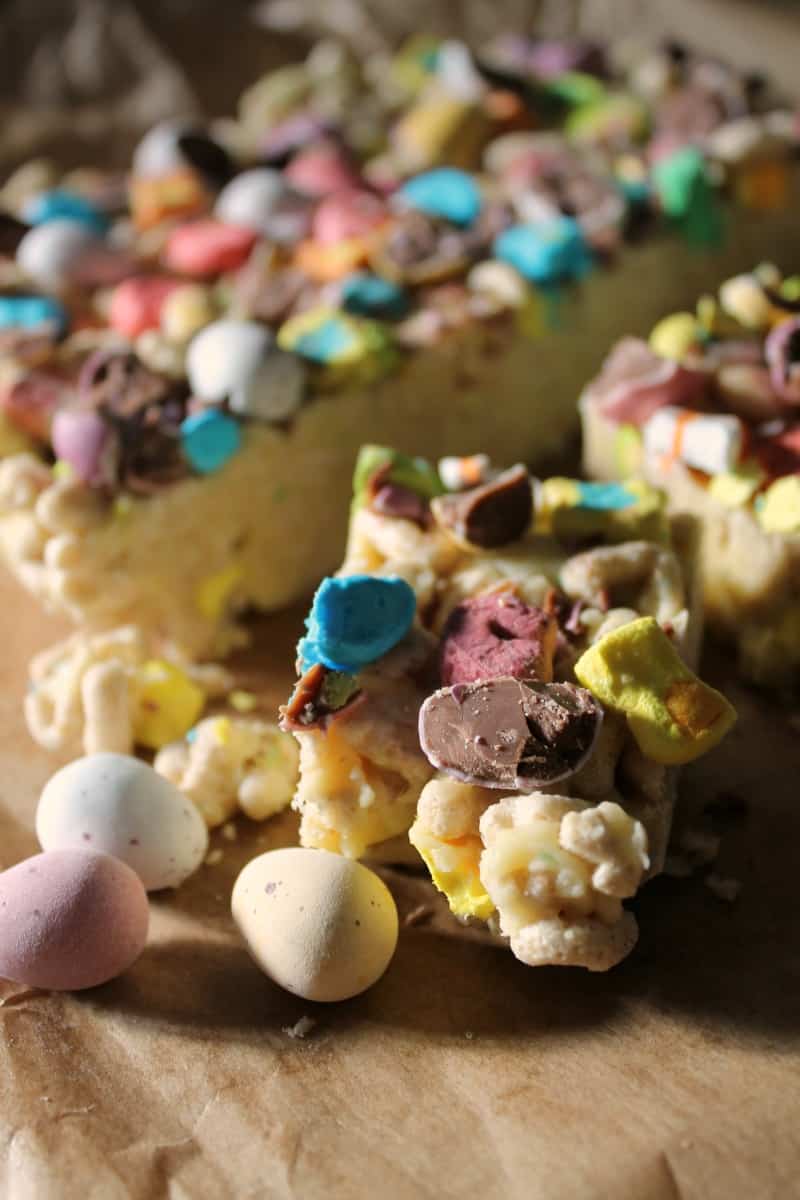 Chop it into small squares and enjoy!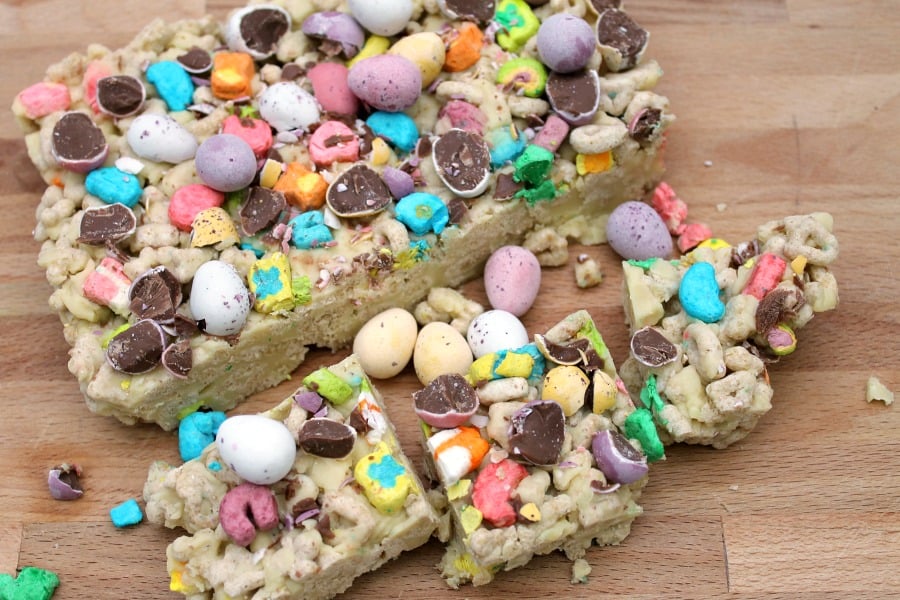 Don't forget to pin it for later!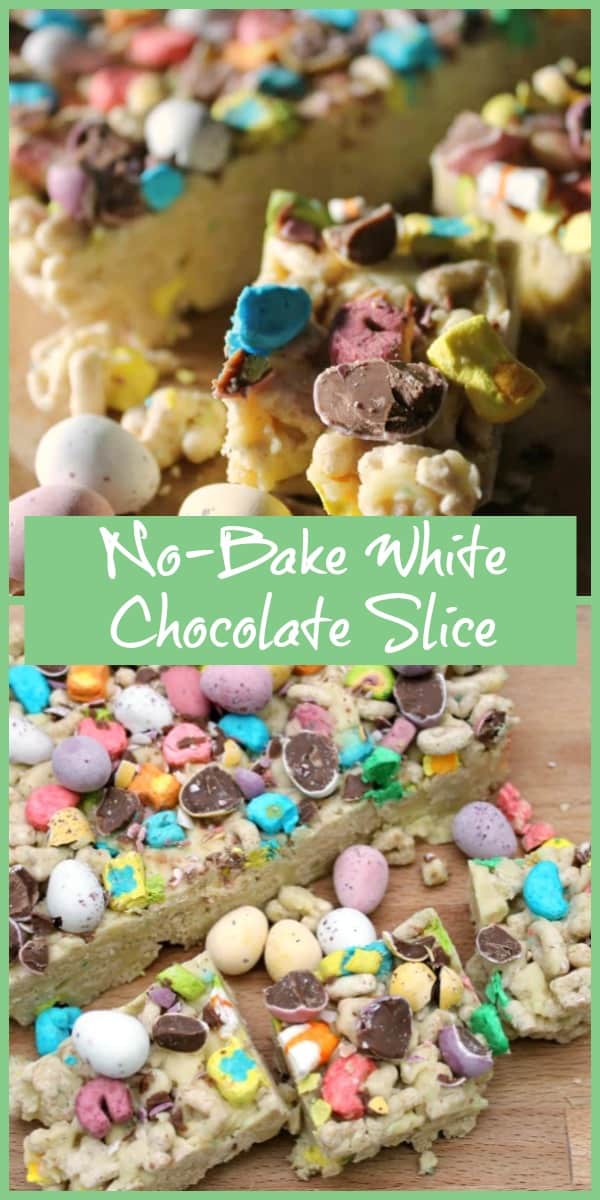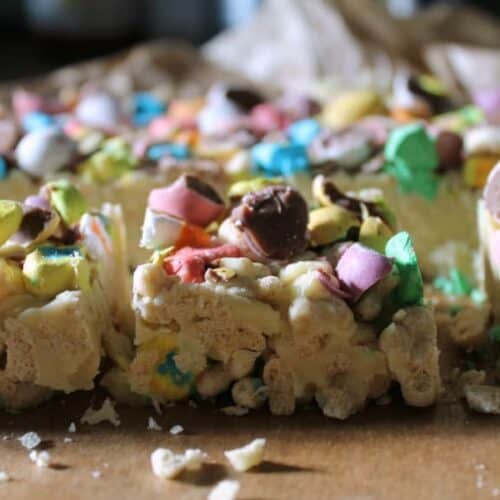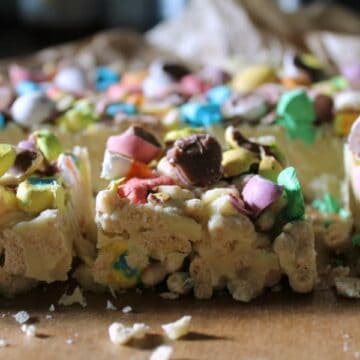 No-Bake Unicorn Mini Egg White Chocolate Slice
Fun to make at Easter, packed with Lucky Charms, marshmallow pieces, white chocolate and Mini Eggs!
Print
Pin
Rate
Ingredients
200

g

white chocolate

2

tbsp

golden syrup

75

g

butter

100

g

Lucky Charms cereal

100

g

Mini Eggs
Instructions
Melt together the white chocolate, golden syrup and butter. I did this on a low heat in the microwave.

Make sure you melt these ingredients together as adding a cold ingredient into warm chocolate could make it seize (speaking from experience here!).

Put the Lucky Charms cereal in a large bowl.

Pick out about half of the little coloured marshmallow pieces and put them aside.

Pour the white chocolate mixture into the cereal and mix to combine well.

Line a tray with baking paper and press the mixture into the tin. My tin was approx 20 cm by 20 cm.

Scatter the remaining marshmallow pieces over the top and press in gently.

Chop half of the Mini Eggs in half and scatter them over the top too, and press in gently.

Transfer the tray to the fridge and chill until set (1-2 hours).

Remove from the fridge and cut into squares using a sharp knife. Scatter over the remaining Mini Eggs.
Slow Cooker Recipes Emailed to You
Get my new recipes and newsletters for free when you subscribe. Click here to subscribe!
Sending this over to Casa Costello and Mummy Mishaps for Bake of the Week
Also linking up with We Should Cocoa with Tin and Thyme