When it comes to breakfast I am often guilty of grabbing the nearest thing in sight and also sticking to the same few options every day. When you have a million other things to do and remember, breakfast seems to fall into the background somehow. While I always make time for coffee of course! We had some pink gooseberries to use up, so as a break from the norm I decided to make a big bowl of pink gooseberry baked oats to share with the kids and which would last us a couple of days.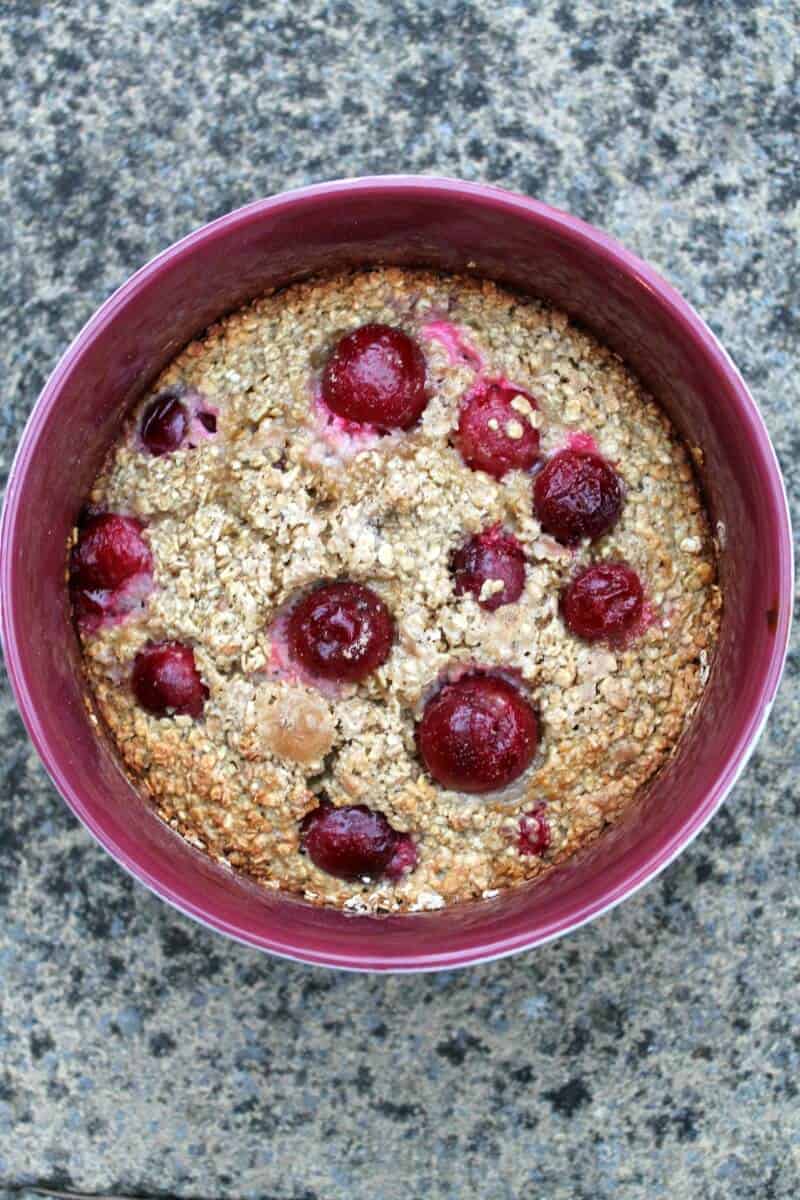 Gooseberries
Are you a gooseberry fan? I love them, gooseberry jam is a favourite here when I find some punnets of gooseberries going cheap. They're also lovely in desserts like my gooseberry frangipane tart.
Pink gooseberries are also called dessert gooseberries and they have them in some supermarkets right now. Less tart and acidic than green gooseberries, they need less sugar when cooking them and still have that great tangy flavour as well as the bonus of their great colour.
Baked Oats
Baked oats is quite different from porridge, the recipe includes eggs as well as milk and bakes into almost a flapjacky cakey texture (cake for breakfast hurrah!). There is no flour in there, just oats, and this time I used a little sugar to sweeten it slightly to balance the gooseberries.
I also make mini baked oats in a muffin tin which are great for breakfast on the go.
Either dig in and serve individual bowls at breakfast time from the big serving bowl or portion it out and eat either cold or warmed up with fruit compote and yoghurt. Delicious!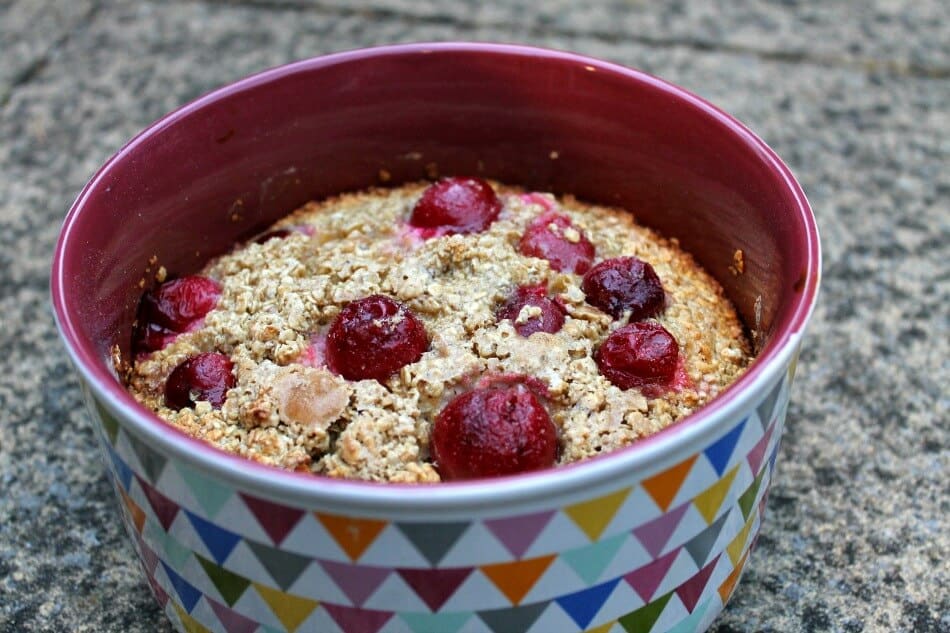 When breakfast is this tasty it certainly sets you up for a good day ahead.
If you can't get pink gooseberries or they are out of season, you could use another summer fruit like blueberries, blackcurrants, raspberries or even a frozen mix of fruit during the cooler months.
But if you can get your hands on some pink gooseberries then I urge you to try this out, you'll find the recipe below.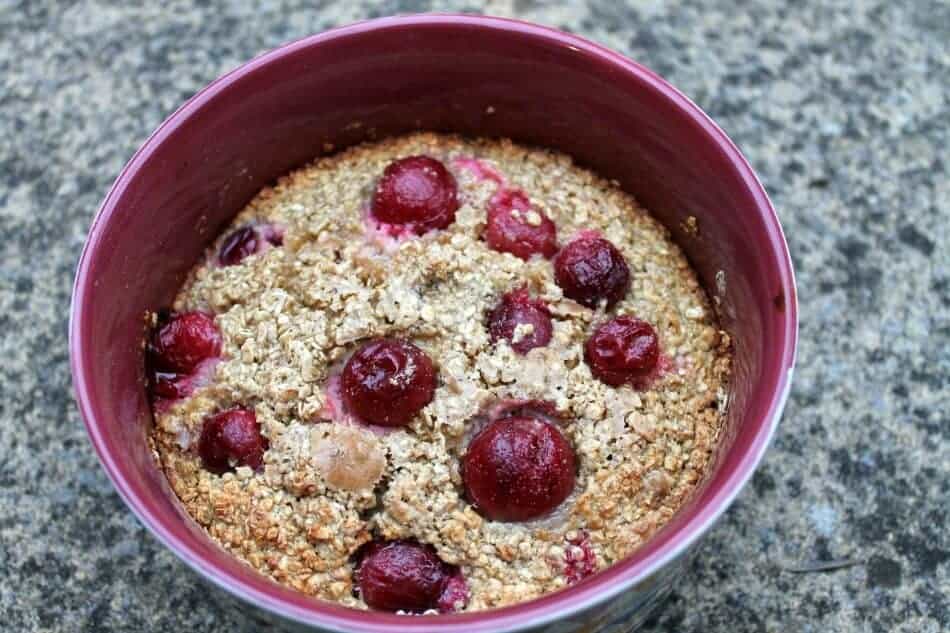 Pin this Pink Gooseberry Baked Oats for later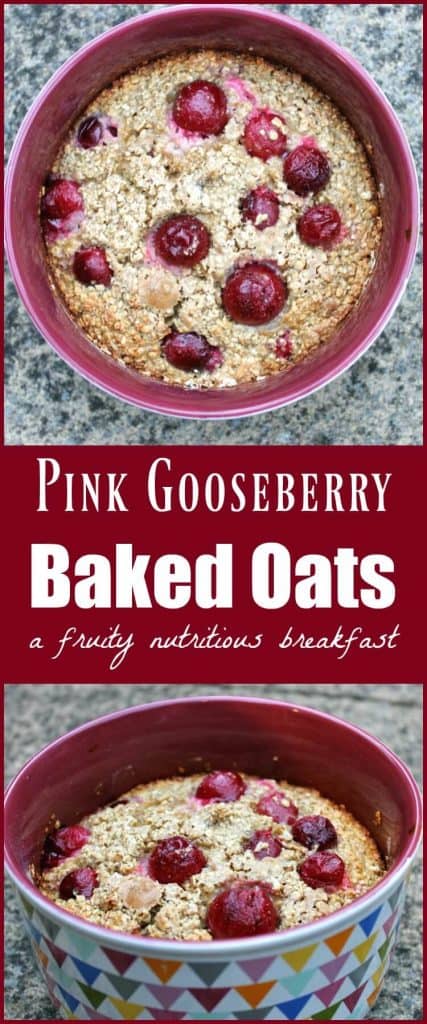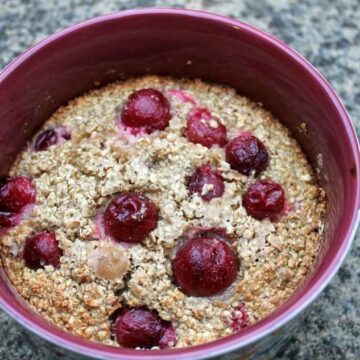 Pink gooseberry baked oats
A nutritious breakfast recipe with oats baked with a delicious fruity filling
Print
Rate
Save
Saved!
Instructions
Mix the rolled oats, baking powder and sugar in a dish which can be used in the oven.

Beat the eggs in a jug, add the milk and pour the eggs and milk over the oat mixture.

Mix well so it is fully combined.

Add the gooseberries and mix.

Sprinkle the teaspoon of light brown sugar on top then bake for 35 minutes at 180 degrees C, until golden on top and set through.
Did you try and love this recipe?
Then please leave a review and rating in the comments at the bottom of the post. If you post your creation on Instagram, tag me @bakingqueen74 or use hashtag #bakingqueen74!