Yesterday was the autumn equinox. The leaves are starting to turn red and gold, and the sun is losing it's heat. Pumpkin spice lattes are back in the coffee shops, and baking with pumpkin is on my mind again!
Pumpkin chocolate chip scones are my first autumnal offering for this year.
Whether you're using the tins of canned pumpkin puree you can get in the shops in the USA section of the world foods aisle, or using pumpkin from your own pumpkins, when you bake with pumpkin you'll get the smooth mellow taste which goes so well with autumn spices.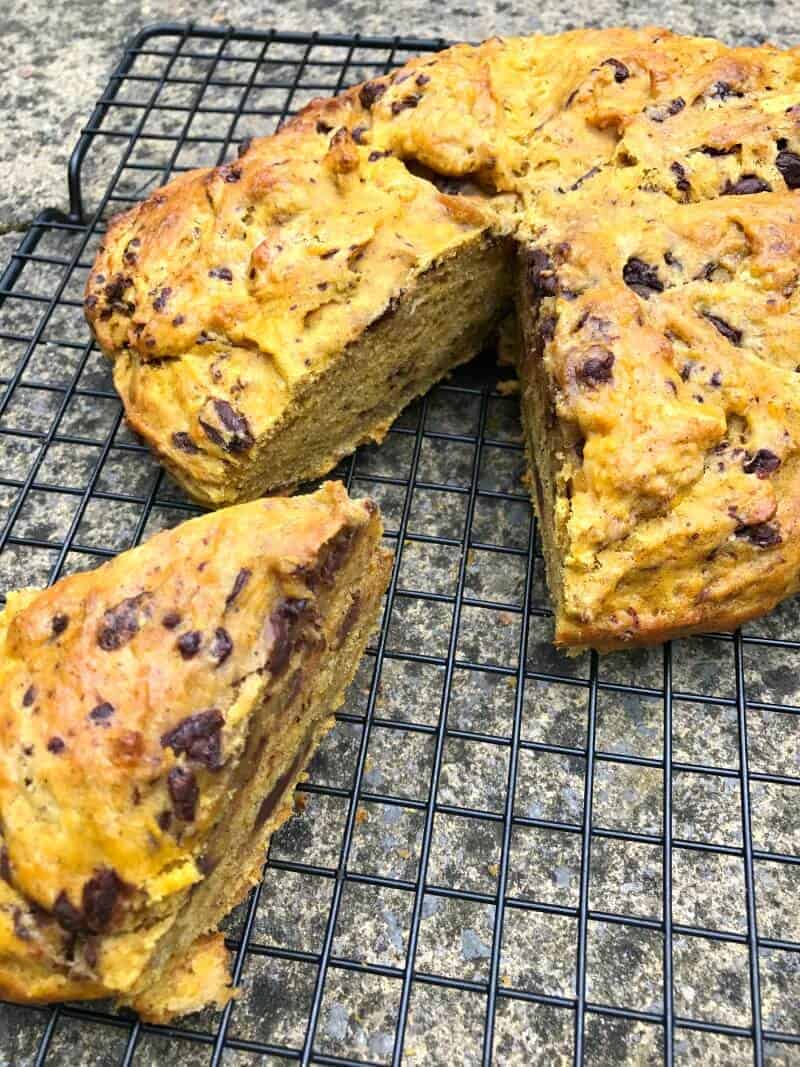 As well as the delicious taste, just look at the amazing colour of my pumpkin chocolate chip scones! They will brighten up a dull day on their own with that gorgeous yellow-orange.
I've made a large scone round with scoring where you break off an individual scone. I prefer making them this way somehow, perhaps it is because they last for a couple of days when made in a large scone rather than as individual ones.
These scones were baked in an oven but I often bake in my slow cooker and have made slow cooker scones many times (chocolate chip, strawberry and Nutella!) so I am sure this recipe would also work in the slow cooker if you wanted to make it there.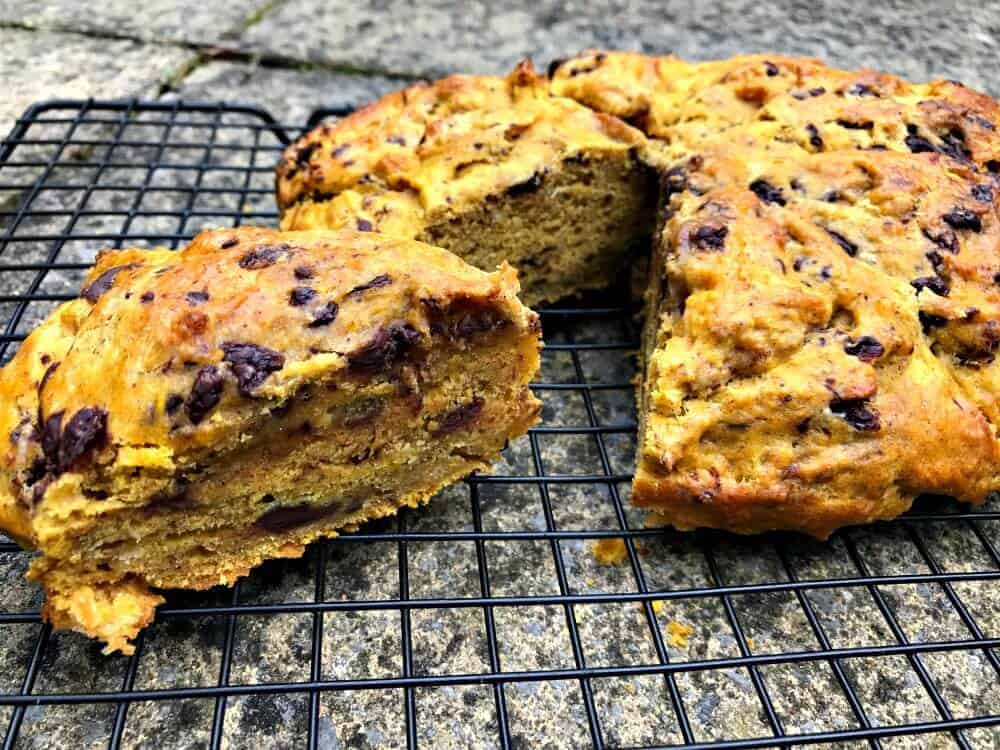 Great served with a pumpkin spice latte or your preferred cuppa, these pumpkin chocolate scones are lovely and moist from the pumpkin puree and will be snapped up in a flash! They make a nice change from a regular batch of scones for the autumn.
Spiced with cinnamon and packed with darkchocolate, they are full of flavour. Grab the recipe below and give them a try!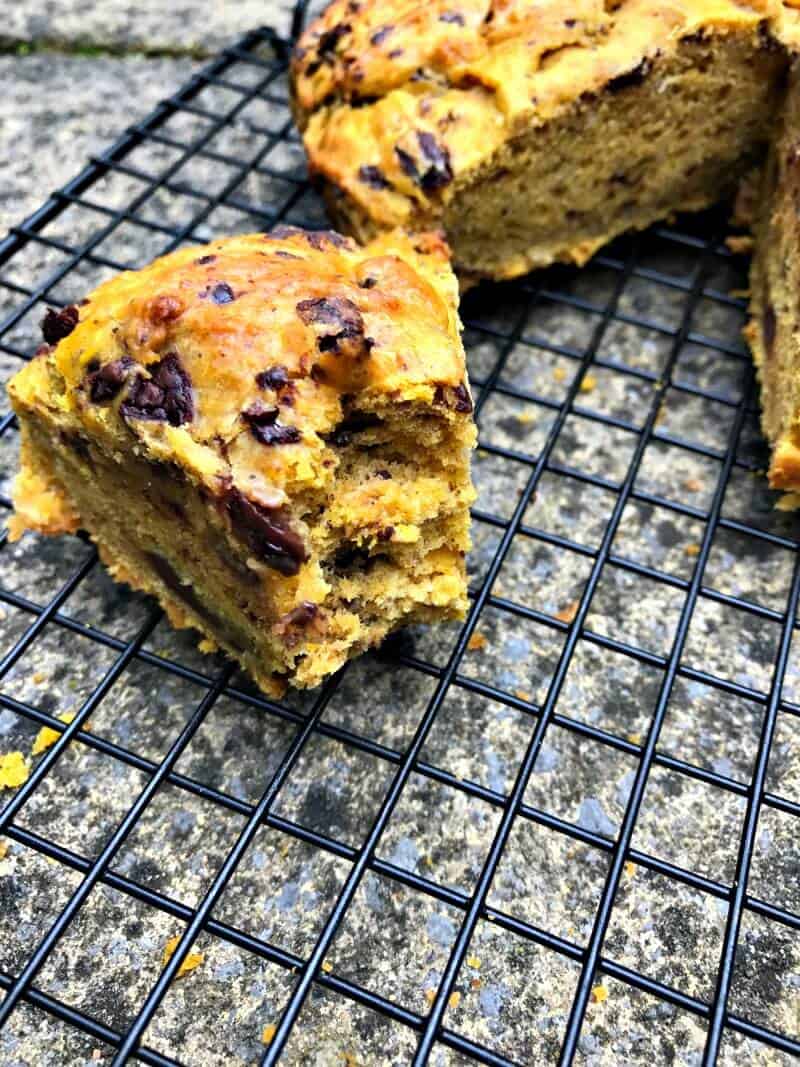 Pin for later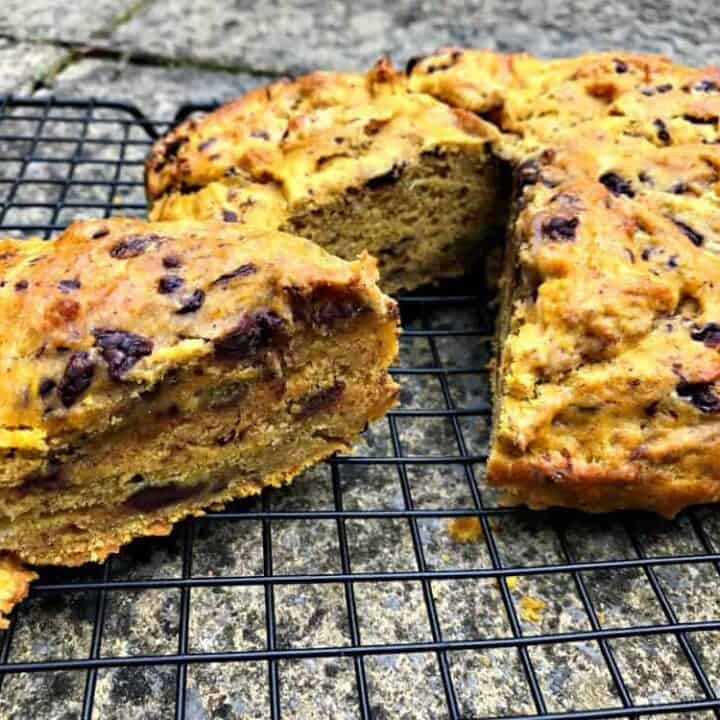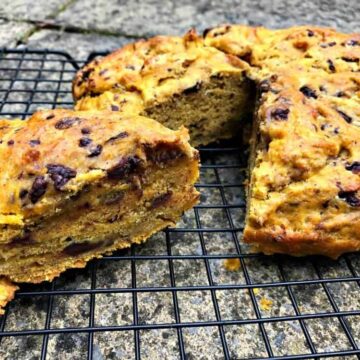 Pumpkin Chocolate Chip Scones
A warming bake for autumn filled with chocolate chips and the vibrant colour of pumpkin
Print
Pin
Rate
Save
Saved!
Instructions
Mix together the flour, cinnamon, salt and sugar.

Rub in the butter roughly.

Stir in the milk to make a soft dough.

Stir in the canned pumpkin puree and mix well.

Chop the chocolate and mix in so it is evenly distributed.

Bring the dough together gently and form it into a round on a baking tray lined with baking parchment. Score the top with a knife where you will cut the individual triangles.


Brush with a little milk before baking at 180 degrees for 25 minutes, until golden brown.

Remove from the oven, allow to cool, then pull apart at the score lines and enjoy!

Optional: drizzle with a water icing or melted chocolate.
Did you try and love this recipe?
Then please leave a review and rating in the comments at the bottom of the post. If you post your creation on Instagram, tag me @bakingqueen74 or use hashtag #bakingqueen74!
Sending these over to Choclette at Tin and Thyme for #WeShouldCocoa