While we really enjoyed the school summer holidays, I hate the way they just fly past. Especially when I only got a short holiday from work! All that fun we had means the time just passed so quickly. I can't really believe that September is here and I've already had to do uniform shopping, and get new shoes and new pencil cases for the kids.
Now I need to focus on planning family meals and getting organised, and the slow cooker is perfect for this. Read on for my favourite Back to School slow cooker recipes which are brilliant for families.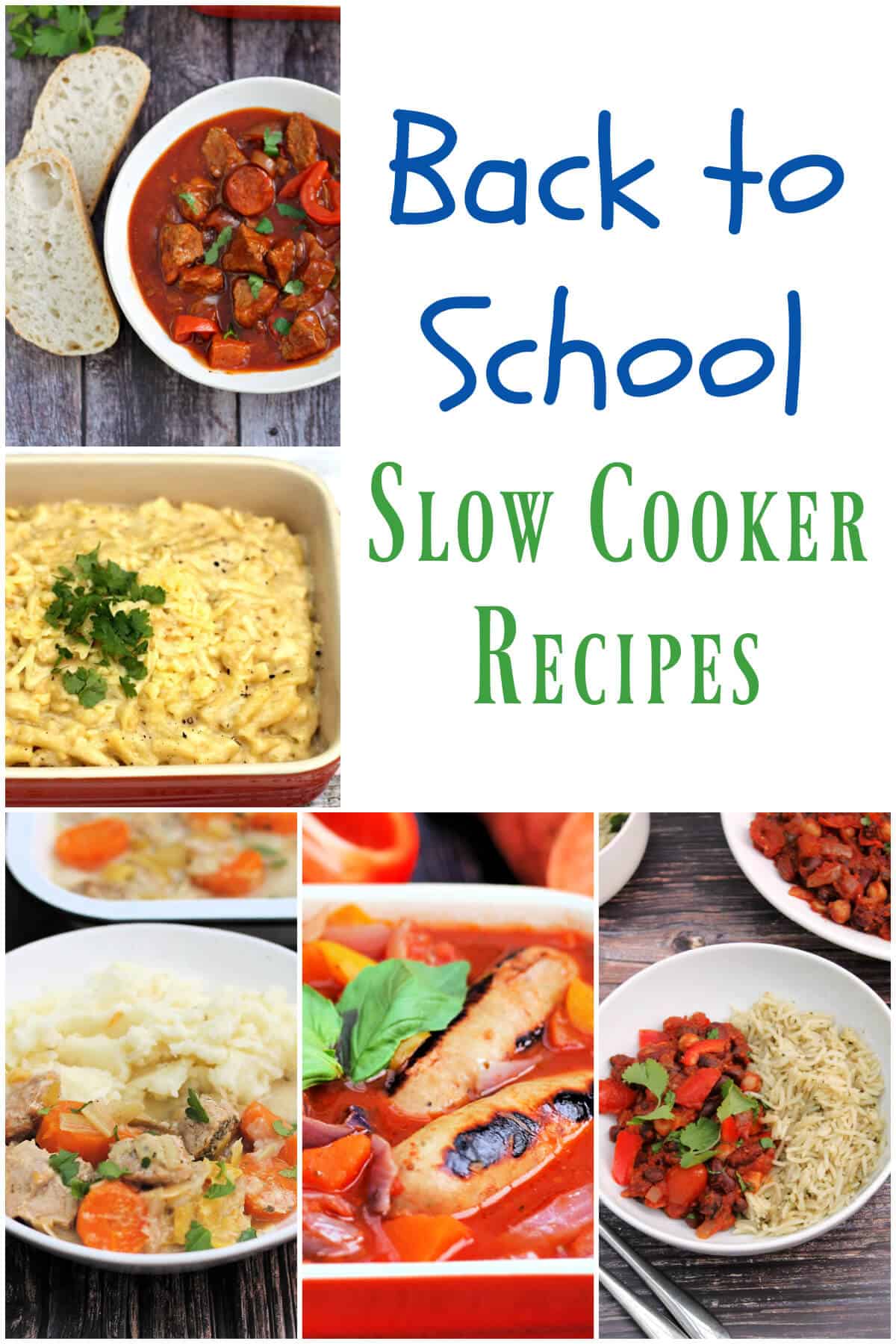 I've collected together some great family slow cooker recipes from fellow UK food bloggers and from my website that should help to ease you back into your routine. All these recipes are ideal for families, without compromising on taste.
Whether you are vegetarian or confirmed meat eaters, there is something here for you.
My slow cooker sausage casserole, so popular on the blog, even through the summer this year! Easy to make and you can throw in any veg languishing in the fridge.
Slow cooker shepherd's pie, a family favourite that works all year round.
Slow cooker cottage pie, another family favourite that always goes down a treat.
Easy cheesy pulled chicken wraps from Fab Food 4 All. I love this great recipe for chicken thighs, which is bound to go down well.
Slow cooker jacket/baked potatoes. A lifesaver on ultra busy days! Sling a batch of potatoes in the slow cooker and then all you need to prepare is a few of your favourite fillings or sides.
Slow cooker macaroni cheese. Perfect either as the main event or as a side to meat or meat alternatives and veg.
My slow cooker chicken saag curry. You can adjust the level of spice to suit your tastes and your family.
Slow cooker beef curry, full of veggies and just so easy.
Slow cooker vegetable stew from Tin and Thyme, full of veggie goodness, a wonderful comforting dish for those colder days that are on the way.
Slow cooker bean chilli. Vegetarian goodness to warm up the dullest autumn day.
Slow cooked beef with gnocchi from Foodie Quine. I don't use gnocchi enough and forget how quick they are. This is the perfect winter warmer!
My slow cooker pork, leek and apple casserole. The apple gives a touch of sweetness my kids love.
Slow cooker beef casserole with chorizo. Paprika and chorizo lend a Spanish flavour to this delicious slow cooker beef stew.
Slow cooker chicken casserole. Using chicken thighs, this is a great autumn and winter dish with the addition of lentils and sweet potatoes.
Slow cooker rosemary garlic chicken with honey and lemon from Munchies and Munchkins, made with the tastiest pieces of chicken and looking at the dish I don't think you'd know it was made in the slow cooker!
Slow cooker Chinese chicken curry. That takeaway favourite made at home in your slow cooker!
Slow cooker Mexican chicken. Ideal to serve in tacos or with tortillas, this recipe is easy and delicious.
I hope this collection of Back to School slow cooker recipes has inspired you to get the slow cooker out again and will help with getting back into routine. Meal planning is a lifesaver for a busy family and the slow cooker is the perfect complement!
If you are hungry for more slow cooker recipes, you can also check out all my slow cooker recipes here, with loads of slow cooker baking recipes too. What is your go-to slow cooker recipe for your family?