It is summer, I'm trying to be vaguely healthy, so my mind immediately turns to… cake… a small one. Of course! A mini chocolate cake with whipped chocolate ganache icing can't do much damage can it?!
I was recently lucky enough to find some great mini (4.5 inch) springform pans in TK Maxx, at a bargain price, and I knew I wanted to make a delicious but small cake with them. I don't use cream much but recently had some lovely simple whipped cream with strawberries when Wimbledon was on, so decided to sandwich the cake together with whipped cream.
A ganache is so easy to make and looks and tastes wonderful. All you need to do is heat your cream gently and just before it comes to the boil, pour it onto your broken up chocolate, leave for a few minutes, then stir. I left ths ganache to cool completely before whipping it gently for about four to five minutes, to create a thick spoonable ganache which would not slide off the cake. Delicious!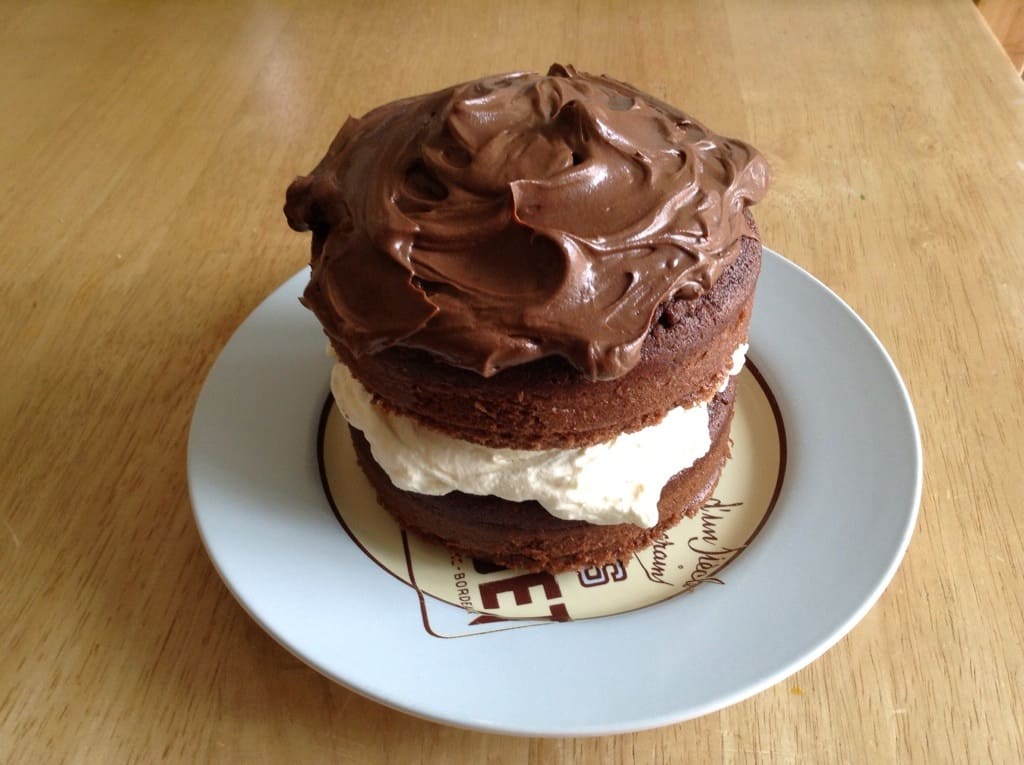 Recipe:
This recipe is adapted from the recipe for my slow cooker chocolate mint aero cake base, reduced in size for the small pans.
You will need two 4.5 inch springform pans.
120 g plain flour
1 tsp baking powder
30 g cocoa powder
140 g light brown sugar
80 g butter
2 eggs
120 ml milk
Double cream
For the ganache:
75 g dark chocolate (I used 72%)
150 ml double cream
Method:
Melt the butter and stir the sugar into it until it is dissolved.
Sift together the flour, baking powder and cocoa powder.
Beat the eggs and add them to the butter and sugar mixture. Then add the milk and whisk until smooth.
Fold in the flour mixture, without over mixing.
Pour into the tins and bake for approx 25 mins at 180 degrees, or until a skewer comes out clean.
Meanwhile, make the ganache: heat the cream until about to boil, then pour over the broken up chocolate in a bowl.
Leave for a few minutes then mix until smooth. Allow it to cool completely and then whisk until thick.
Once the cakes are baked, leave them to cool completely.
Level the bottom layer so your cake is flat.
Pour the cream to be used in the cake into a bowl and whisk until thick. Use a spatula to spread it on the bottom layer.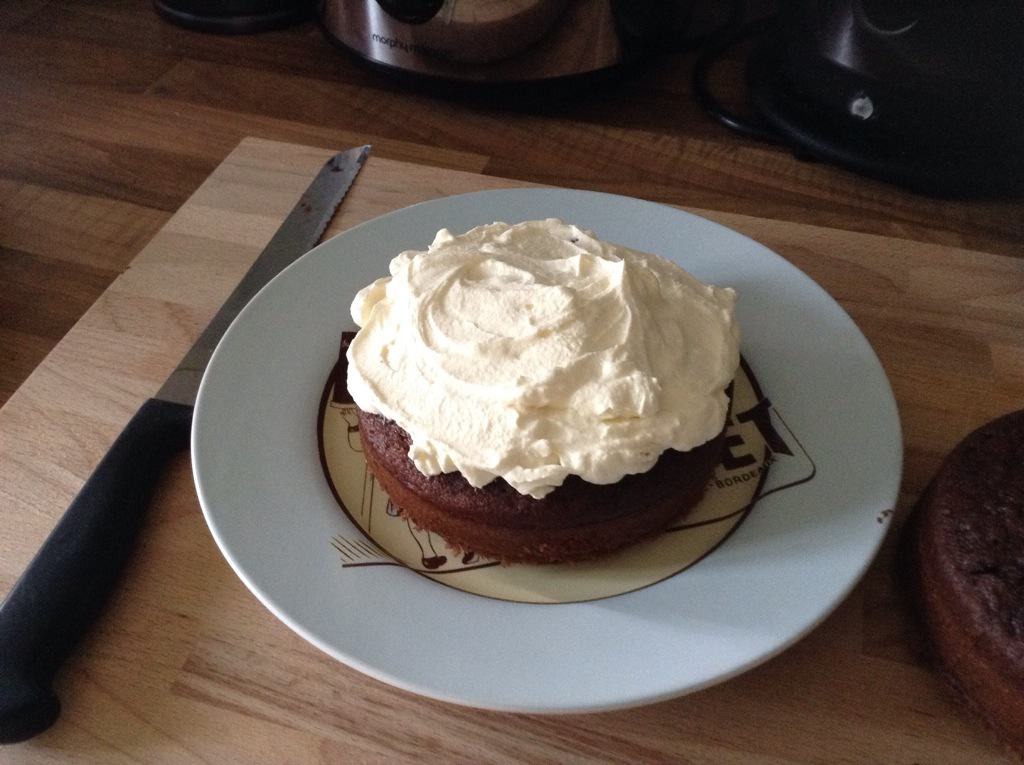 Add the second layer on top, then spread the ganache on top.
Serve in mini slices, and don't feel too guilty!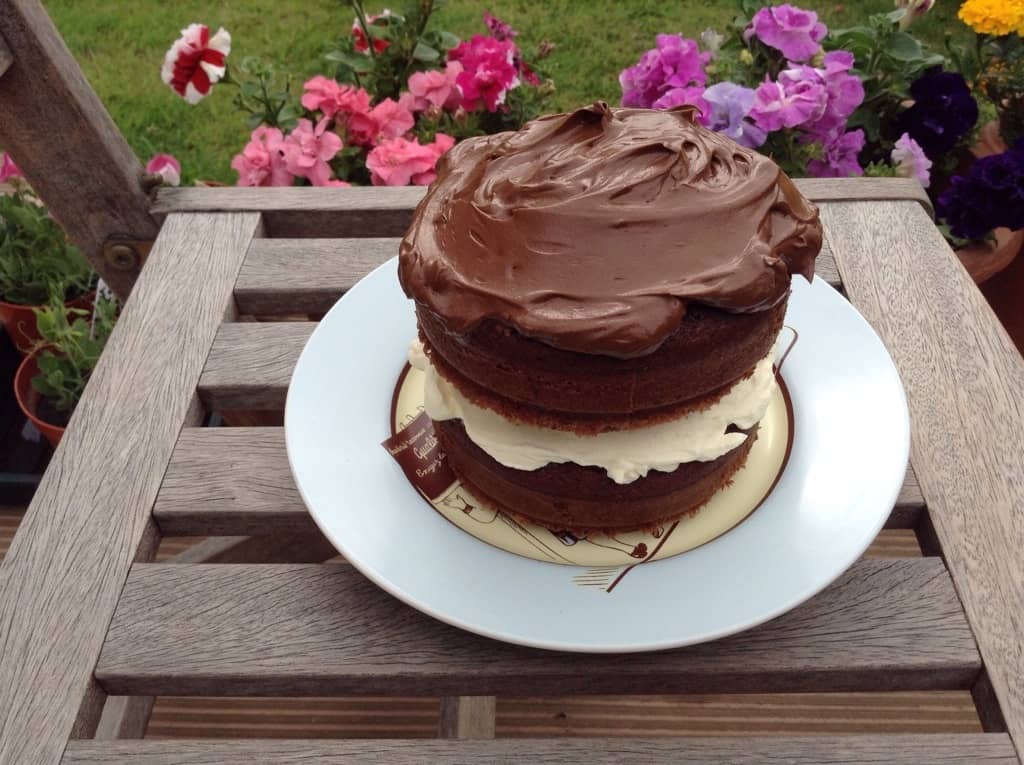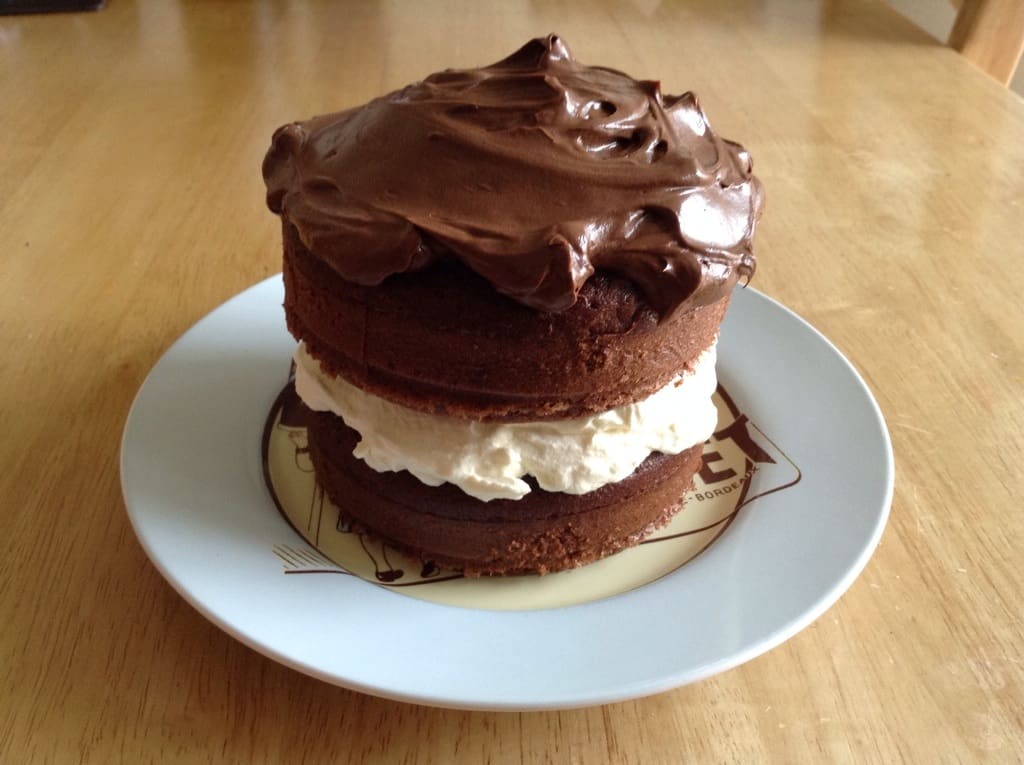 I'm sending this Mini Chocolate Cake with Whipped Chocolate Ganache Icing over to Lucy at Supergoldenbakes and #CookBlogShare.
I'm also sending this cake to #recipeoftheweek over at A Mummy Too