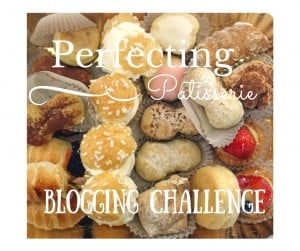 Welcome to the home page for the Perfecting Patisserie blog challenge. Join me in my attempts at learning the classic French art of patisserie.
Perfecting Patisserie is a monthly blog challenge and linky dedicated to patisserie and viennoiserie recipes. Any recipe you might find in a patisserie cookbook fits the bill. Each month there is a theme e.g Valentine, Christmas, fruit, open challenge.
If you would like to take part, please do the following:
Make your patisserie recipe and post the recipe (or a link to the recipe) and a photo on your blog
Link to BakingQueen74 in your post
Use the Perfecting Patisserie badge (above) in your post
Add your post to the InLinkz linky for the current challenge
On Twitter, tweet your entries to @bakingqueen74 and use the hashtag #perfectingpatisserie and I will RT all I see
Visit other entries which catch your eye and leave a comment if you like to help make this a great community to take part in
Benefits:
I will publish a full roundup each  month with a photo and a link back to each entry.
Entries will be pinned to a dedicated board on Pinterest.
Tweets will be RT'ed to my followers.
Rules:
It's fine to join in with other challenges as well if your entry meets their criteria, and you can enter up to 3 entries per month, per blog, into this challenge if you like.
The challenge will run until the 28th of each month. The hosting blog will post a full round up at the end of the month.
Please remember not to publish recipes from books etc on your blog without permission, to respect copyright. If you are using a recipe from a website, please link to the recipe.
Current Challenge:
Perfecting Patisserie is taking a break this month but should be back in July! The May roundup will be up asap
Challenge Archives: