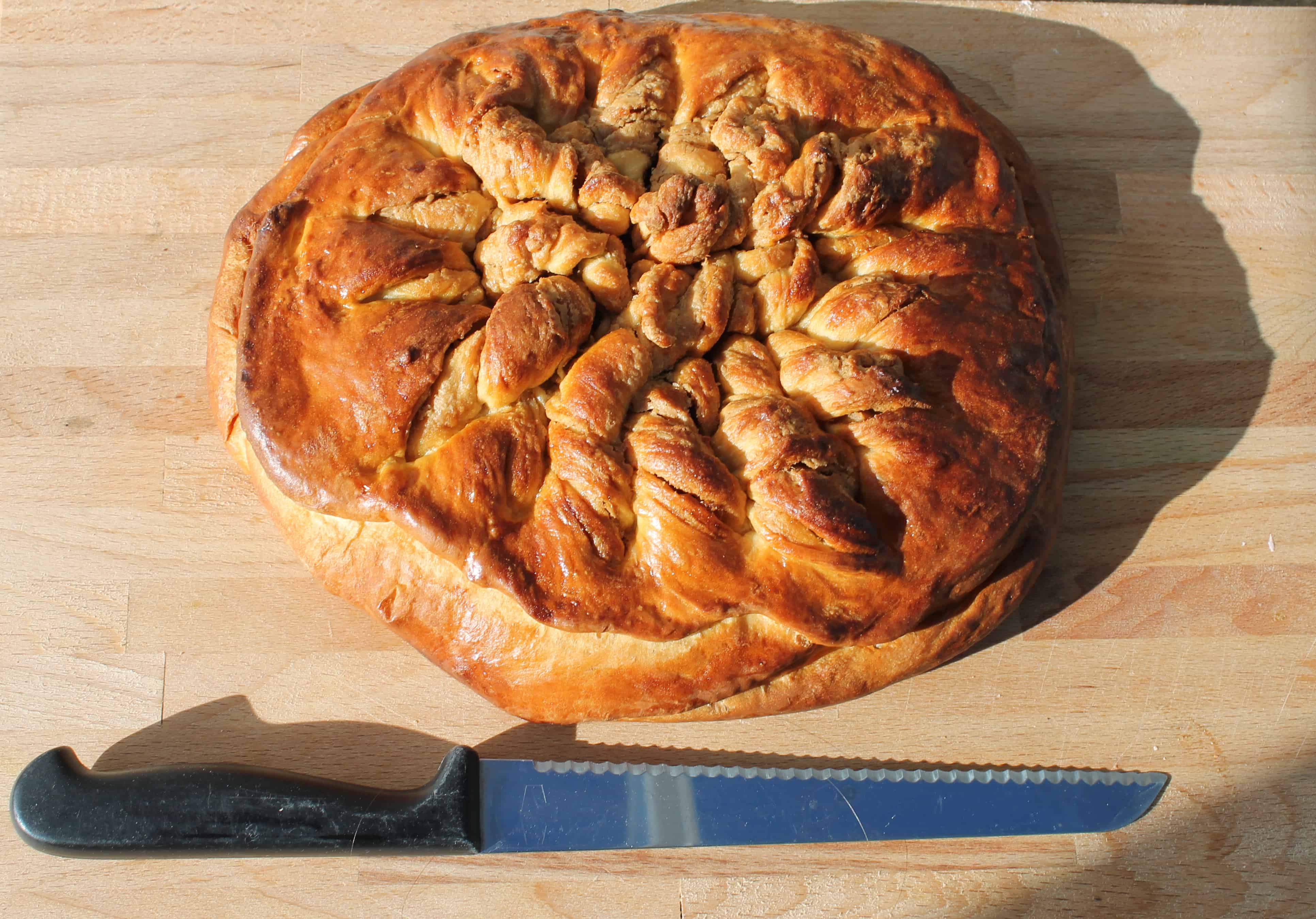 As it has just been half term and I'd taken some holiday from work I had a little more time than usual to plan and carry out my next bake. Well, kind of, in between trips and days out with the kids here and there! I'm sure if you're a parent reading this you will know exactly what I mean.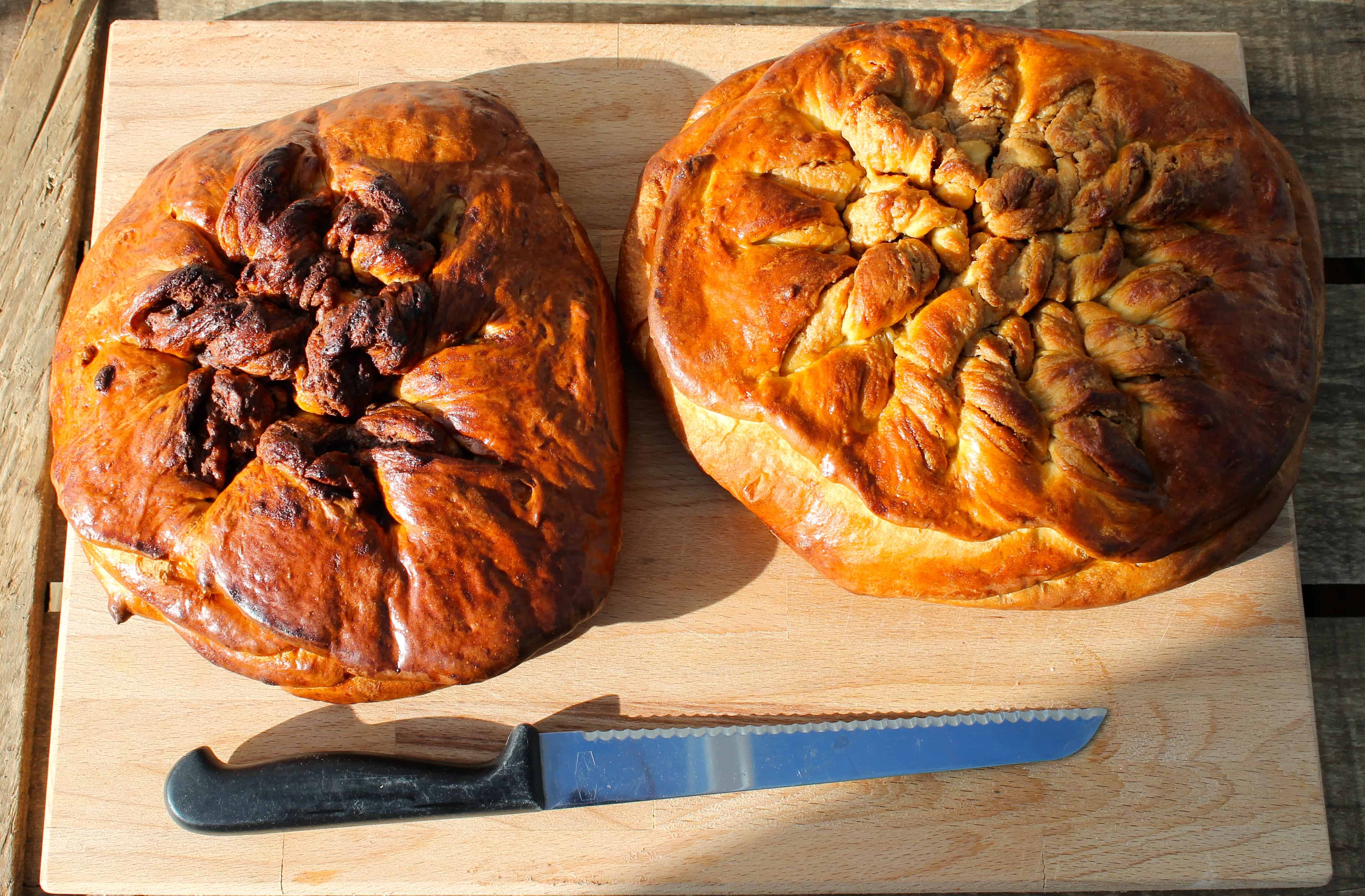 The other day while whiling away some time on Pinterest waiting for a child to go to sleep (anyone else totally addicted to Pinterest?!), I spotted a gorgeous bread pattern which looked rather challenging and caught my eye straight away. So here I have tried my hand at it using a standard enriched dough recipe, in Speculoos Butter Twist Bread. The idea is from The Daring Kitchen.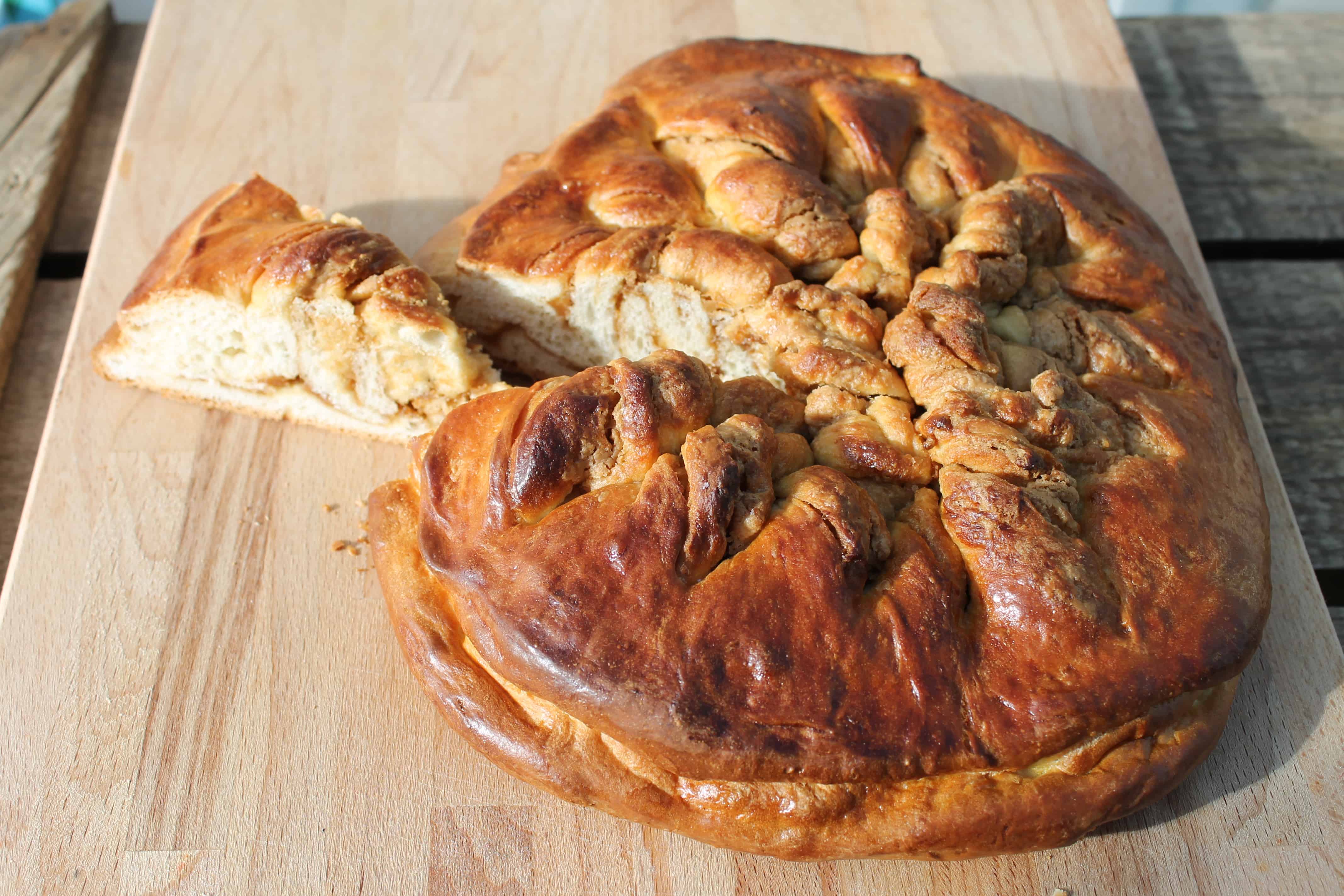 Since I made Croatian Povitica last year, I have begun to enjoy working with bread dough in more complicated designs or methods when I have time. Admittedly that isn't very often though. I find the whole process of making bread rather exciting, from the dough doubling in size in the first proof through to the rise and colour you get in the oven. Isn't it amazing what a bit of yeast can do!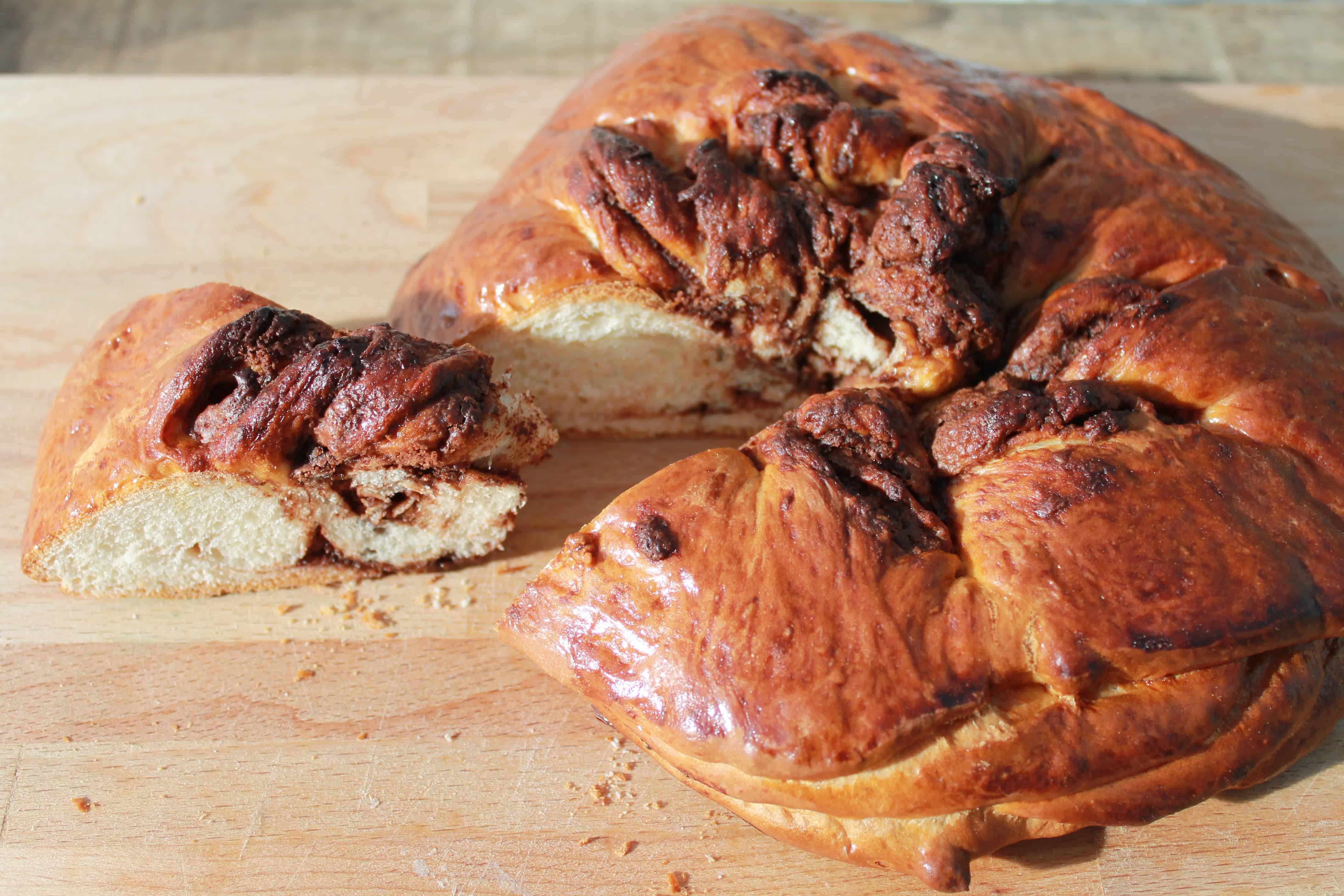 The recipe makes two loaves. I filled my first loaf with speculoos spread (Biscuit Butter, like Biscoff) and my second with Nutella. Both taste great, the bread is almost pastry-like.
Recipe:
450g strong white bread flour
1 tsp salt
1 sachet easy bake yeast
55g sugar
55g unsalted butter
1 egg, lightly beaten
120ml milk
120ml just boiled water
Third of a jar of speculoos spread (Biscuit Butter, Biscoff spread, Lotus spread etc)
Third of a jar of Nutella
Method:
First make your dough.
Place the flour in a large bowl, then add the yeast on one side and the salt on the other. Add the sugar and then rub in the butter.
Make a well in the centre and add the egg, milk and water.
Mix together until it forms a ball of dough.
Knead in a stand mixer using a dough hook for around 5 minutes until it is smooth and elastic. Or, if kneading by hand, knead for at least 10 minutes.
Put the dough into an oiled bowl, cover with clingfilm, and leave it to double in size, this will take approximately an hour.
Punch the dough back and then split it in half using a sharp knife.
Put the other half back in the bowl.
Divide the piece you are working with into four equal pieces. Roll each into a ball and roll out using an oiled rolling pin to the approximate size of a cake tin.
Place the first circle on oiled baking paper and spread speculoos butter on it.
Repeat with the second and third circles. 
Place the fourth circle on top and brush over a little melted butter.
Put the layers you've just made in the fridge for about half an hour.
Next use a ruler to mark lines where you will divide the circle into eight triangles. Use a sharp knife to cut through to the base along each line.

Next divide each of the eight triangles into two in the same way.
Carefully lift up all of the layers in each triangle and twist them round.

Brush all over with egg wash and then leave the dough to stand for around 15 minutes. Preheat your oven to 240 degrees.
Bake for 5 minutes at 240 degrees, then turn the oven down to 200 degrees and bake for 15-20 minutes more, until the top is brown and the base sounds hollow when tapped.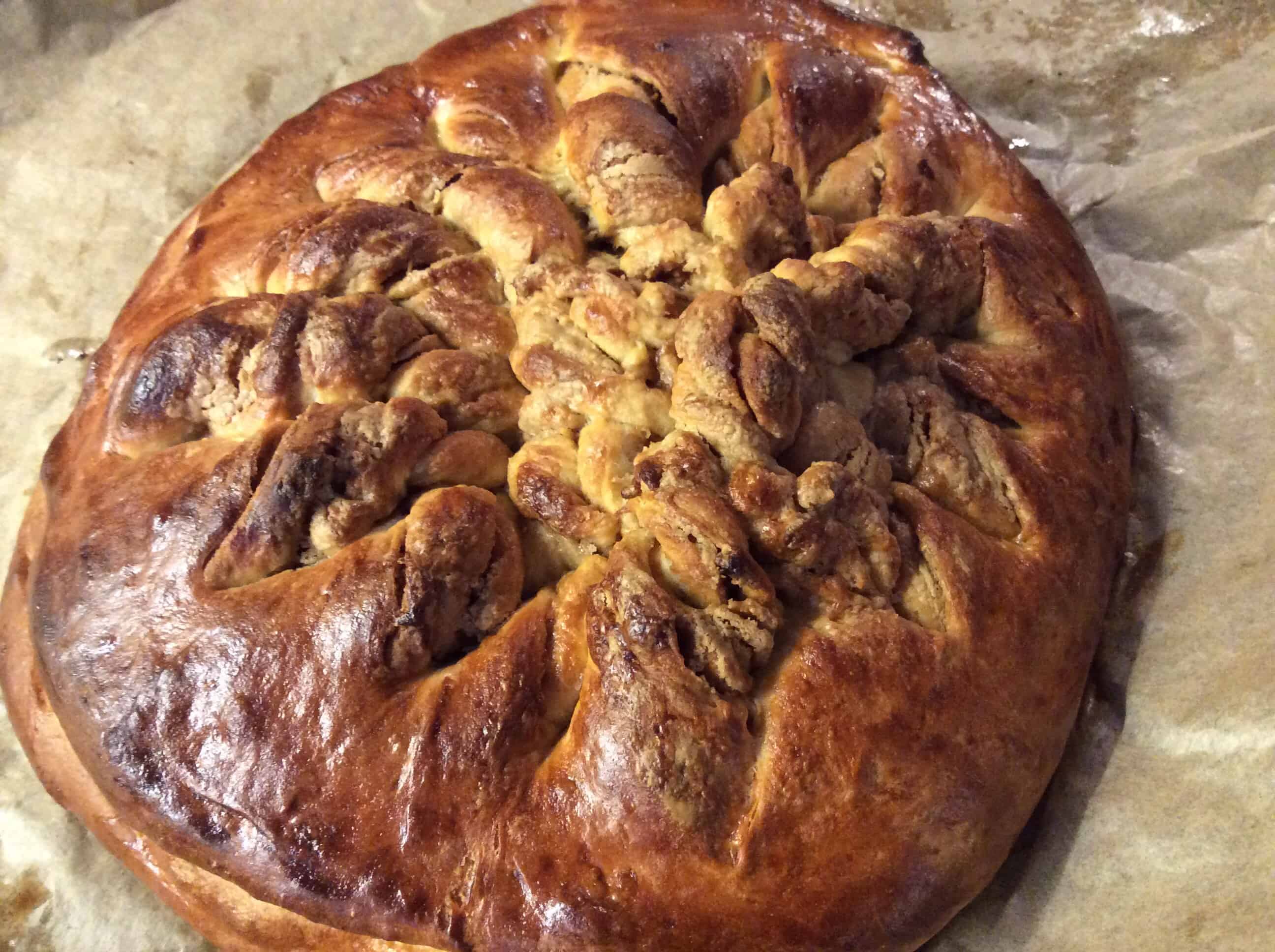 While the first loaf bakes, you can make a second in the same way with the rest of the dough. I used Nutella to fill my second loaf. For this loaf I only made and twisted eight triangles in the dough, but the effect was just as good I found.